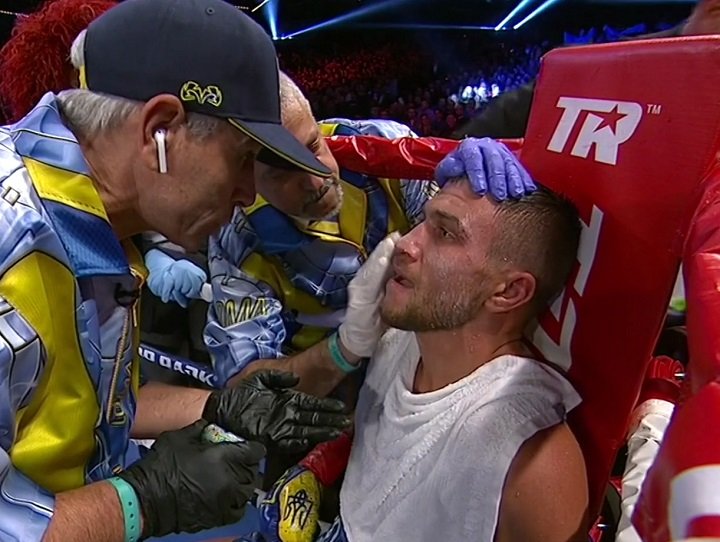 Well, the so-called Fight of The Year, the historic showdown that matched together the two finest pure boxers in the world today, was, we must say, one pretty big disappointment. At least it was to those fans who were expecting a great, two-way fight it was a letdown.
But for those fans who can fully appreciate a master-class, an absolute display of dominance from one boxer over another, then last night's Vasyl Lomachenko-Guillermo Rigondeaux fight delivered just fine. What can we say about the simply incredible southpaw from Ukraine! Four times in a row now the seemingly flawless fighting machine has made his opponent quit; remain on their stool.
To have done it to the previously unbeaten Rigondeaux, a smaller man yes, but one who was talking a great fight, makes us ask all manner of questions about the 10-1 super-featherweight champion of the world: can anyone beat him (that over-the-weight loss to Orlando Salido seems a million light years ago now), can anyone take Lomachenko the distance – can anyone give him a competitive fight?
Lomachenko will in all likelihood move up to 135 pounds very soon, most likely next, but don't go thinking that even the best of the best at lightweight will be in with a shot at defeating "Hi-Tech." Fights against the likes of Mikey Garcia and maybe one or two others would be interesting, but from what we have seen, Lomachenko would be a firm favourite to win. Bob Arum has called Lomachenko the best fighter he has seen since the young Muhammad Ali, and for once this is not merely hype.
Just how great Lomachenko can become is a scary thought; with less than a dozen pro bouts to his name, the 29 year old has won without appearing to move through even half of his gears. Is Lomachenko the pound-for-pound best right now, has he earned that distinction? It would take a brave fan to say no.
As for Rigondeaux, he has vowed to carry on once his hand injury heals ("when did he hurt it, in the dressing room?" Arum asked cynically) but it promises to be a tough road back. If Rigondeaux couldn't get himself a big fight for years until last night, his chances of getting another seem pretty slim. And though he will likely claim the sheer size difference did him in last night (Rigondeaux said before the bout how he did not want to hear any excuses about the size difference between he and Lomachenko; let's see if he now backtracks on this) nobody likes a quitter.
Boxing is a harsh sport, and Rigondeaux will now become an even tougher fighter to sell. As for Lomachenko, he has a new nickname: NoMasChenko. Which other fighters may pull a Roberto Duran (in the second Sugar Ray Leonard fight of course) and say no more when facing Lomachenko?