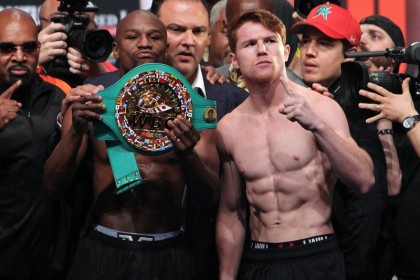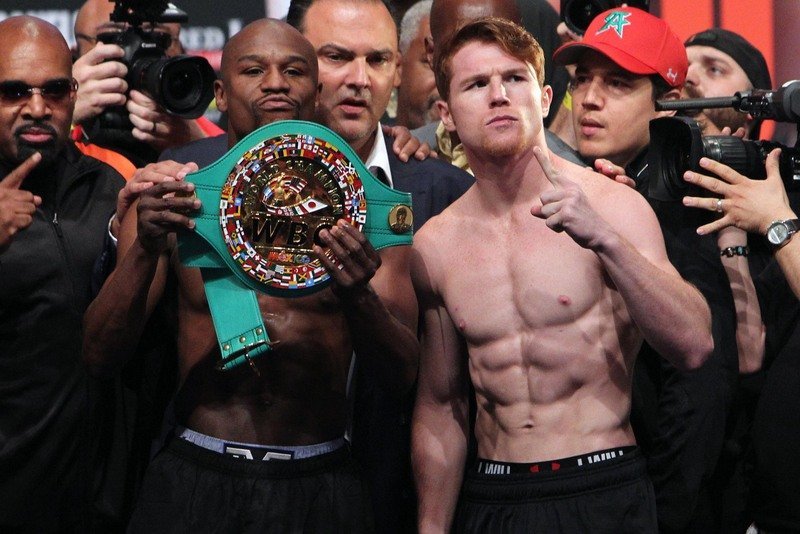 Photos by E. Lin and Tom Casino / Showtime — Floyd Mayweather Jr. (44-0, 26 KO's) looked like a winner already today in Friday's big weigh-in for his bout with WBA/WBC junior middleweight champion Saul "Canelo" Alvarez (42-0-1, 30 KO's) on Saturday night on Showtime pay-per-view in Las Vegas, Nevada. Standing in front of a huge 12,200 crowd at the MGM Grand, Mayweather weighed in at 150.5 lbs. to come in at 1.5 pounds under the 152 lb. catch-weight limit.
Canelo looked really thin in weighing in at 152 lbs. Canelo immediately sat down when he first came out, and it almost looked like he was too weak to stand. I thought to myself that maybe the huge amount of water weight that Canelo had taken off had left him so weak that he needed to sit down. It was kind of sad to see because in that moment I realized that Canelo doesn';t have a chance in a million to win this fight. Canelo is just going to be another Mayweather victim, and suspect he won't even do as good as Mayweather's last two opponents Robert Guerrero and Miguel Cotto.
Later on after the weigh-in, Canelo, with his skeletal face, started smiling at Mayweather during the stare down in an odd way. Canelo seemed to be trying to show Mayweather that he wasn't intimidated, but emaciated as Canelo looked, it didn't come off well. It just looked like Canelo wasn't in the best of health.
Moments later, Mayweather tried to offer Canelo to hold the new gold WBC 154 lb. title belt, but Canelo refused to do it, as if he thought Mayweather Jr. was trying to pull a trick on him. There was no trick. Mayweather just wanted to pose for photos, but Canelo looked furious. It was startling how Canelo's whole disposition changed in that one moment, and he continued to have that sour look on his face for another minute. I'm not really sure whether Canelo understood what Mayweather was offering him due to the language barrier. If it Canelo showing that he wasn't going to be peaceful with Mayweather now that they've weighed in, then it was a silly move because Canelo isn't going to scare Mayweather into losing the fight just because he didn't hold one side of the belt.
***
WBA/WBC light welterweight champion Danny Garcia (26-0, 16 KO's) weighed in right at the light welterweight limit at 140 lbs. for his fight against Lucas Matthysse (34-2, 32 KO's). This is the co-feature bout of the card, and Matthysse looked a heck of a lot better at 140 than Garcia. Matthysse looked normal for the weight compared to Garcia, who looked dehydrated. This just means that Garcia is probably going to rehydrate a ton and he'll probably have a significant weight advantage tomorrow night. But it might not help him because Matthysse punches above his weight, and Garcia could probably come into the fight at 180 and still be in deep, deep trouble on Saturday night due to Matthysse's big time power.
Other weights on the card:
Ashley Theophane 142 vs. Pablo Cesar Cano 141.5