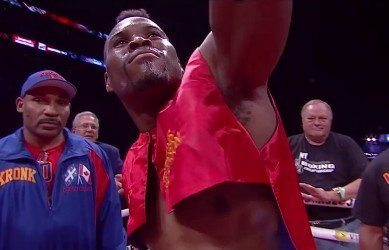 The World Boxing Council has given permission for WBC light heavyweight champion Adonis Stevenson (21-1, 18 KO's) to make a voluntary defense against former IBF light heavyweight champion Tavoris Cloud (24-1, 19 KO's), according to Steve Kim.
This means that that the 35-year-old Stevenson can bypass his mandatory title defense against challenger Tony Bellew. I'm sure Bellew won't like this news because he had been hoping that he'd be next in line to face Stevenson after he beat Isaac Chilemba recently to become his mandatory.
Steve Kim said on his twitter "Yvon Michel [Stevenson's promoter] says that the WBC has granted a voluntary defense for Adonis Stevenson, now in negotiations with T. Cloud. Yvon Michel says that one provision is that the winner of Stevenson-Cloud must have a deal in place to face Tony Bellew next."
The Cloud-Stevenson fight should be a good one. Cloud has lost only once in his career against Bernard Hopkins last March in getting beaten by a 12 round unanimous decision by the scores 116-112, 117-111 and 116-112. Hopkins won by out-boxing Cloud rather than trying to beat him at his own game and slugging with him. Stevenson will no doubt use the opposite strategy.
He'll try go slug it out and win by a knockout. This in turn will get Cloud a chance of getting a stoppage if he can land one of his own big shots or if he can outwork Stevenson. There's one thing that Stevenson hasn't had to deal with yet in his 7-year pro career and that's an opponent that throws a lot of punches.
The Cloud-Stevenson fight could be televised by HBO. That's a good deal because I doubt that HBO would have televised Stevenson vs. Bellew. Cloud a recognizable fighter to U.S audiences and it makes it a good fight for HBO to televise.