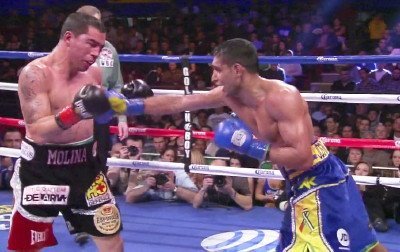 For some reason the World Boxing Council (WBC) has dropped Amir Khan from their top 15 welterweight rankings after his struggle to defeat 33-year-old Julio Diaz last month on April 27th. Before that fight the WBC had elevated Khan to #2 in their welterweight rankings despite the fact that Khan had never fought at welterweight before and had lost two out of his last three fights.
It was hard to understand what the WBC saw in Khan to put him at #2 at 147 because normally fighters that has lost 2 out of their last 3 fights aren't given a bump in the rankings.
Instead, they moved downwards, but not with Khan. They had him #2 and it looked like they were positioning him to where he could get a title shot against WBC welterweight champion Floyd Mayweather Jr.
The move by the WBC matters little in terms of Khan getting a fight with Mayweather. If Mayweather wants to fight Khan, it won't matter if he's not ranked in the top 15 at 147. He'll get the fight anyway, and of course it'll be a sick mismatch with Mayweather likely knocking Khan out with a hard left hook to the head.
In place of Khan, the WBC has moved the hard hitting Ed Paredes to #2 at welterweight.
Khan wants the Mayweather fight, but Golden Boy Promotions wants Khan to face IBF welterweight champion Devon Alexander first, and if he wins that fight then the Mayweather fight would be put together provided that Mayweather is agreeable to fighting Khan.
In the past, Mayweather wasn't too impressed with Khan's fighting style that he used in his loss to Lamont Peterson in 2011. Mayweather thought Khan ran too much and pushed off too much as well in that fight.
Khan's pushing in that fight cost him two points and ultimately it cost him the win. Since then, Khan has almost completely stopped pushing his opponents, although he does still run a little but not as much as before.