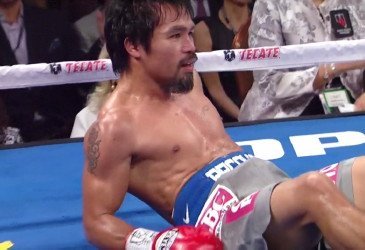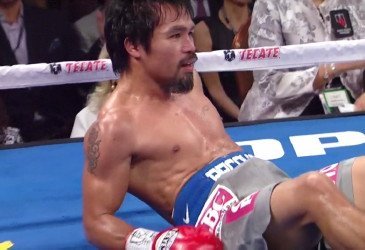 by Anthony Jeffrey – When is a boxer really 'washed up'? It seems to be a common expression used in the boxing world after a top class fighter takes a beating, most likely for the first time in his career; gets knocked out and isn't the same afterwards; or just isn't as good as he was a couple of years earlier.
In late 2008, after crushing Oscar de la Hoya, against the odds, it seemed as if we would never see the day that the invincible Manny Pacquiao be referred to as 'washed up'. Yet after a being on the receiving end of a dodgy split decision and perfectly placed punch it seems like he has been placed in the same dreaded category as fighters who continue to participate in freak shows of fights because they didn't manage their finances properly during their prime.
Boxing fans can be the most critical yet fickle and narrow minded amongst sports fans. Fighters, and indeed other boxing fans, are subjected to fierce and often childish criticism all over boxing websites and social media platforms. However, in a sport where some of the contributing factors of a boxer's worth are nationality, popularity, and pre-fight hype, this is not overly surprising: Miguel Cotto was on top of the world until his loss to Antonio Margarito turned the tables and left him being labelled washed up. Ironically, Shane Mosley was already universally considered washed up before he sent Margarito flying from his perch to the canvas. But even after inheriting the throne, in terms of fight fan hype, Mosley's renaissance was short lived when a subsequent beating from Floyd Mayweather has now left him eternally washed up.
In the case of Manny Pacquiao, the problem is that he has really been a victim of his own success; from the pummelling of David Diaz right the way through to Antonio Margarito we have come to expect nothing short of blistering performances from him.
But from the Shane Mosley fight to the Bradley fight we saw more of a mellow Pacquiao, clearly lacking the killer instinct that hitherto defined his career. However, in the Marquez IV fight Pacquiao looked fantastic up until the knockout. I'm sure he suffered amnesia after that punch but it seems like so did most of the boxing world, because Marquez was getting hammered up until the stoppage. Pacquiao was ruthless, dangerous and certainly looked like a man on a mission. The post fight headlines don't reflect the course of the fight.
Perhaps we need to take a step back when assessing the deterioration of a boxer. Instead of focusing on the result we need to properly analyze the performance; including factors such as stamina, agility, reflexes over a period of 3 to 4 fights at least. If we apply this to Pacquiao, he suffered a horrific knockout to Marquez, but still looked great and was winning the fight; he lost to Bradley, but I'm sure even Bradley is still trying to convince himself to this day that he won; Marquez III was close, but he certainly was not outclassed or beaten up; and Mosley got schooled by him.
Clearly Pacquiao has slowed down in the past couple of years – he is 34 years old. He's not going to be number one pound for pound any more, but to say that he is washed up or finished, or even retire is extremely premature. Just like how Lennox Lewis recovered from a KO loss to Hasim Rahman, I think Pacquiao will return and have at least 3 more fights in the twilight of his career.