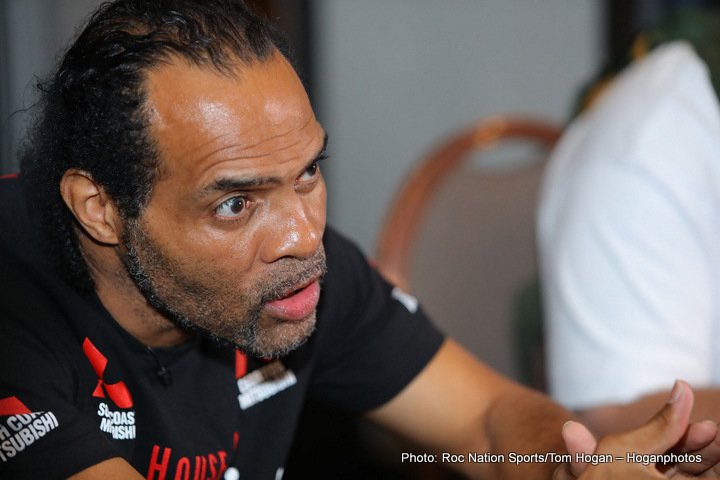 On Wednesday, June 14, the televised undercard of Andre Ward vs. Sergey Kovalev 2: "The Rematch" sat down to participate in roundtables with the media during Fight Week Powered by Monster. Head trainers Virgil Hunter (Team Ward) and John David Jackson (Team Kovalev) followed the group of boxing talent with respective roundtables of their own. Ward-Kovalev 2: "The Rematch" will take place Saturday, June 17 at the Mandalay Bay Events Center in Las Vegas. The championship event, presented by Corona Extra, will be produced and distributed live by HBO Pay-Per-View® beginning at 9:00 p.m. ET/6:00 p.m. PT.
Below is what the participants had to say:
Virgil Hunter, Trainer of Andre Ward
"[Andre's] ring IQ speaks for itself but the worst mistake you can make is to underestimate the opponent's IQ. We take it all the way to the top, whoever we're fighting. The mindset is you're the best in the world. You're the best that ever did it. You don't want to stop the bar on eight when you can go all the way to 10. The bar is set at 10 in giving Sergey the credit that he rightfully deserves. Look, I've said it before, but I'm a Sergey Kovalev fan. Just not this fight. But I'm a fan of his. I knew a long time ago that if we ever moved up to light heavyweight that we would meet. I understood that a long time ago.
"You can never tell what's going on in a fighter's mind. I tend to let Andre set the tone. If we have to change it up, then I'll come in and we might change up a few things. But he's been doing it so long and I trust him. I know exactly what I'm looking at when he's fighting. He can set the tone. If the frustration becomes an asset for us, we'll stay there and keep him frustrated.
"Me knowing Andre's mindset and how he approaches things, I told him that we'll train for a knockout. It doesn't mean it's going to come, but we'll train for it. It'll be quite evident in the fight. He's going to get hit because you got to get hit to win and get knockouts. He's been hit by Sergey and he described the punches just as I see the punches on TV, very sharp… not concussive but sharp. [A knockout] is a possibility. I've only trained Andre to purposefully knock out somebody twice – the first one was Chad [Dawson], the second one was this one. I never trained him to knock anybody out, but those two I did. Only twice have we changed strategy to stop somebody.
"What we want to do is make sure Sergey doesn't get the flush punch. He might graze you, he might rush punch, he might punch you like 'get off me' as opposed to being planted and zeroed in and 'boom' give him that shot. Sergey never landed another punch after the knockdown. So, if Andre was hurt, how could he make Sergey miss? All you got to do is watch it after the knockdown.
"I'll have to take Sergey at his word, but when I look at the fight, I just don't see where he got tired. He continued to throw and he continued to press. I don't see personally where he got tired and I think I can identify fatigue in a fighter pretty well. But I have to take him at his word.
"No, Andre never made any excuses about his fight. Look, it was a tough fight, a great fight. If you came to the fight and participated in the fight, you don't have any excuses. I'm not making any excuses; I'm just saying we're going to have a different fighter. That doesn't guarantee victory or anything, just a different fighter."
John David Jackson, Trainer of Sergey "Krusher" Kovalev
On the first fight against Ward:
"My opinion is the same now as it was that night: Sergey won the fight. If you look at the first half of the first fight Sergey dominated. If you look at the second half of the fight Ward got back in the game but Ward didn't come back and dominate like the way everyone says he did. Especially with the knockdown, Sergey won the fight hands down but he unfortunately didn't get the decision. For this fight, if he can fight the second half of this fight the way he fought the first half of the last fight, then of course we will win the fight. He has proved it publicly that he can outbox Ward at his own game. The question now is, can Ward come back and try to outbox Sergey at Sergey's game? That is highly doubtful. Ward isn't a big puncher and can he take Sergey's body shot? We'll see in the second fight what happens but if Sergey fights the second half of this fight the way he fought the first half of the last fight then he wins. I had the first half 5-1 or maybe 6-0 for Sergey but the second half I had it 3-3 or at best 4-2 for Ward. So, when you count in the knockdown, Sergey won the fight."
On whether it's the game plan to knock out Ward:
"No. Sergey needs to stick with his jabs and his combinations, put every round in the bank just like we did the first fight but in the second half he needs to sustain that attack. Don't falter and he will win. If he goes for the knockout, he may not catch Ward. Ward is a very defensively sound-minded fighter. Sergey needs to be smart."
On Sergey's tiredness, late in the first fight:
"There is a different conditioning coach now so hopefully that helps him physically as well as mentally. They seem to work well together. If he did his job than Sergey will be fine. For the first fight Sergey was running 14 miles a day and I asked him why. I told him he was going to wear his legs out. He is still running but not nearly as much. He is saving himself for this time around. I told him that although he was fatigued he hid it pretty well. I couldn't tell that he was fatigued. He got a different coach for the conditioning part and that should work for him. If it works for him physically, it will help him mentally. And that is a tremendous blow to help him win this fight. Now that he has brought a new guy in let's see if that is what he needed to be more successful in his pursuit of Andre Ward."
On prediction for the fight:
"I give Andre a lot of credit for being a very defensive-minded fighter. The fight might go the distance but that's ok. We aren't worried about that. If it goes the distance and Sergey does what he is supposed to do, he dominates; he should win hands down. Just think about this: if Sergey hadn't slowed down and kept up the same pace he had, what would Ward have done differently? He would have gotten his ass whooped the same way because Sergey beat him in the first half of the fight the way he wanted to. Sergey slowed down and that allowed Ward to get back in the game. If he didn't slow down, then what would Ward do? He would have still lost the second half of the fight the way he lost the first half. Sergey allowed him to get back in the game. He didn't just do it; Sergey allowed him to get back in the game because he got tired."
On the knockdown in the first fight:
"I wasn't surprised he got up because Sergey didn't hit him flush. It was kind of a grazing shot. It wasn't full with his knuckles. If Sergey had hit him with a solid shot, Ward probably wouldn't have gotten up. He got hit with a shot that wasn't solid."
On changes for this fight:
"We worked on the inside game. Both fighters held a lot and Sergey was to blame for that also. Now Ward thinks that he is going to hurt Sergey to the body and probably break him down. Well, guess what? If you watch Ward's fights he grabs a lot. He is not a true inside fighter. He grabs a lot and he holds and hits with the free hand. As good as Sergey punches, do you think that he is going to stand there and take those kinds of punches to the body? No. Sergey's mentality is different. He is a survivor-type fighter. He is defensively sound. Once he gets hit he is going to take off. He is not going to stand there and take those kinds of punches."