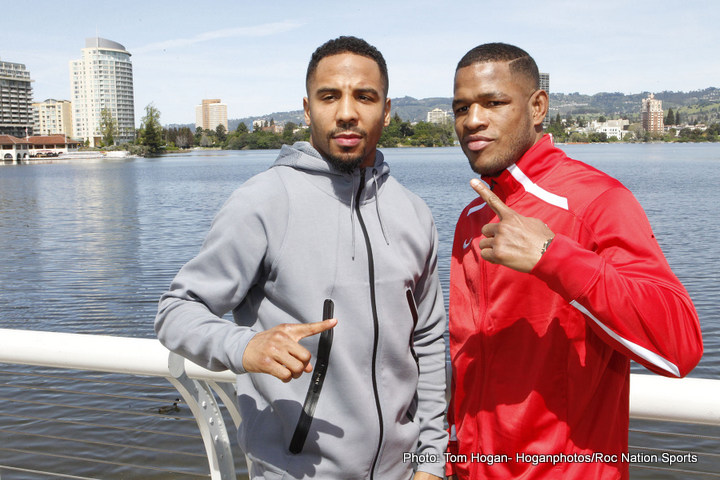 Andre Ward meets Sullivan Barrera this Saturday night live on HBO at the Oracle Arena in Oakland, California. If Ward's successful it moves him one step closer to a meeting with Sergey Kovalev in the fall. Standing in his way is an unbeaten fighter with roots drawn from highly-touted Cuban amateur system. Does the unbeaten Barrera have what it takes to topple Ward? Will rust factor in for Ward having 8 months of more inactivity since his last bout?
Andre Ward signed a three-fight deal with HBO to prepare for a super fight with Sergey Kovalev. After he fought last June, Ward signed with a plan to fight on the Canelo vs. Cotto HBO PPV undercard. A swollen knee caused him to pull out which ended up slowing down the talks for this fight.
The heart of the issue between HBO and Ward was whether or not the November date counted as a fight. HBO sided with a March fight than directly in to a November matchup with Kovalev. Rightfully so, Ward felt shafted and still may fight one more time in the summer before the cutoff date kicks in. It sounds as though Ward will use Barrera as a measuring stick to see if another training camp and fight will be needed.
Sullivan Barrera is a competent professional fighter who has yet to face defeat. The Cuban comes in to this tremendous opportunity on the heels of an impressive knockout over Karo Murat. If Sullivan is able to shake up the boxing world by upsetting Ward it would set up a very interesting all-Main Events Promotions bout with Kovalev.
As mentioned, Barrera's pedigree and power should test Ward, who has been out of the ring from injury and promotion differences for several long stretches since being crowned the 168 pound king. Ward looked relatively sharp against a lesser opponent in Paul Smith last June.
In the lead-up to this HBO fight Barrera has shouted to the rooftops about what he will do to Ward. Can Barrera back up that tough talk or will Ward humble him? Barrera's camp thinks pressure early and often will break Ward and limit what he can do on the outside. Sullivan's inside game better be tight because Ward has all ready proven he can battle in the trenches when push comes to shove.
Barrera is a tad awkward and his punches get too wide at times something that could help but likely hurt him facing a technician in Ward. If Barrera can crowd Ward and bring a decent workrate maybe he can land meaningful punches repeatedly. Overhand shots to the top or side of the head could come in to play as well.
From a Ward perspective there's not much he can't do in a ring. If you try to box with him, good luck. If you want bang on the inside he will gladly oblige to get down and dirty. At this point it comes down to where Ward is after years of inactivity. Did he spend the rest of his prime on the shelf or was the long break just what his body and mind needed after years in the sport? Those questions probably won't be answered on Saturday night and more than likely it will be the Kovalev fight to really know where Ward stands.
The first few rounds Barrera will be closing the gap and pushing the pace. I could see Sullivan making it a rough and tumble affair in the early goings. Once Ward settles in to a groove look for him to take control of the action. By mid-to-late rounds, once Ward has established the jab and distance, he will find a home for his right hands. The unknowns in this fight on both sides is intriguing to say the least and in the sport of boxing you never truly know what will happen once the bell rings. This fight will be two-way for a fair amount of rounds until Ward dials in and takes over.
My official prediction is Andre Ward by Unanimous Decision.
Side Note: The HBO Co-Feature is nice step up in competition when Joseph Diaz Jr. faces Jason Valez. Also, tonight ShoBox: The Next generation and Estrella TV returns featuring some very interesting of prospect cards.
Written by Chris Carlson Host of Rope A Dope Radio blogtalkradio.com/ropeadoperadio
Follow on Twitter @RopeADopeRadio