Vasily Lomachenko will be using the tough as nails Masayoshi Nakatani (19-1, 13 KOs) as his comeback opponent when he returns to the ring in the summers, according to Top Rank promoter Bob Arum.
He's talking of putting the recently beaten Lomachenko (14-2, 10 KOs) in with the tall 5'11 1/2″ Nakatani in front of a crowd in Las Vegas.
With Lomachenko being avoided like the plague by the 'Four Kings' in the lightweight division, it makes perfect sense for Arum to put him in with the tough as nails Japanese fighter Nakatani, who is coming off a career-best ninth-round stoppage win over the talented contender Felix Verdejo on December 12th.
Before that, Nakatani lost a highly competitive 12 round unanimous decision to Teofimo Lopez in 2019. Nakatani gave Teofimo fits with his height, powerful jab, and his ability to avoid his power shots.
After the fight, a frustrated Teofimo told the boxing media that he didn't want to fight taller fighters anymore.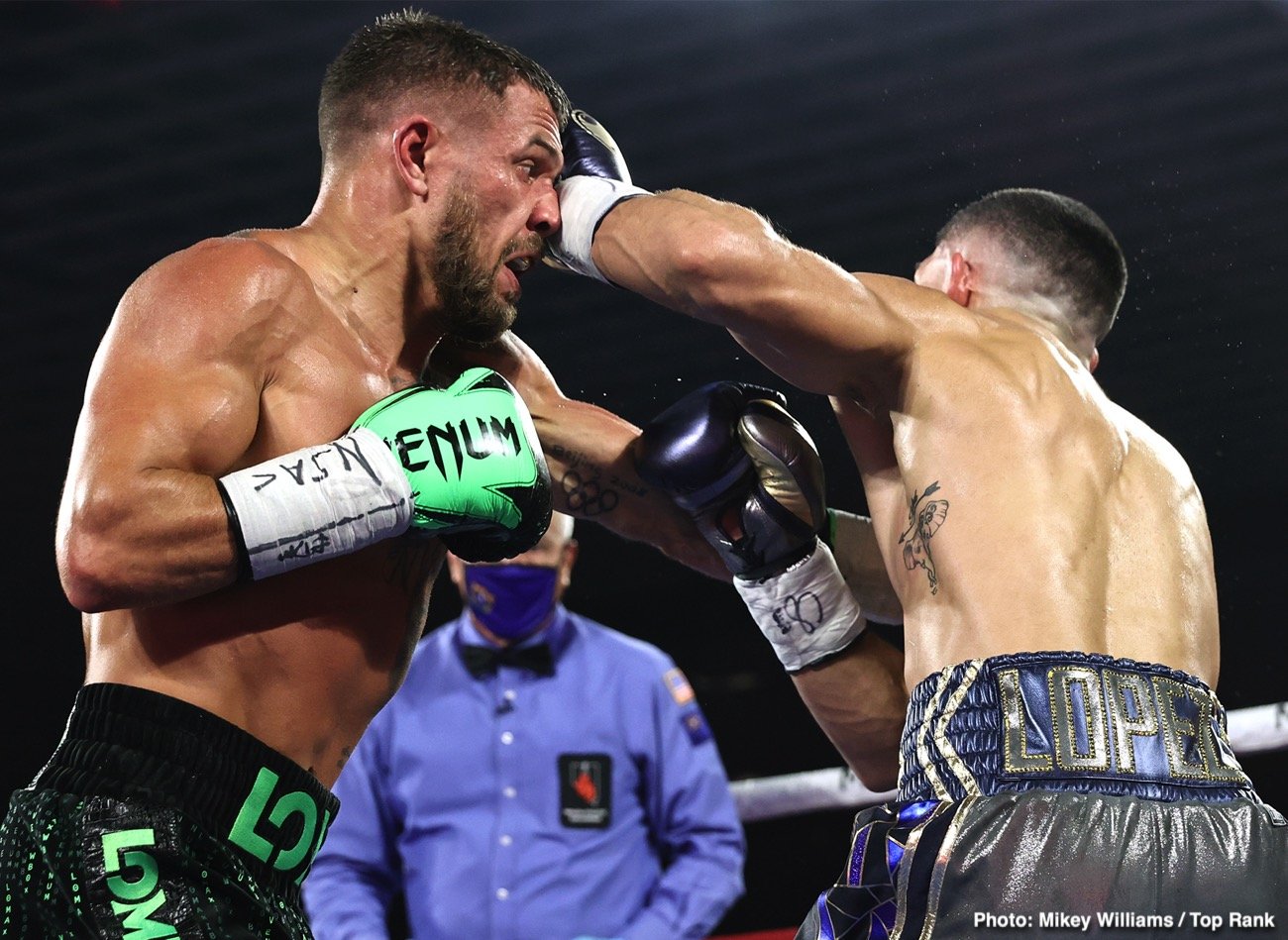 Lomachenko hoped to get a rematch with Teofimo (16-0, 12 KOs) after losing to him last October, but the New Yorker wants nothing to do with fighting him again.
The way that Teofimo is talking, he may never fight Lomachenko again, which some boxing fans feel is a sign of fear.
"Lomachenko, we talked to him. We're looking for early summer, and we're looking to put him before he's tired of fighting in Bubbles," Top Rank boss Bob Arum told iFL TV.

"He's a big ticket-seller, so we think we can do a big fight in early summer in the United States may be against the Japanese boy [Masayoshi] Nakatani, who knocked out [Felix] Verdejo, and gave [Teofimo] Lopez all he could handle, went the full 10 rounds with Lopez," said Arum.
The reality is, Lomachenko is being frozen out by the top lightweights [Teofimo, Devin Haney, Ryan Garcia, and Gervonta Davis], so he's likely going to need to go the mandatory route for him to force one of them to fight him.
Lomachenko will put pressure on Teofimo and the other Four Kings at 135 if he dominates Nakatani and stops him.
If nothing else, Lomachenko will give the boxing public a chance to compare his performance against Nakatani with that of Teofimo.
If Teo chooses to resist giving Lomachenko a rematch for whatever reason, he at least can make him look bad by surpassing his performance against Nakatani.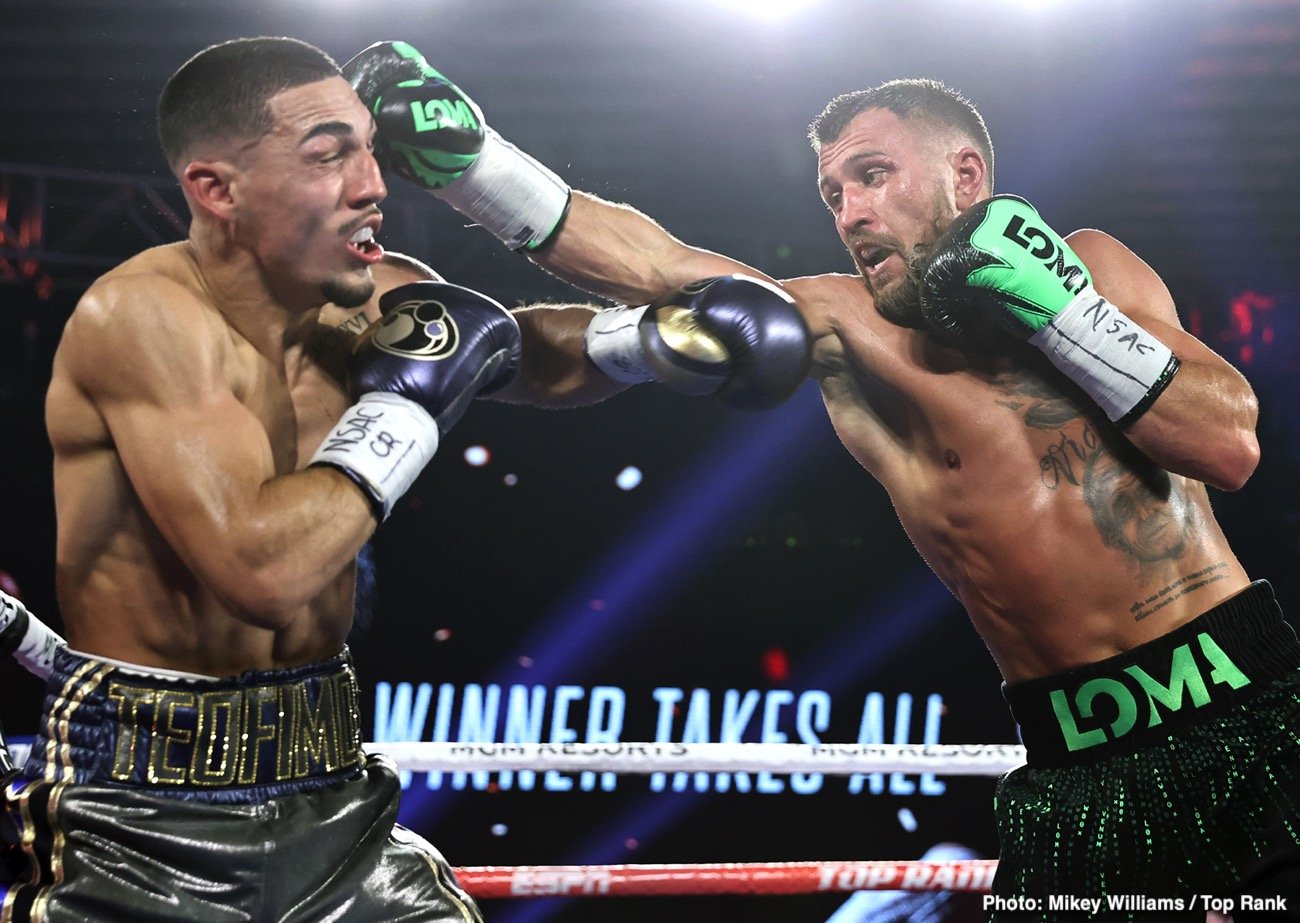 Teofimo may feel that he dodged a bullet in beating Lomachenko when he was fighting with an injured shoulder.
Now that his shoulder has been surgically repaired, Lomachenko would be a different story in a rematch with Teofimo, and he likely knows that.
Teofimo clearly doesn't want that smoke from Loma, and neither does any of the other top lightweights right now.
WBC champion Devin Haney said he excludes Lomachenko from the Four Kings group because of his loss to Teofimo, and he has no interest in fighting him.
Given that Haney just fought 38-year-old Yuriorkis Gamboa in his last fight, it makes him sound like he's just coming up with excuses for why he doesn't want to fight Lomachenko. Gamboa was coming off a knockout loss to Tank Davis when Haney chose to fight him.
"Nakatani is a really hard-punching lightweight, and we're looking towards him as the opponent for Lomachenko," said Arum.
Nakatani was knocked down twice in the first half of his fight against Verdejo, and it looked like he was on his way to getting stopped.
The fight wasn't competitive until Verdejo gassed out in the eighth round. In the ninth, Nakatani surprisingly dropped Verdejo with a stiff jab.
Verdejo just barely beat the count in getting up, but he should have stayed down, as a straight right from Nakatani literally flattened him. The fight was then halted right away because Verdejo was badly hurt.
Nakatani took a lot of punishment in the Verdejo fight and suffered an eye injury. As long as he's healthy by the summer, he'll be a great option for Lomachenko.
We'll have to see, though, whether Nakatani can come back quickly from the injury. He'll have to make it through training camp without suffering a setback.
Lomachenko needs to respect the punching power of Nakatani and not let him land his big shots against him like he was doing against Teofimo and Verdejo. He punches too hard for Lomachenko to let him land like he was doing against those two fighters.
Lomachenko's body punching ability and inside game will give him a tool to break Nakatani down and score a stoppage.
Teofimo isn't much of an inside fighter despite having a lot of power. He doesn't like to get hit, so he avoids fighting in close at all costs. That's why Teo's fight with Nakatani was so difficult because he tried to resist him on the outside, which allowed him to use his height and reach to dominate.
Many boxing fans think Lomachenko should move back down to super featherweight, as they say, he's too small to be fighting at 135.
But Lomachenko believes he can still beat all the fighters in the lightweight division, so he's staying in the division, even though he's going to be frozen out by them.
If Lomachenko moved back down to 130, he'd be stuck fighting a lot of guys that are talented but lack fan bases.
Perhaps the best of the super featherweight bunch is WBC champion Miguel Berchelt, but he's planning on moving up to 135 after his fight against Oscar Valdez next month.
Lomachenko vs. Berchelt will be a great fight at 135 once the Mexican warrior moves up in weight. Shakur Stevenson doesn't have a big enough fan base for Lomachenko to get anything fighting him.
Besides, it's not likely that Arum would let that fight happen right now because he's trying to turn the 23-year-old Stevenson into a star. Lomachenko is much too experienced and talented for Stevenson, who still fights with an amateur style and lacks hand speed and power.
He would be made to order for Lomachenko, and it could hurt his career if he takes a beating from Loma and quits like so many others have.