Heavyweight contender Jared Anderson (16-0, 15 KOs) redeemed himself for his recent poor performance against the old-timer Charles Martin, an even older fighter, 39-year-old Andriy Rudenko (35-7, 21 KOs) by a fifth round TKO on Saturday night at the Hard Rock in Tulsa, Oklahoma.
The 23-year-old Anderson flurried on Rudenko with a storm of shots in the fifth, resulting in the referee stepping in to stop the fight. The official time of the stoppage was at 1:40 mark.
In the fifth, the ref docked a point from Rudenko for excessive clinching. It was a move that could have been done a round earlier because the tired-looking Rudenko was no longer throwing punches and was trying to neutralize Anderson's offense by stalling out the rounds.
Anderson did a lot of good work in throwing to the body, but he still proved to be very hittable. It wasn't the performance that he needed to show that he'd gotten better since his last fight against Charles Martin.
This could be as good as it gets for Anderson, who will never be a big puncher and won't have a great defense. He's a good basic fringe contender.
Jared Anderson is a combination of Chris Byrd & James 'Quick' Tillis from the past. If those two had a baby, it would be Jared Anderson. He's NOT another Riddick Bowe, as Mark Kriegel of ESPN was comparing him. Bowe had more pop in his punches and a devastating uppercut. Anderson doesn't have Bowe's power or his uppercut.
– In the chief support bout, heavyweight contender Efe Ajagba (18-1, 13 KOs) beat Zhan Kossobutskiy (19-1, 18 KOs) by a fourth round disqualification in back & fourth low-blow contest.
Both guys were taking turns throwing low blows, but Kossobutskiy was the one who paid the price, losing two points for low blows in the third.
In the fourth, Ajagba hit Kossobutskiy in the back with a right hand. Kossobutskiy, annoyed, fired back with a low blow for payback and was promptly disqualified.
AJagba was hurting Kossobutskiy with both his shots, and it was clear that the Kazakhstan fighter didn't like it downstairs.
Although Ajagba got the, he was slow & hittable, and it's difficult to imagine him beating a good heavyweight.
It's unclear how long Top Rank will keep Ajagba around before they trim the fat & cut the cord because he's not next Deontay Wilder, and he won't be winning a world title until most of the top ten contenders return in the next five years.
Top Rank needs to see what they got in Ajagba and Jared Anderson by matching them against someone like Bakhodir Jalolov or Arslanbek Makhmudov.
– Featherweight Bruce Carrington (9-0, 5 KOs) beat Angel Contreras (13-7-2, 7 KOs) by an eight-round unanimous decision. The scores: 80-72, 79-73, and 79-73.
– In an off-ESPN broadcast fight, Top Rank's new signee, 2020 Olympic super heavyweight gold medalist Bakhodir Jalolov (13-0, 13 KOs), crushed Onoriode Ehwarieme (20-3, 19 KOs), knocking him down three times in a first-round knockout
The tall, rangy 6'7″ southpaw Jalolov showed deadly aim with his left hand, dropping Ehwarieme in the first minute with two lefts to the head.
Moments later, Jalolov knocked Ehwarieme down with a huge left to the head. Jaalolov then finished the job by knocking down Ehwarieme with a sweeping left hand to the head after trapping him near the ropes.
Ehwarieme was trying to escape after getting hit with the first left hand, but Jalolov followed up with another left to the head that put him down for the third and final time.
– In a surprising upset, middleweight Sona Akale (8-1, 4 KOs)  dominated Nico Ali Walsh (8-1, 5 KOs), out-punching the young, highly hyped fighter to win an eight-round majority decision. The scores were 57-57, 58-56, and 58-56.
– Heavyweight Jeremiah Milton (11-0, 7 KOs) dominated journeyman Craig Lewis (15-7-1, 8 KOs) to win an eight-round unanimous decision. The scores were 80-72, 79-72, and 79-72.
– 19-year-old lightweight Abdullah Mason (10-0, 8 KOs) defeated Cesar Villarraga (10-8-1,5 KOs) by a six-round unanimous decision. The scores were 60-54, 60-54 and 60-54.
– Welterweight prospect Ablaikhan Zhussupov (4-0, 3 KOs) stopped veteran Wiston Campos (33-12-6, 19 KOs) by a fifth-round knockout. Campos's corner had the fight stopped in the fifth. He'd been dropped in the fourth.
– Light welterweight Charly Suarez (16-0, 9 KOs) beat Yohan Vasquez (25-4, 20 KOs) by a ten-round unanimous decision. Scores: 98-92, 98-92, and 97-93.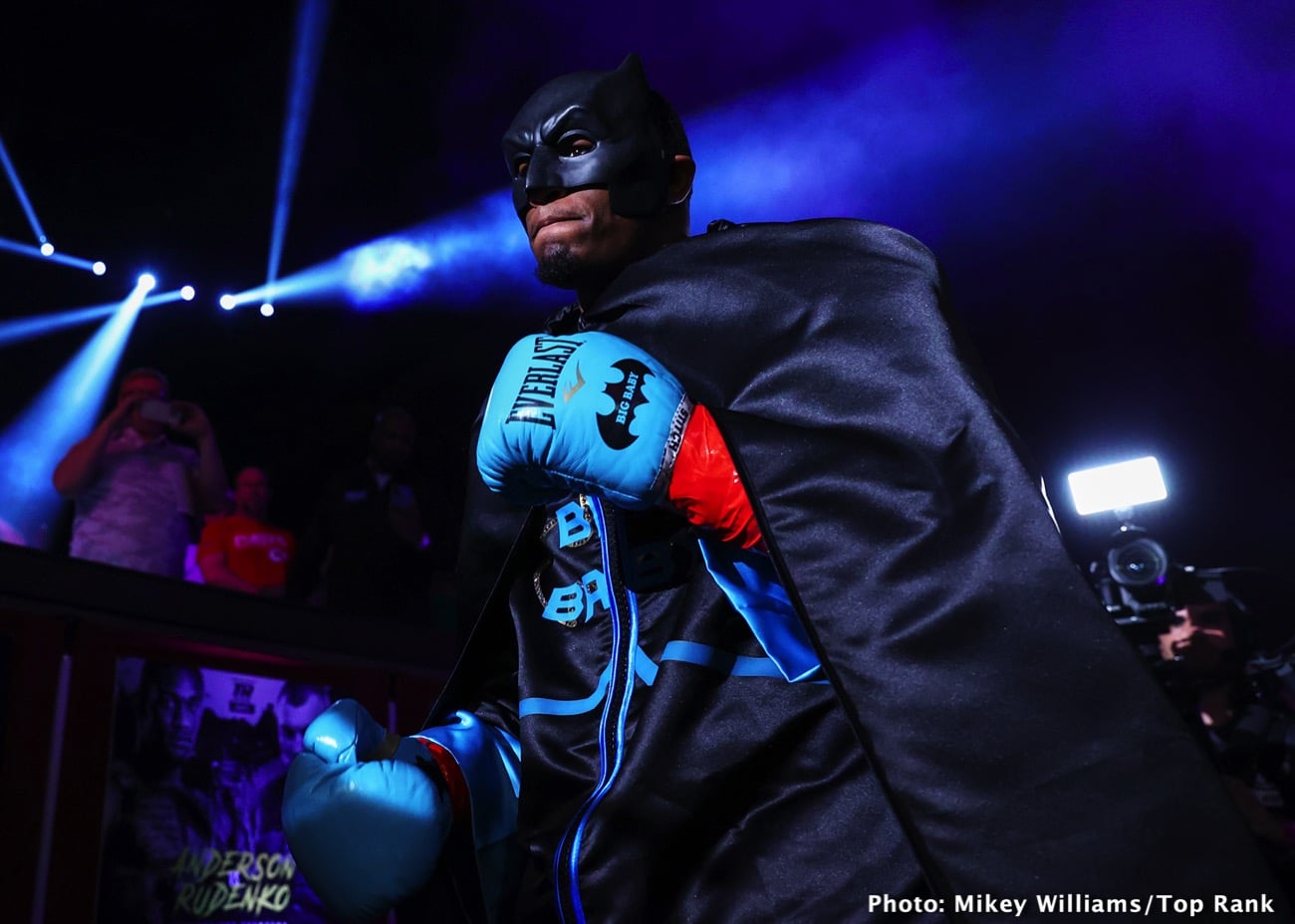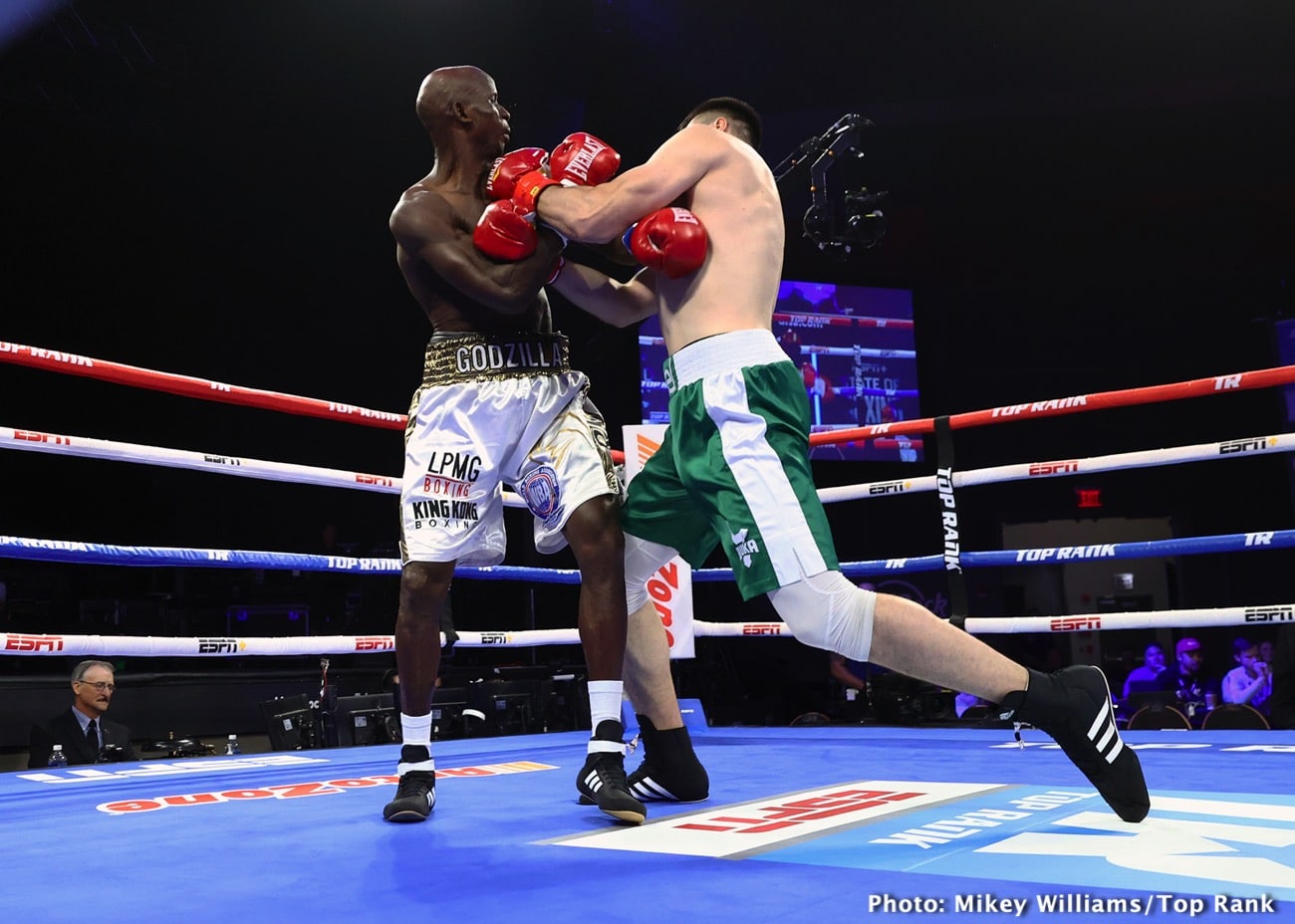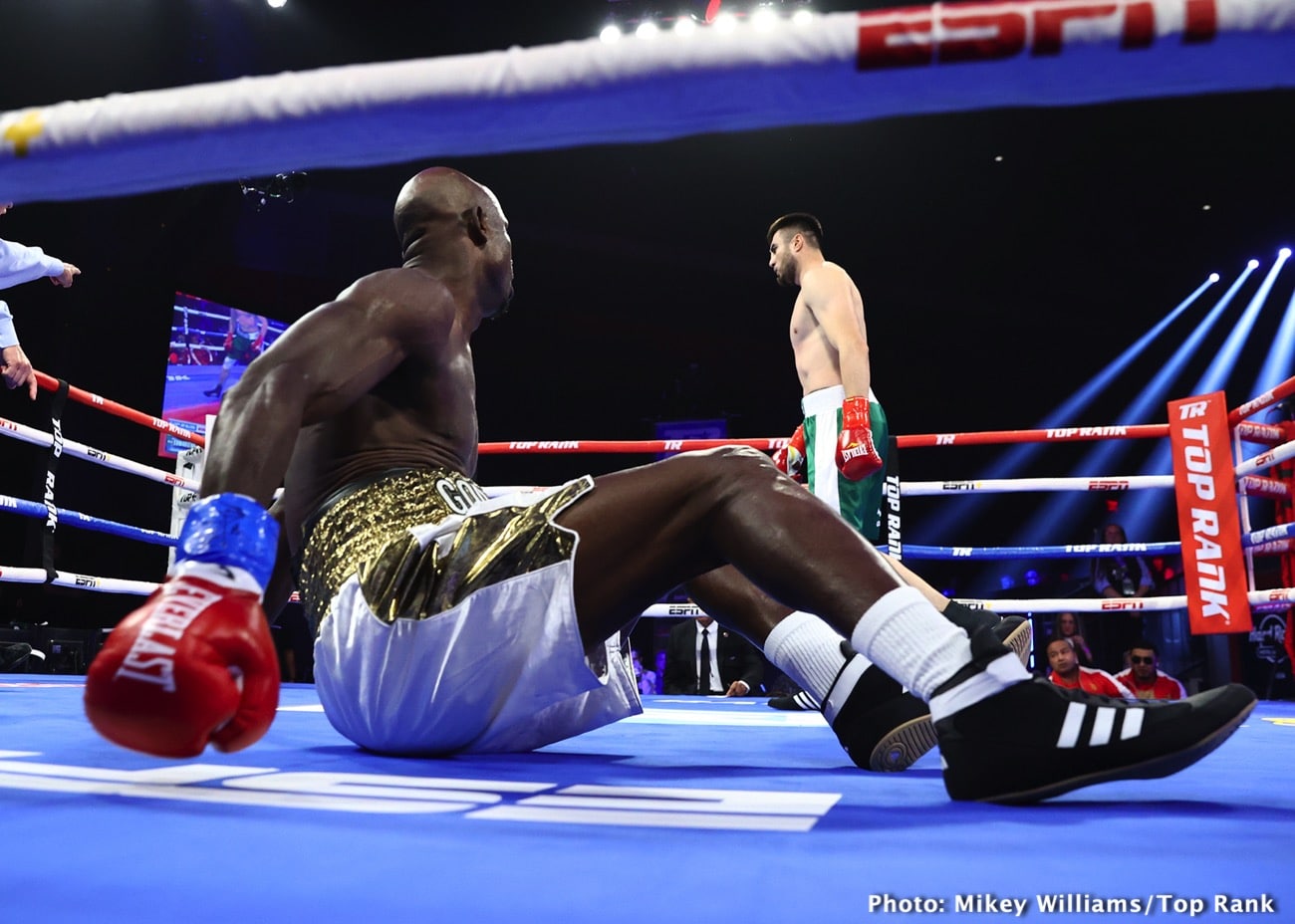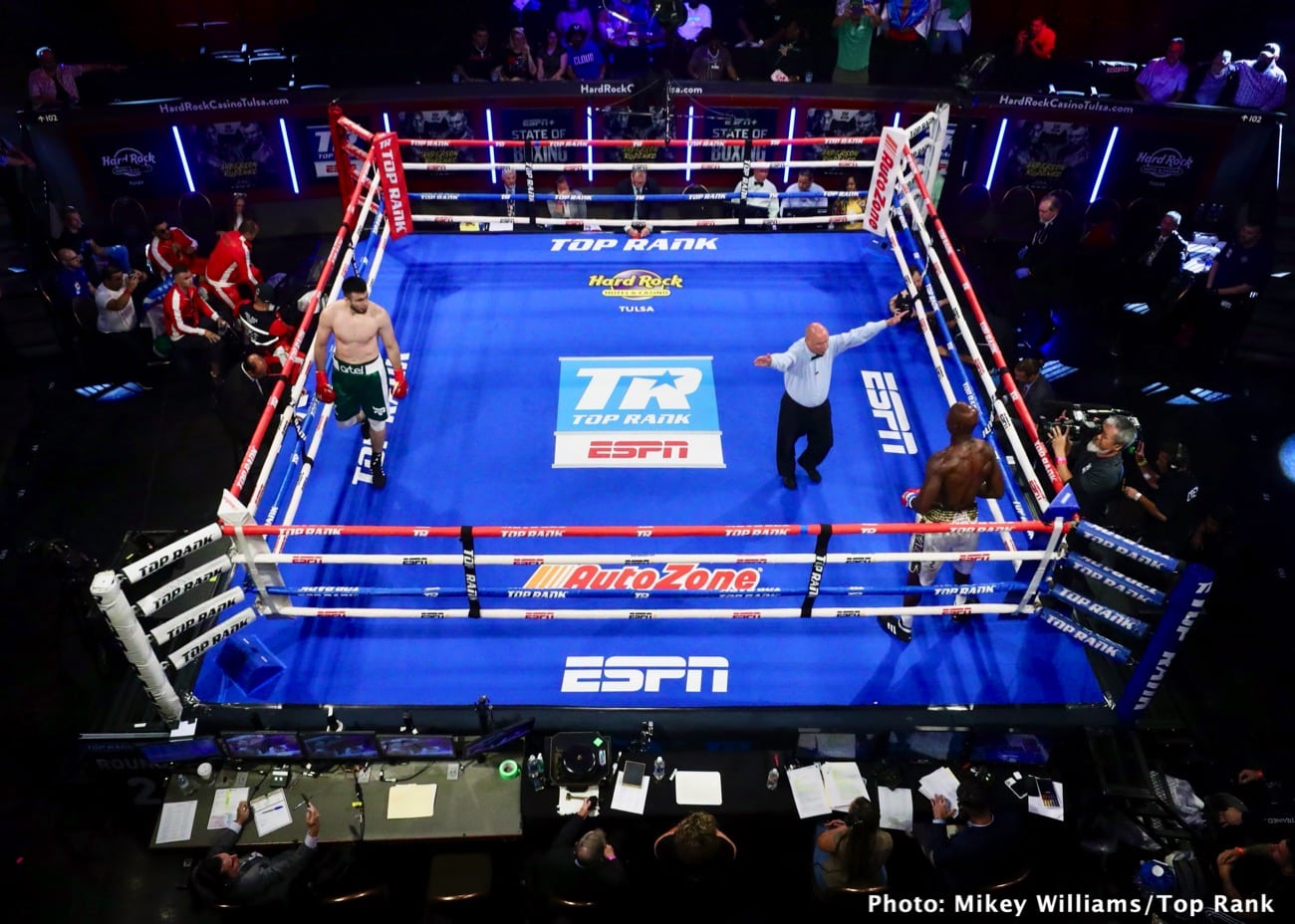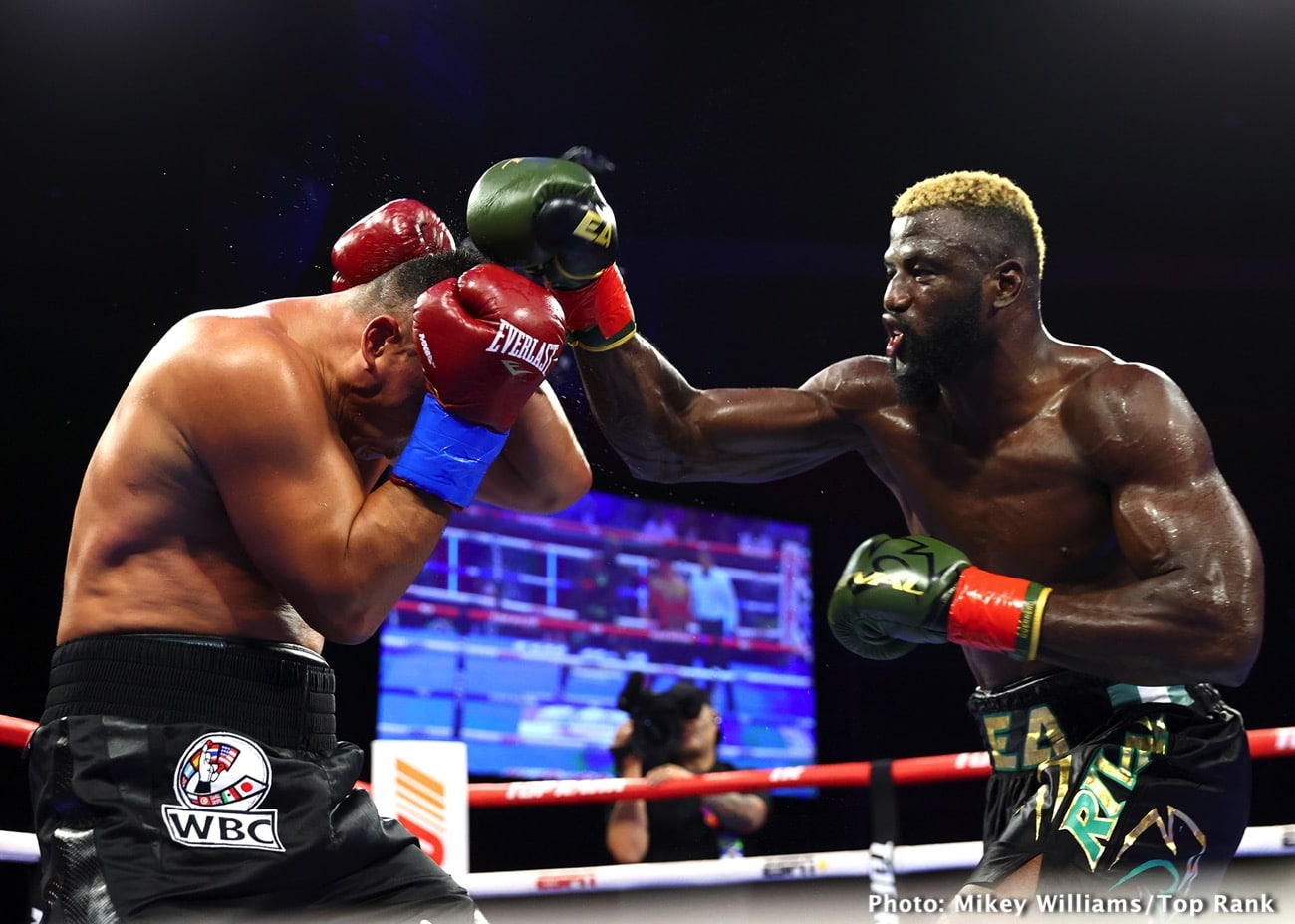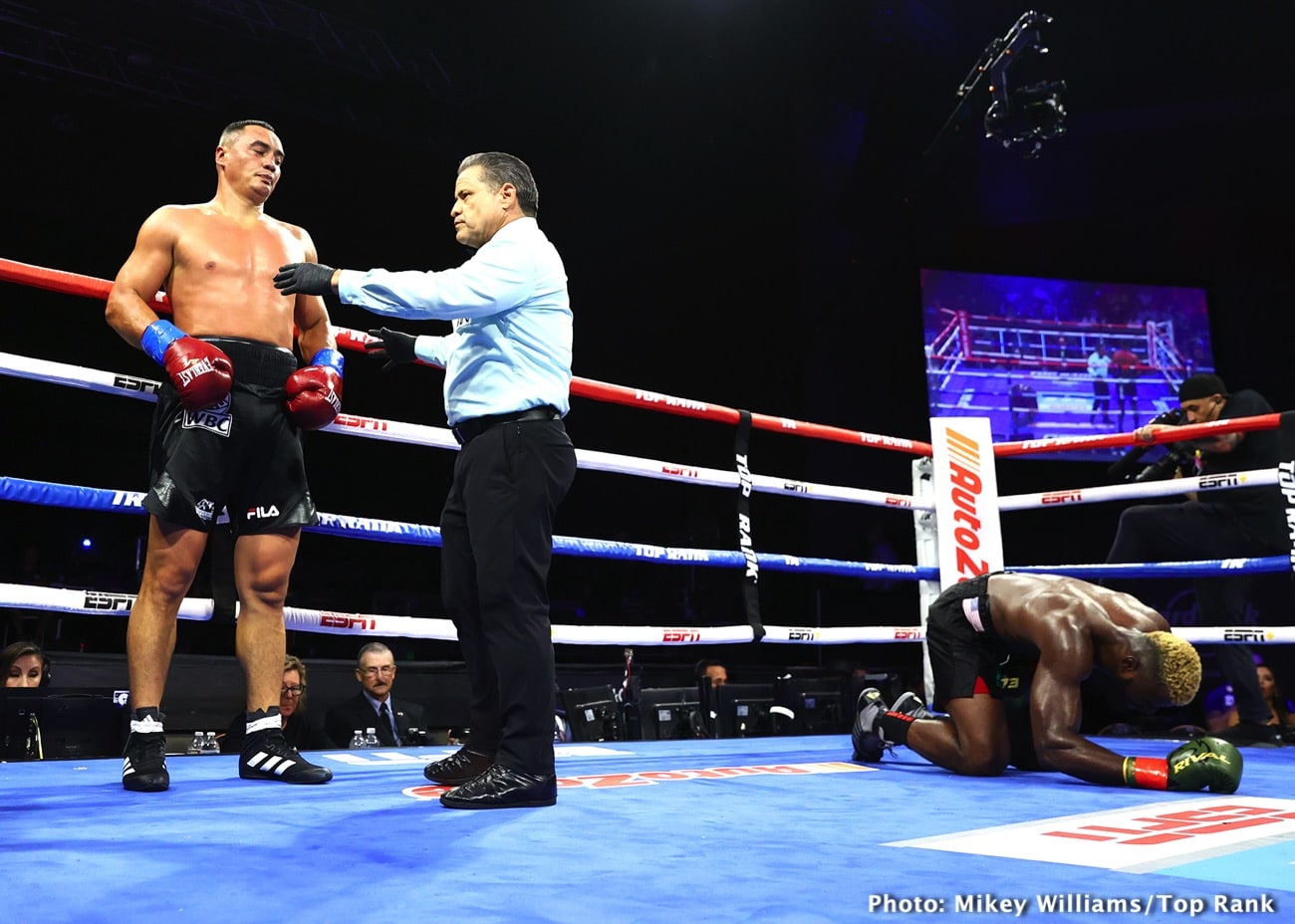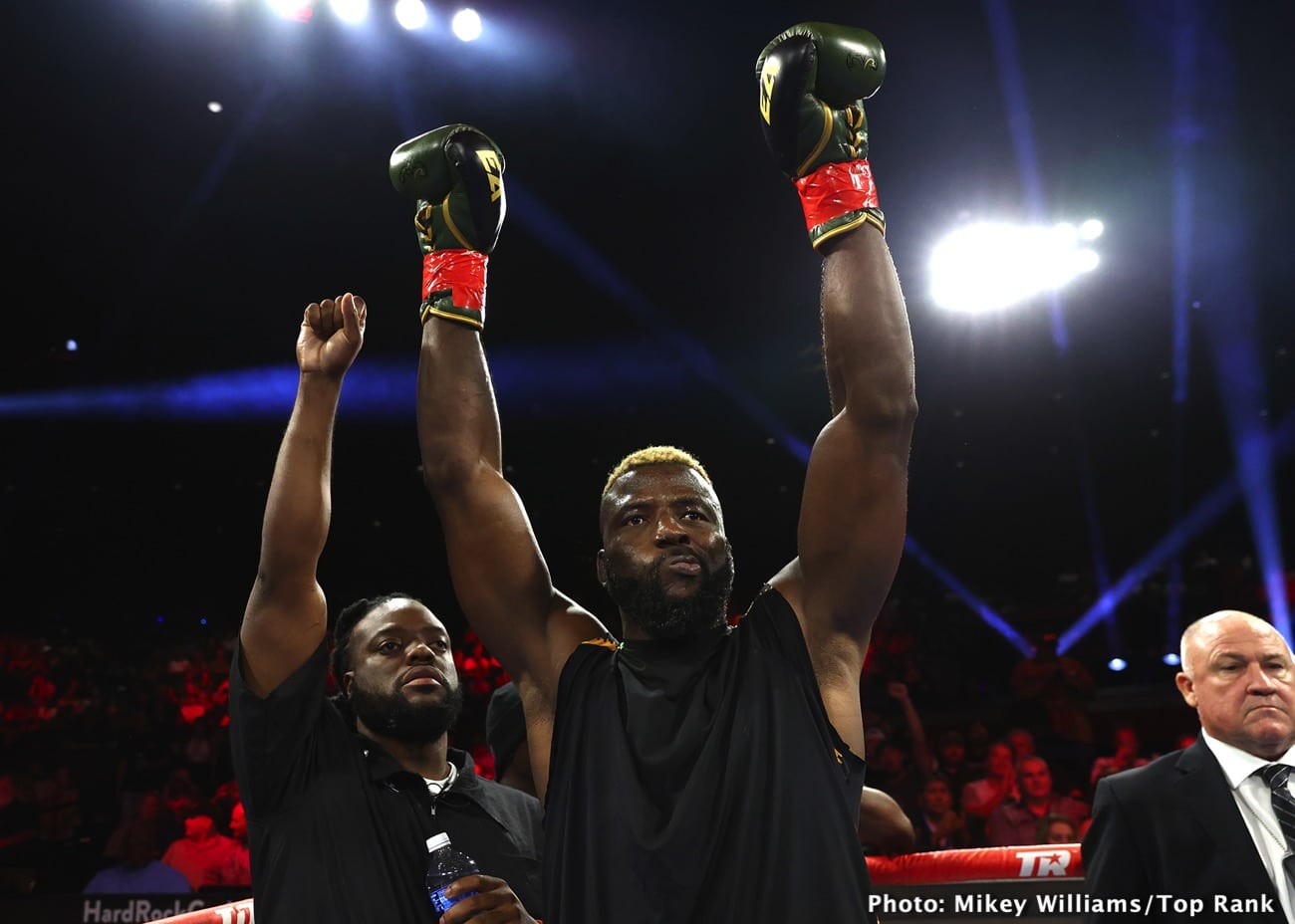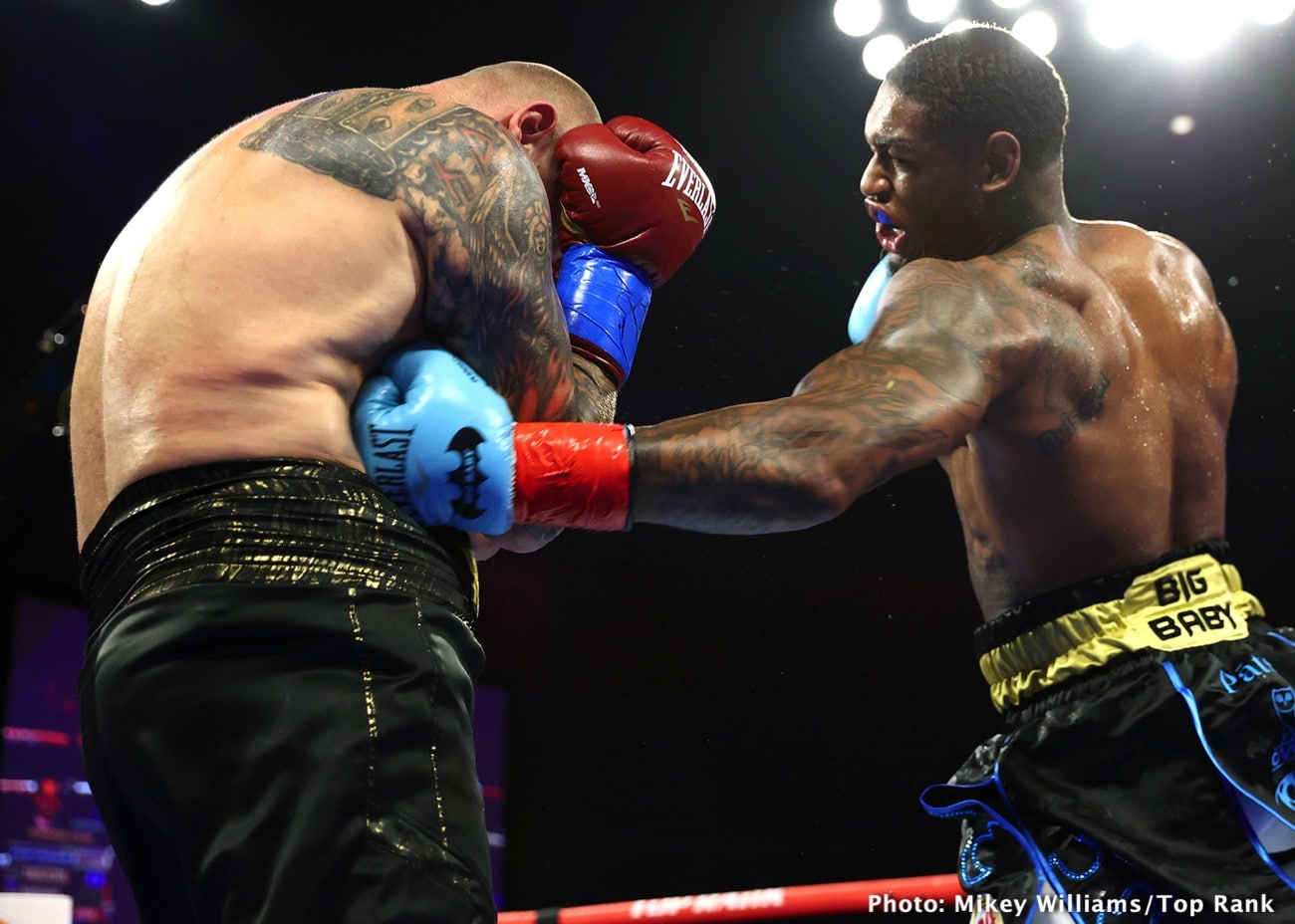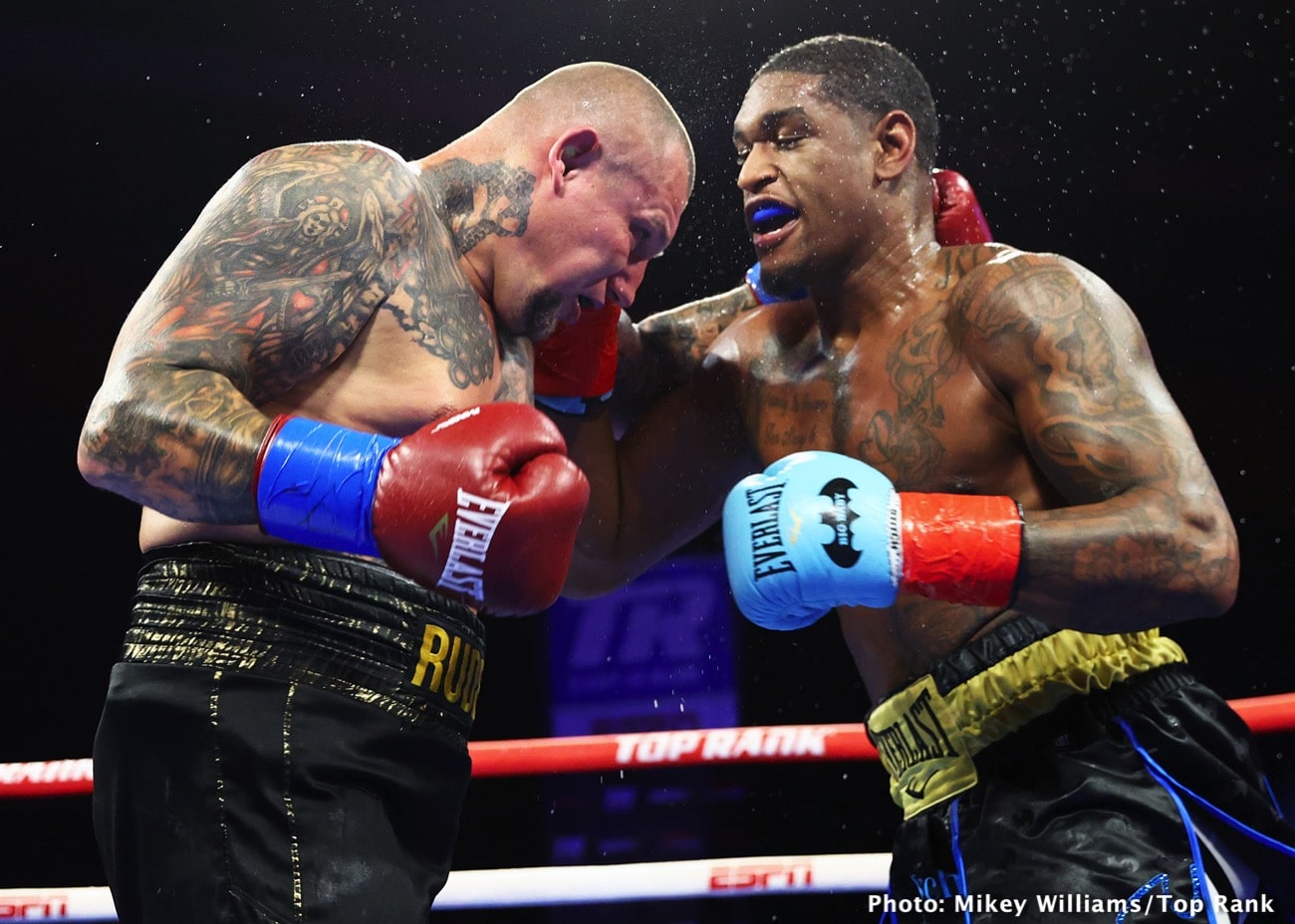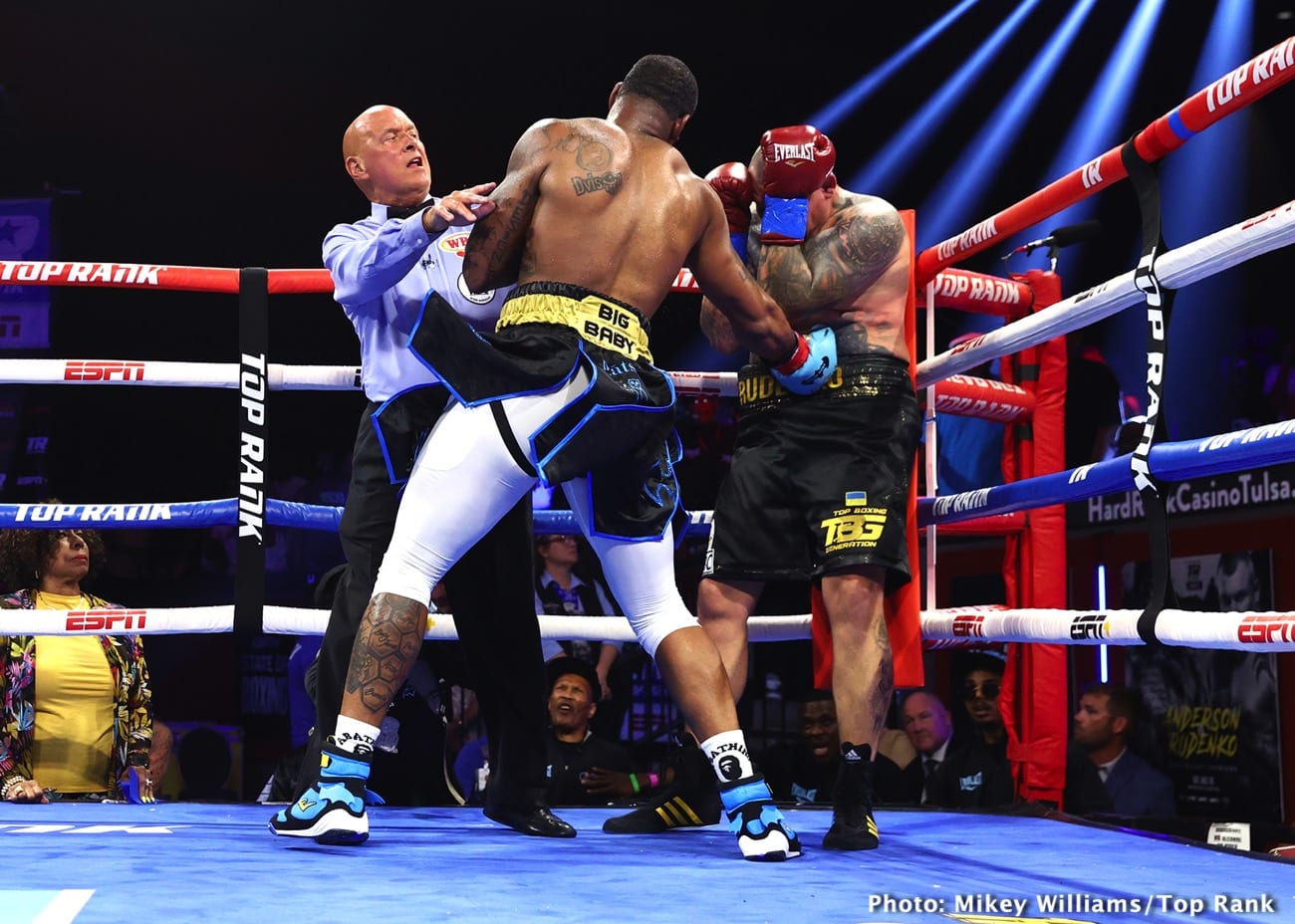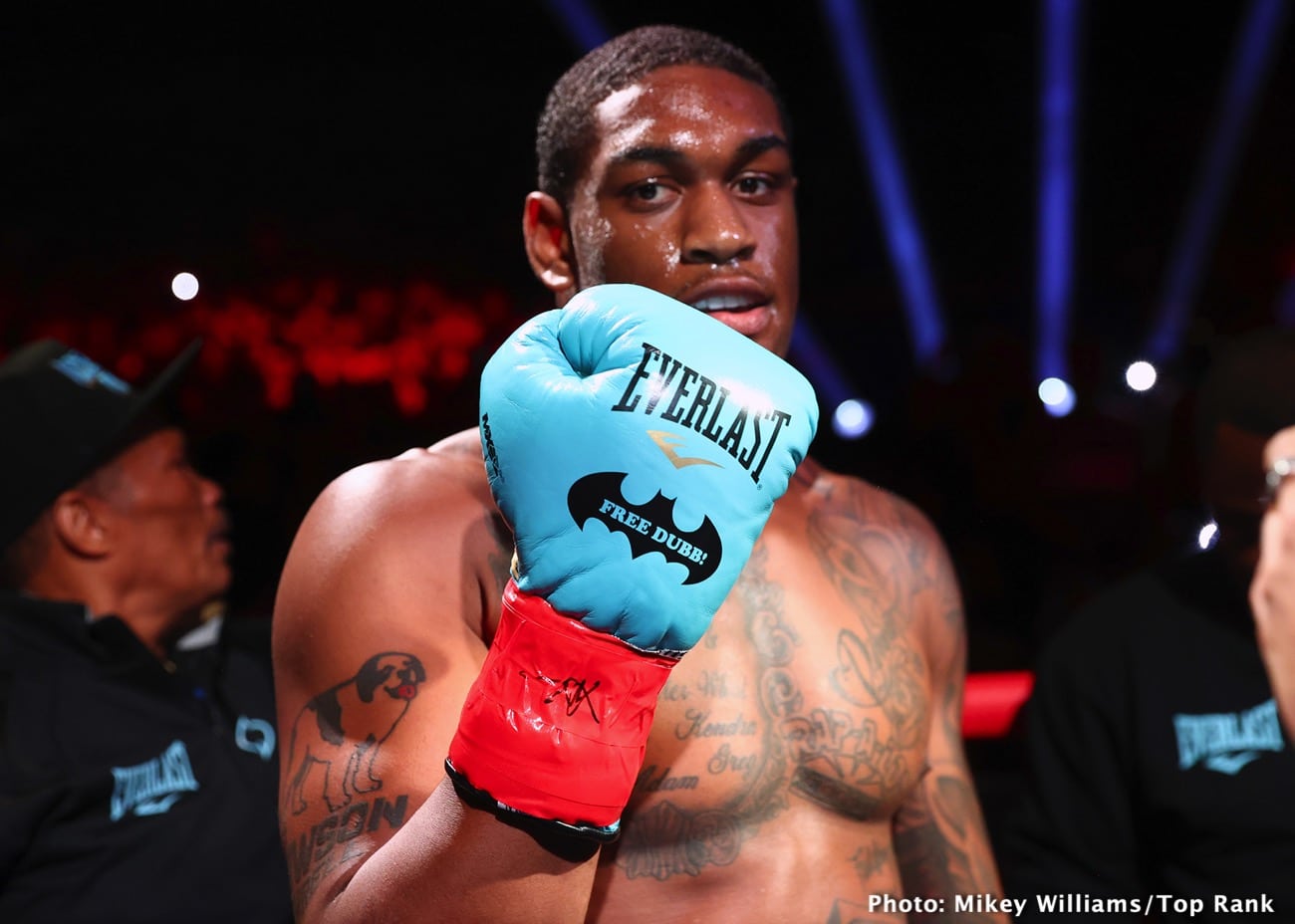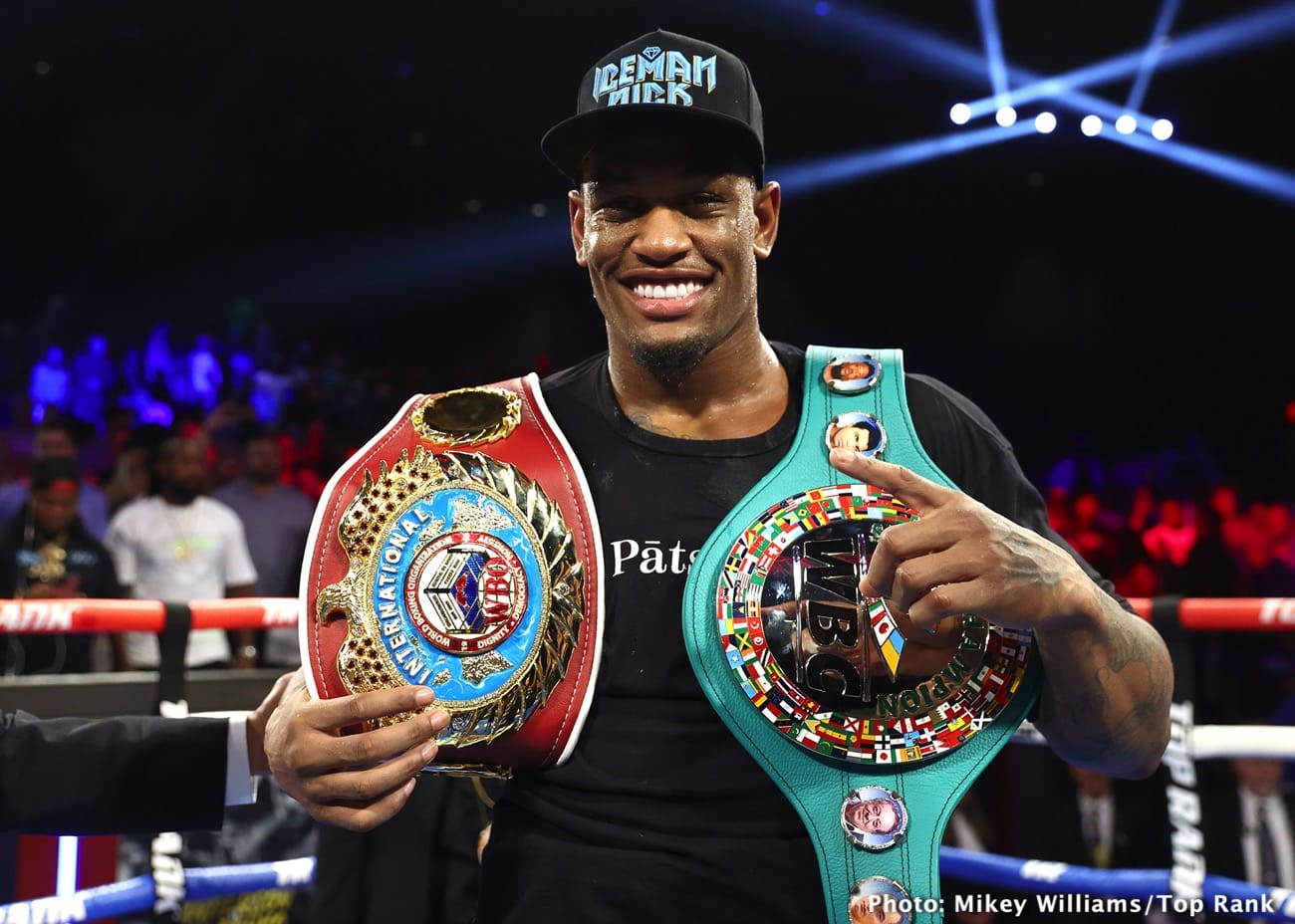 American heavyweight Jared Anderson fights tonight in a showcase contest against the well-traveled veteran Andriy Rudenko at the Hard Rock Hotel & Casino Tulsa. It should be interesting to watch the improvements in Anderson's game from his last bout. The main portion of the card begins at 10:30 p.m. PT/7:30 p.m. PT on ESPN, ESPN Deportes and ESPN+.
In the chief support bout, heavyweight contender Efe Ajagba (17-1, 13 KOs) will be taking a big risk with his career, fighting Zhan Kossobutskiy (19-0, 18 KOs) in a ten round contest. Ajagba lost to Frank Sanchez in 2021 and can ill afford another loss.
Some boxing fans believe this should be the main event on tonight's card, not the Anderson vs. Rudenko contest, which is a vehicle to make Jared look like he's 24K gold.
The 23-year-old 'The Real Big Baby' Anderson (15-0, 14 KOs) didn't look so great in his last contest with former IBF heavyweight champion Charles Martin.
2020 Olympic super heavyweight gold medalist Bakhodir Jalolov (12-0, 12 KOs) will take on Onoriode Ehwarieme (20-2, 19 KOs) in an eight round fight on Top Rank's Youtube site.
This fight isn't part of the ESPN broadcast, but it'll give boxing fans a chance to see the unbeaten Jalolov, who has future world champion written all over him.
Chris Algieri: "They're doing a quick turnaround, bringing him right back. They're getting a guy like Rudenko, who has a good record," said Algieri to ProBox TV about Jared Anderson's opponent for tonight, Andriy Rudenko.
He's a little bit older, he's 39 years old. Jared Anderson is 23-years-old and is streaking. I think they're [Top Rank] trying to get ahead of the news minute to get another quick win under his belt, look spectacular so that no one really thinks about those negativities from Charles Martin and just goes to, 'Now, I have a former world titlist on my docket.
"Yeah, Jared Anderson, I'm very high and bullish on him for a very long time. I think he potentially could be the future of the heavyweight division. He's just a big athlete. We don't really see heavyweights like this.
"He has a gas tank, he's got hand speed, he's willing to take the risk to get the knockout. Guys like that are exciting to watch and will always be. I'm very high on Jared."
Paulie Malignaggi:  "When you're stepping up in class, you're supposed to see some flaws but still win. Charles Martin is an ex-world champion. I don't see what there is to criticize."