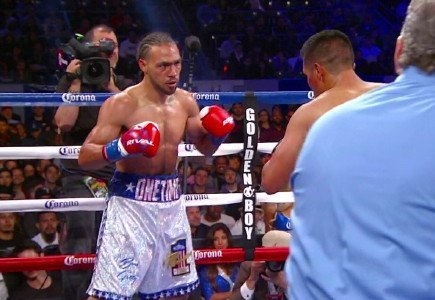 WBA interim welterweight champion Keith Thurman (23-0, 21 KO's) may be inexperienced but he feels that he knows already how to beat WBC welterweight champion Floyd Mayweather Jr., who he hopes to fight in 2015 if he gets his way. Thurman feels that it's pretty simple in how to beat Mayweather. He feels his power, counter punching, and boxing ability will be the key to him getting a victory over Mayweather next year.
Like in all of his fights, Thurman says he'll use in an out movement to get the better of Floyd. Thurman didn't say anything about what he'd do about his slow hand speed or the fact that he can't fight going backwards.
"I want to fight Shawn Porter based off of the fans want it. We're gunning for Mayweather in 2015," Thurman said.
Thurman needs at least one good scalp on his resume for him to get a fight against Mayweather, because Thurman's previous best opponents – Julio Diaz, Diego Chaves and Jesus Soto Karass – aren't nearly good enough. Those are gatekeeper type opponents, and Thurman has yet to fight a real quality fighter at 147. If Thurman beats Porter in his next fight, provided the fight can be made, it would put him in a good position to get a bout against Mayweather.
It's also quite possible Golden Boy Promotions will have Thurman jump through at least one more hoop before getting him the fight by matching him against the likes of Amir Khan, Devon Alexander or Kell Brook, depending on which one they could get for him. It would be better of Thurman at least had two credible wins on his resume before getting put in with Mayweather, because right now you can't get excited about any of the guys that Thurman has faced during his career. He shouldn't have been fighting Diaz last night, since this was a backwards step from Thurman's last fight against Soto Karass.
If you're trying to build Thurman up for a fight against Mayweather, you don't match him against a 34-year-old fighter like Diaz. Instead, you got to be putting him in with guys like Alexander, Brook, Khan, and Marcos Maidana. If he can beat them then let him face Mayweather, and if he can't then he's just another Adrien Broner, someone who talks himself up 24/7, but who can't back it up when tested against the best fighters at 147.
"With power, baby. With power," Thurman said in how he'll beat Mayweather. "Two things will beat Floyd Mayweather: power with semi-boxing. If you can't semi-box, you ain't going to beat Floyd. You've got to have an in and out move, you've got to be able to counter punch. He's a counter puncher. You've got to be able to play his game and hopefully beat him. Obviously, Mayweather is close to retirement, because he's getting gray hairs every day. I only train for Floyd Mayweather, and that's why these boys don't stand up to me."
Right now I see Thurman as a poor man's version of Saul "Canelo" Alvarez, but a much louder one due to his self promotion. I think Canelo would destroy Thurman if that fight were to happen, so basically this is a step down for Mayweather in class in facing Thurman. It would be a good fight in terms of PPV buys if Thurman can build himself up by beating someone actually good instead of the gatekeepers he's been facing recently, but I have my doubts whether Thurman can beat the better fighters like Porter, Brook and Khan.