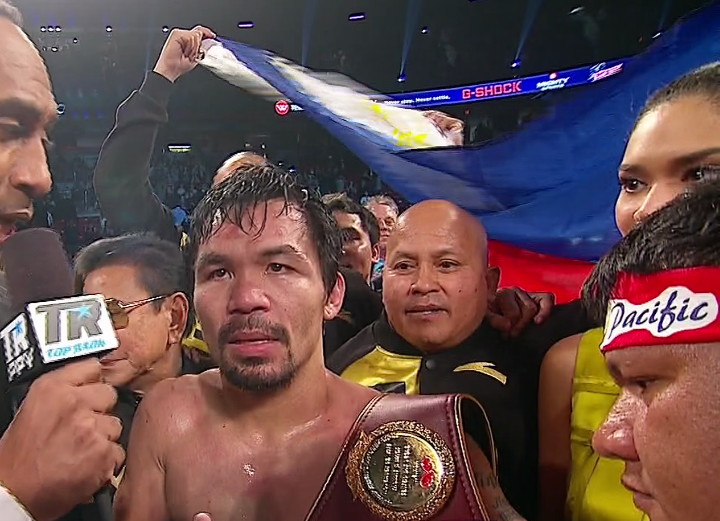 All time great and absolute slam-dunk future Hall of Famer Manny Pacquiao turns 39 today; an age where most fighters are happily (we hope) retired and firmly on the safe side of the ring ropes. 39 was once a seriously advanced age for a fighter, especially one who operates in the lower weight divisions, where sharp reflexes are essential. Pac Man as we know, started off his pro career scarcely weighing above 100 pounds.
So, how much has Manny got left today; how sharp can he still be if he does decide to fight again? There has been talk of Pacquiao fighting Conor McGregor in yet another crossover fight, but this is now old news and promoter Bob Arum says there is basically nothing to it. Another more realistic fight that has been put forward as a possibility, is Pacquiao against the winner of the penciled in Jeff Horn Vs. Terence Crawford fight.
If Pac Man does go for the April winner – either in a revenge mission if Horn wins, or in a shot at seeing off one of the finest boxers, Pound-for-Pound today if Crawford prevails in his welterweight debut – Manny will certainly need sharp tools. If you are a Pacquiao fan, and many millions of us sure are, it would be great to see him come back and manage to defeat either man.
But can the boxer turned senator do it, if he indeed tries? One of the old adages in this great sport says how the great fighters 'have one last great fight left in them before they retire.' Maybe Pac Man can roll back the years and turn in one last special performance. It would be a significant risk for Manny to get in there with either Horn again (two losses to the same guy would likely affect Pacquiao's legacy somewhat) or with the primed and peaking Crawford. But Pacquiao has often taken risks, and more often than not he has overcome and conquered.
But Father Time catches up with every fighter, even ones who conquered as many weight divisions as Pacquiao did in his simply incredible run. Will Manny roll the dice once more, and should he do so? We don't know for sure, any more than than we know how much the 39 year old has left to offer, but chances seem pretty high the Filipino icon will lace 'em up at least one more time.
Before he goes into politics even further (if that's possible; Manny already having devoted huge amounts of energy into his political career) and lives his life as a retired boxing legend who made one hell of a big bang.