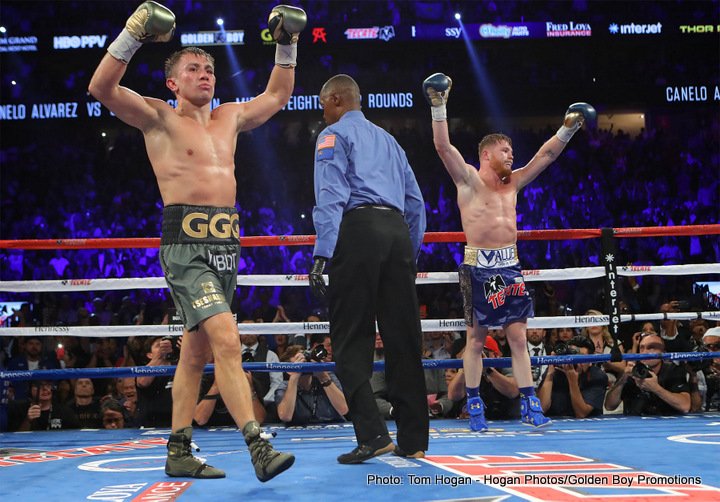 As fight fans have surely heard by now, Gennady Golovkin-Canelo Alvarez II, the biggest rematch of 2018, is set to go ahead in Las Vegas, again – at the same venue as the controversial September fight between the two middleweight kings. The draw that was handed in pleased no-one: not GGG, not the fans – not even Canelo's fans, who soundly booed the verdict.
The question now is, can Golovkin get a fair shake if the fight goes all 12 rounds once again? Both fighters have in fact predicted a KO win, a result that, should it actually take place, will remove any doubt over which great fighter is the greatest. But in all likelihood, a second distance fight looks extremely, well, likely. So, will the three scoring judges hand in scores that are universally accepted this time round?
"It feels right that the rematch returns to the scene of the crime," Golovkin said in a statement.
Once again, though Triple-G is the recognised world champion, with all the belts (barring the WBO strap) as well as being the man who, in the eyes of most fans, won the first fight, the 35 year old has handed to Canelo a major advantage with the fight taking place in Vegas; where the Mexican star has boxed some 11 times. This is the perception, anyway. Again, can Golovkin get a fair deal in Vegas? Can Canelo actually lose a decision in Sin City? Remember, one judge who scored the fight in Vegas actually had Canelo drawing with Floyd Mayweather a few years back – this being a terrible (and biased?) piece of judging.
"Canelo likes Las Vegas and it's hard to beat Las Vegas with everything they offer, especially on a Cinco de Mayo weekend," Tom Loeffler, Golovkin's promoter told The Los Angeles Times in explaining why the rematch got signed for Vegas once again. "Golden Boy's the lead promoter and we went along with the decision. Canelo definitely likes being by the West Coast. He'll have a lot more Mexican fans in Las Vegas….You can argue he's gotten a favourable scorecard against Mayweather and Triple-G there, and he's never fought in New York. He didn't want to go to uncharted territory, where Triple-G has fought six times."
Would it not have been fair for the rematch to have been set for a venue other than Vegas; a "neutral" location, shall we say? Rest assured, if the May 5 fight goes down to the wire, and Canelo gets a close decision or, God forbid, we get another draw, many fight fans will be saying the red-haired superstar benefited greatly from fighting in Las Vegas. Again.
(In a Thursday interview with The LA Times, Loeffler said, "It's safe to say there will be different judges this time around……..We've accepted Nevada, and now we look forward to working with the commission to select the best officials possible for this calibre of a fight.")