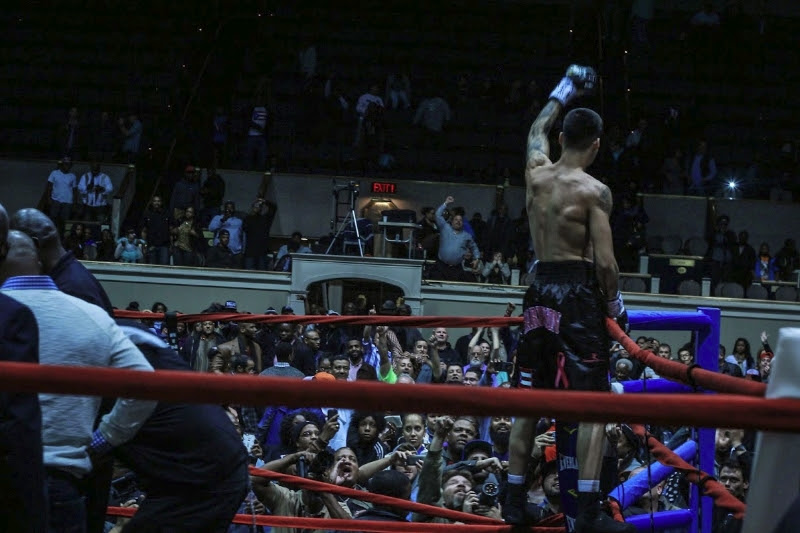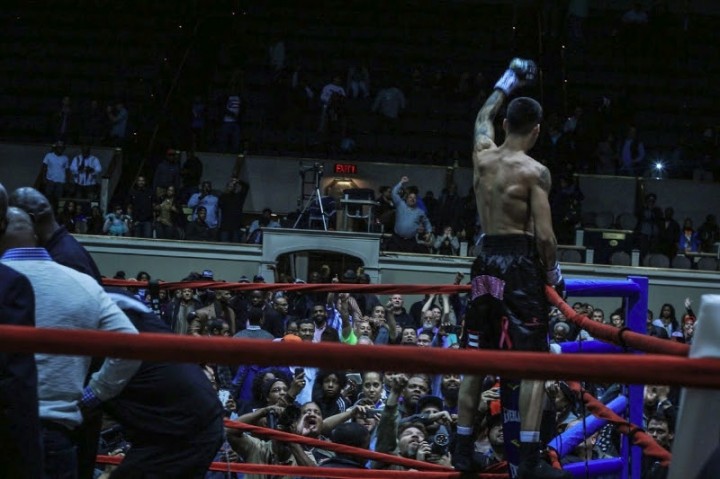 photo by All In One Entertainment – The Washington, D.C., Maryland, and Virginia area has some pretty decent talent. So we decided have some fun and rank the fighters. This list was done only for fun and wasn't designed based on career accomplishments or most titles owned or anything of that nature. It's more of a "who's hot right now" type of list, and even that's not entirely true.
As many people believe, you can't realistically compare different eras or different weight classes, but it's all in fun to hear arguments from fans, media, and fighters alike. Fighters especially, don't take this list to heart. It's only for fun and if you're careful, you might just get a little attention in the process. So… here we go.
1. Tori "Sho-Nuff" Nelson, (11-0-2, 1 KO). Virginia native Tori Nelson comes in at Number 1 on our list. She is the current WIBA Welterweight champion. She successfully defended her title by debatable split decision over Arlene Blencowe. Tori has been in some close ones, but she remains undefeated. You have to take that belt and that "0" from her because she's not going to give either up easily. She's comes to fight and has defended her title four times. Not bad for a 38 year old woman, huh folks?
2. Dominic Wade, (16-0, 11 KOs). Dominic, out of Laurel, Maryland got the biggest win of his career in June when he defeated Nick Brinson at hard Rock hotel in Las Vegas. The 24 year old is well traveled for a guy with some many few fights, with bouts in Mississippi, Las Vegas, New Jersey, Maryland, Washington, DC, Tennessee, and North Dakota. We are still not sure if his KOs will carry on as the competition gets better. He's on a fast track as he signed a deal with a very influential boxing personality last year. Thank you Al Haymon!
3. Antoine "Action" Douglas, (15-0-1, 10 KOs). Douglas is WBC Fecarbox Middleweight champ. Antoine and his sister Tyrieshia are the only brother/sister to qualify for the 2012 Olympic trials and both came very close to reaching the Olympic dream. Action is a perfect moniker for him as Antoine's aggressive style is difficult to defend against. Last time out he got TKO over Jose Medina, which followed a controversial majority draw for the vacant WBA International Middleweight belt versus Michel Soro. Douglas is definitely one to watch.
4. Dusty Hernandez-Harrison, (24-0, 13 KOs). Hernandez-Harrison is being moved at a steady pace. He passed a test early this year against Tim Witherspoon, Jr and recently won by first round stoppage against 44-win veteran Michael Clark. Hernandez-Harrison turned professional at age 16 and has extensive amateur experience. As he continues to get experience, I wouldn't be surprised to see him climb this chart and stake his claim for the Number 1 spot.
5. Tyrieshia "Lady Tiga" Douglas, (6-0, 2 KOs). Douglas is coming off a two big TKO wins since her slugfest with Christina Fuentes. She will be fighting next on November 13 for the vacant WIBA Women's International Boxing Association World super flyweight title. Douglas doesn't have many KOs, but she throws punches in bunches round after round. She's very intense and is all smiles before and after each fight. However, once that bell rings, "Baby Girl" becomes a Lady Tiga in that ring.
6. Mike "Yes Indeed" Reed, (11-0, 6 KOs). Washington, DC Light welterweight southpaw Mike Reed recently signed on with Top Rank. He fought almost all his fights at one Maryland location prior to signing. Next thing you know, he's fighting at Bally's in Atlantic City. Then at Bally's again. Later this month he enters a bigger stage to fight on Terence "Bud" Crawford's card in Omaha. Well-deserved for a young man who has worked extremely hard. He's also taking classes full-time for an accounting degree. He sees the big picture. Smart young man. Oh, did I mention the kid can fight his tail off?
7. Gervonta "Tank" Davis, (9-0, 8 KOs). I've got a soft spot for this kid. He's only 19. He's signed with a very influential boxing personality (thanks Al), and he has some skills. He is fast, punches in combinations, has power, and a bunch of promise. The brain trust lead by Haymon and Lorin Chvotkin has Davis moving at the appropriate pace in his career.
8. Jerry "The King's Son" Odom, (12-0, 11 KOs). Bowie, Maryland (via Washington, DC) checks in at #xx. Odom is a guy that doesn't mess around in the ring. Don't let the nickname fool you. This super middleweight is a monster. At age 21 and with a modest amateur career, this guy fights like a man in the ring. In his last fight he beat undefeated prospect Vilier Quinonez for the interim WBC Fecarbox Super Middleweight title. I'm excited to see how far this young man can go.
8. Kevin "K-Smoov" Rivers, (10-0, 7 KOs). This 24 year old Landover, Maryland resident is a promising prospect. He can counter and has a "smooth" jab and can also go to the body assault when needed. He doesn't do the spectacular He's one to keep an eye on. He recently headlined a card in Maryland.
9. Jarrett "Swift" Hurd, (13-0, 8 KOs). Another 24 year old Marylander survived a scare a few fights ago against Chris Chatman. Chatman has fought Jermell Charlo and recently upset Grady Brewer.
10. David "Day-Day" Grayton IV, (9-0, 8 KOs). Grayton is a former Golden Gloves champ who I hope can get more fights. He's 27 and hasn't been boxing for long. Now is the time and hopefully in 2015 he can fight at least five times. Although maybe a bit raw compared to younger fighters on this list, he needs to be put more on a fast track due to his age.
11. Phil Jackson Benson, (15-1, 14 KOs). Tick, Tick, Tick. The 30 year old Phillip Jackson Benson has an impressive record. Of his 15 wins, only one man went the distance. He's beaten some decent fighters (back to back TKOs of Scott Sigmon and Maxell Taylor). However, his activity hasn't been good at all for someone considered a prospect. He missed all of 2011 and while he seems on track, he needs to keep rolling. I think he realized that recently and stated he had managerial problems. He just signed a deal with a very influential boxing personality (thanks Al) so this will help him get there faster.
12. Lamont "Havoc" Peterson, (33-2-1, 17 KOs). Peterson has won two straight after being knocked out by Lucas Matthysse. His next two fights will go a long way towards his climb or descent on the P4P list.
13. Gary Russell, Jr., Russell's last fight was a disappointing loss to Vasyl Lomachenko. Right now, Russell needs redemption. His next fight will go a long way towards telling us what this kid is really made of…
14. Alantez "SlyAza" Fox, (13-0-1, 4 KOs). Fox is a tall (6'5"), sly as a fox (sorry, I had to go there) boxer with a 79-inch reach. The kid is only 22 years old and is a Light middleweight. At 6 foot 5! This is a project that many a promoter/trainer would take on for sure. You can't teach height and reach and he inked a deal with DiBella Entertainment this year. He had 200 amateur fights, so the background is there. It's going to be fun to watch this young guy grow (no pun). The only problem is inactivity. He fought in September 2013 and didn't fight again until September 2014. I expect his new promotion to rectify this promptly.
14. D'Mitrius "Big Meech" Ballard, (7-0, 6 KOs). A Golden Boy Promotions signee, Ballard fought three times in 2013 and with a December bout lined up, will have five fights this year. Ballard is definitely an offensive fighter. The super middleweight
15. Anthony Peterson, 34-1, 22 KOs). Anthony, do me a favor. Be more active, son! You are more talented (IMO) than your brother. You should be a champion or on the brink of it. You fought once in 2009, twice in 2010, once in 2011, you took 2012 off, and came back once in 2013. You are not yet 30, but once you get there, you'll see how fast the years go by. Get it together young man. A lot of folks are pulling for you.
16. James "Keep'em Sleepin" Stevenson. After periods of inactivity due to injury, family situations, and the like- "Pete" fought valiantly against Sammy Vasquez for the vacant USBA Welterweight title. He came up short, but put forth an effort that won't soon be forgotten by DMV fans as well as boxing fans worldwide.
17. Emmanuel "Tranzforma" Taylor, (18-3, 12 KOs). Emmanuel fought commendably in losing two out of his last three (losses to Chris Algieri and Adrien Broner, respectively). His competition may be stronger than others on this list, but he needs fight and win a couple before he moves back up. He won his share of rounds versus both guys, but Algieri banked his rounds early and Broner doesn't move at all. I'd like to see him work on some things, get a couple of wins, and then step back into the world class mix if successful.
18. Alexander "The Great" Johnson, (16-2, 7 KOs). Coming off a spectacular win in a grudge match over henry "Sugar Poo" Buchanan. After taking all of 2012 off, Alexander fought three times in 2013 and twice in 2014.
18. Demond "D'Best At It" Nicholson, (10-1, 10 KOs). This kid is punching! He suffered his first defeat last time out, but he's only 21. This is a great learning experience and he has plenty time to right some of the wrongs in his fight game.
19. Travis Reeves, (7-2, 3 KOs). Reeves has won five of his past 6 (a draw earlier this year) and seems to have found his feet. He's fought five times in 2014 and I wouldn't be surprise if he got another in before the year is out. I like this guy. He seems to be as friendly outside the ring as he is intense inside of it. If he stays as active in 2015, he should climb this list for sure.
20. DeMarcus "Chop Chop" Corley, (42-22-1, 25 KOs). 40 and ticking! That's all I can say about this guy. Chop has won 3 of his last four and somehow weighed two pounds (133) below the light weight limit (135). Here's a guy who fought at junior welterweight for as long as anyone can remember. How he does it and eats whatever he wants is unknown to anyone but Corley. He makes the list on activity alone and rarely not competitive, even at his advanced age.
Others to Watch: Tony "The Tiger" Thompson, Tony "Mo Better" Jeter, Jimmy Lange, Henry "Sugar Poo" Buchanan, Todd "White Lightning" Wilson, Nick Kisner, Scott Sigmon, Brandon Quarles, Dwayne "Big Ticket" McRae, Joshua "Dynamite" Davis, Andrew Farmer, Thomas "Top Dog" Williams, Thomas "KO" Snow. Anyone left out was purely because I had a deadline to meet for this list.