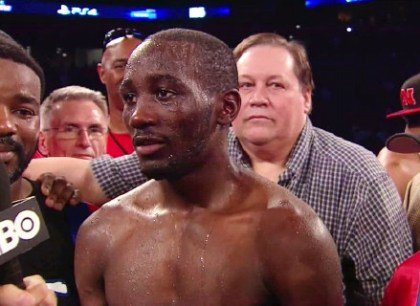 BOB ARUM: We are very excited to bring this event to Arlington, Texas, We are familiar with the Dallas-Ft. Worth area and have put on shows at Cowboys Stadium and this facility at the University of Texas Arlington is beautiful which is fitting for Fighter of the Year Terence Crawford, who was the world champion of the lightweight division and is now moving up for a crack at a junior welterweight world title. He fights a difficult contender in Thomas Dulorme. But we at Top Rank are confident in the ability of Terrence Crawford.
TERRENCE CRAWFORD: Camp has been going great. You know it's been a blessing to be where I'm at and at this point I am ready to just go in there and do what I've got to do on Saturday night.
Has your life changed much after the year you have had?
TERRENCE CRAWFORD: Not really. I've got a little more of the big time people noticing me but other than that everything has been the same.
We saw how hard of a time you had getting down to 135 for the Beltran fight – how difficult was it?
TERENCE CRAWFORD: For that fight I don't know what it was but my weight wasn't coming down like it normally does. Now for this fight my weight has been down for about a week. It would have been easier for me to make 135 for this fight than the Beltran fight.
So you could have stayed at 135?
TERENCE CRAWFORD: I could in a sense, but I don't think that would have been the best move being that my body is growing and I'm filling out a little more. This is the right time to move up before I start having serious problems because I struggled hard to make weight for that fight.
Your thoughts on now moving to 140 and fighting for a title?
TERENCE CRAWFORD: I am pleased with it. I feel like I need to use my career momentum to my advantage and I feel like I've got the momentum right now. I don't want to take any steps backward, I want to keep moving up.
What are your thoughts about what Dulorme brings to the ring.
TERENCE CRAWFORD: I think he is a good boxer. He's got a sharp, nice jab, he's got a nice right hand. He likes to throw the little right hook. He moves well. He switches like me. I don't have anything bad to say about him. Come Saturday I feel like I'm going to make my adjustments in the ring and do what I've go to do to get the job done.
Do you make your adjustments during the rounds or discuss when you go back to the corner in between rounds?
TERENCE CRAWFORD: I go the way I see it. One minute I may do something and the next minute I may feel the need to do something different. That's why I switch back and forth so frequently because I may see something that I can capitalize on.
Going back to Gamboa – how did you know when to make the adjustments?
TERENCE CRAWFORD: Well I saw that he just kept coming short with the right hand coming over the top. So I figured instead of catching him pulling out, I was going to catch him coming in. I felt like my right hook was going to be the key to catching him coming in because he was coming in so fast he wouldn't see it coming and that's what happened.
Do you see a long stay at junior welterweight or do you see yourself moving up?
TERENCE CRAWFORD: Well right now my focus is 140. I have no thoughts about moving up to 147, I just moved up to 140. Right now I am focusing on being the number one guy at 140.
What do you think your biggest challenge will be at 140?
TERENCE CRAWFORD: I don't know. I really can't say what my main challenge will be because even though I fought at this division before, I never fought for a title, but I feel like I'm ready for it. But I don't know until I get in there.
Do you worry about the quality of the punch at 140?
TERENCE CRAWFORD: I don't worry about those kinds of things. I need to worry about neutralizing their strength and getting the job done.
You had some great fights in Omaha last year and now you are back on the road – do you plan to go back to light up Omaha again?
TERENCE CRAWFORD: My fighting outside of Omaha is nothing new to me. I've been doing it all my life. In tournaments when nobody knew me. I am kind of used to fighting away from him. I do see myself fighting in Omaha again, in a different weight class. Bringing another championship title to Omaha. But that's in the future and right now I am more focused on the present.
Who does Terence remind you of historically?
BOB ARUM: The guy who comes most to mind from the standpoint from the fact that he is a boxer / puncher – there is a guy that we promoted for a number of years named Donald Curry. Curry had at a certain point in his career, for a number of years was really a top flight fighter and they said he was going to be the next Sugar Ray Leonard but it didn't work out that way, for various reasons. Be Terence has people around him, like Brian McIntyre, and Cameron Dunkin behind him, to keep him on the right patch, so that he will ultimately be able to achieve what Curry didn't. Terence is a great fighter and Terence reminds me of Donald Curry.
You seem to fly under the radar because you are so soft-spoken. Do you think sometimes maybe you should talk a little more smack?
TERENCE CRAWFORD: I don't feel like I need to do that. That's not me. I don't like to say anything about me around me. I like to feel like when I say something that's what I mean. That's what I'm about. I'm not about being a showman. I am a showman in the ring but those unnecessary things outside the ring that people do; I don't feel like I need to do that because that's not me.
You are fighting now in '15 before you even get the award for Fighter of the Year for 2014. Do you feel you are beginning a new campaign for 2015?
TERENCE CRAWFORD: I couldn't even imagine thinking about that right now because it is so far away. But if that was to happen again, I would be too happy.
Were you surprised to get it and what does it mean to you as you look back?
TERENCE CRAWFORD: It means a lot to me. I feel like I had a great year. Going over there to Scotland, where nobody wanted to go, then coming back and fighting Gamboa – tough, tough fight, tough fighter – undefeated and a lot of experience and a lot of backing. Then taking on Ray Beltran – I felt great about my performance and my year. I been telling my manager, Cameron Dunkin, for years I wanted to be pushed. 'Cameron throw me in there. Throw me in there.' But managers are supposed to protect fighters from themselves, because sometimes fighters might say they want to fight, but don't need to fight and it's not a good fight for them. They thing they want it but really it's not a good fight for them. That's why I hired Cameron, because he, working with Brian McIntyre – that's their job – to get the best fights for me, not for me, but for myself. That's why they are the managers and I am the fighter. So I just bought my time, waited for the moment, and look at me now.
Are you looking forward to fighting then going to New York and having a good time and getting your accolades?
TERENCE CRAWFORD: Of course, of course – that is the ultimate goal. It's taking care of business Saturday, then resting up and enjoying my weekend. Then go get my award, then after that go to the Mayweather fight. I am just looking forward to everything this weekend.
How do you feel about the 6:1 odds in your favor?
TERENCE CRAWFORD: I don't know. They may see one thing but I respect all fighters. I have never in my career underestimated any fighter. When I am in training camp I never think about going in there and knock this dude out or I'm going to do this. They can think something else but we are going to train as hard as we can for twelve rounds or even more. That way we don't get any surprises.
How do you see yourself this year at 140?
TERENCE CRAWFORD: I see myself doing great things in this weight class. I feel like I am going to be stronger. I feel like I am going to be faster. I am getting the experience that I need to be smarter and wiser. I don't go in the ring looking for any particular fighter, like 'I want to fight him or I want to fight him.' I just want to fight the best. My manager, my promoter, if they feel it is the best fight for me, then they will come to me and say this is the fight we want and I will believe in them like they believe in me and we will go forward with the fight.
Is this fight set up to take on the winner of Matthysse – Provodnikov?
BOB ARUM: Provodnikov and Matthysse are excellent fighters and certainly the winner of that fight would be considered against the winner, who we feel is going to be Crawford, would be a natural. But would there be a better fight to be made? Would the manager of the winner of Provodnikov-Matthysse want to fight the winner of this fight? Those things need to be decided. In other words, this is not a puppet show. You sit down with the management of the winner of the fight and then it will be decided. Let's just enjoy what we are going to see on Saturday.
Team Crawford In closing
TERENCE CRAWFORD: Thanks for having me on.
BOB ARUM: For everyone that can get to Arlington, get there because it is going to be a great fight. You will see one of the great up and coming fighters of this era, Terence Crawford. I know a lot of people are focused on May 2, when Manny and Floyd go at it. But there are great fighters that will be fighting on Saturday, whether they are in Texas or elsewhere, I think Saturday is going to be a real good day for the junior welterweight division and hopefully a good day for Terence Crawford,
###
Terence Crawford vs. Thomas Dulorme: Saturday, April 18 Live on HBO
Undefeated World Boxing Organization (WBO) lightweight champion and the Boxing Writers Association of America's (BWAA) Fighter of the Year TERENCE "Bud" CRAWFORD is movin' on up — to the junior welterweight division — where he will take on THOMAS "Thunder" DULORME, the No. 2-world-rated contender, for the vacant WBO World Junior Welterweight title. Crawford vs. Dulorme will take place Saturday, April 18, at College Park Center located on the campus of the University of Texas Arlington in the Dallas/Fort Worth area. The world championship fight will be televised as part of a split site doubleheader live on HBO Boxing After Dark®, beginning at 9:45 p.m. ET/PT.
Promoted By Top Rank®, in association with Gary Shaw Productions, Foreman Boys Promotions and Tecate, tickets to the Crawford-Dulorme world championship event will go on sale Tomorrow! Friday, March 6, at 10:00 a.m. CT. Priced at $200, $100, $60, $40 and $25, plus applicable fees, tickets can be purchased at College Park Center box office, online at www.utatickets.com/ or www.utacollegepark.com/ or by phone at (817) 272-9595.
"I am ready to do bigger and better things at 140," said Crawford.
"I'm here to prove to the world that I am the best fighter in the junior welterweight division," said Dulorme. "Crawford has an undefeated record but he's never won a fight at 140 lbs. I'm envisioning a hard-fought victory, one that I will bring back home to my people of Puerto Rico."
"Dulorme is a good, well-rounded boxer. We are excited because the 140 pound division will bring the best out of Terence," said Brian McIntyre, Crawford's co-trainer and co-manager. "The 140 division is loaded with top fighters. This is great for Terence as everyone will soon see."
"Terence had a breakout year in 2014 capturing the world's attention with three career-best world championship victories en route to earning Fighter of the Year accolades," said Todd duBoef, president of Top Rank. "He will be looking continue that momentum on April 18 when he returns to HBO, on the hunt for another world title against Thomas Dulorme of Puerto Rico."
"I'm very pleased that I was able to get this fight done with Top Rank," said Gary Shaw. "Terence Crawford is considered one of the best Lightweights in boxing, but he is moving up to junior welterweight where he will face a very determined and talented Thomas Dulorme, who's undefeated at 140 pounds. I want to thank HBO for showcasing what I perceive is another great fight for the fans. I smell an upset in the making. This will be the start of a great run of fantastic fights for HBO."
"With Terence Crawford's star having emerged in 2014, the question now is how high that star ascends or if his opponent Thomas Dulorme will invert the trajectory," said Peter Nelson, vice president of programming, HBO Sports. "As lightweight champion last year, Crawford earned his BWAA Fighter of the Year honors with bold, stylish victories against top competitors, a streak which continues in stride up the scale against the hungry Dulorme, who is undefeated at 140-lbs. It will be a split-site doubleheader not to be missed on our late night Boxing After Dark franchise."
Crawford (25-0, 17 KOs), of Omaha, NE, makes his 2015 ring debut looking to build on his star-making 2014 which featured three world championship victories as well as Fighter of the Year honors from the BWAA and major media alike. He began his career-best year last March 1, just 13 days short of the sixth anniversary of his professional debut. Crawford captured the WBO lightweight title, dethroning defending champion Ricky Burns on Burns' home turf of Glasgow, Scotland. Scoring a powerful and unanimous decision, Crawford put the boxing world on notice with his virtuoso performance as he pulled out all stops in dismantling Burns, rocking the defending champion throughout the fight, while switching back and forth between orthodox and southpaw stances. He followed that with a dramatic and critically-acclaimed knockout victory of undefeated former world champion and Cuban Olympic gold medalist Yuriorkis Gamboa on June 28 in a Fight of the Year nominee. It was one of the most-watched fights of the year with over 1.2 million viewers catching the live, first-time airing of the fight, according to Nielsen Media Research. He concluded 2014 on November 29 with a thorough shellacking of one-time world title challenger and No. 1 contender Ray Beltran, winning 11 of the 12 rounds. Crawford is only the second Nebraska native to be recognized as a boxing world champion. Perry "Kid" Graves, from Rock Bluff, captured the welterweight crown, knocking out Johnny Alberts in Brooklyn, in 1914, according to the Omaha World-Herald.
Dulorme (22-1, 14 KOs), of Carolina, Puerto Rico, graduated to the professional ranks in 2008 after a stellar amateur career which included a sterling 140-2 record. He has long been a fan-favorite of Puerto Ricans for his slick all-action fighting style. Dulorme enters this fight riding a two-year six-bout winning streak, with his career-best victories coming in back-to-back fights in 2014 and both televised on HBO. He opened up 2014 with a 10-round unanimous decision victory over undefeated contender Karim Mayfield to capture the NABF super lightweight title and ended the year unifying his NABF title with the NABO junior welterweight title via an exciting 10-round decision over Hank Lundy. A consensus Top-Five contender, Dulorme is world-rated No. 2 by the World Boxing Association (WBA), No. 3 by the World Boxing Council (WBC) and No. 4 by the WBO and the International Boxing Federation (IBF).