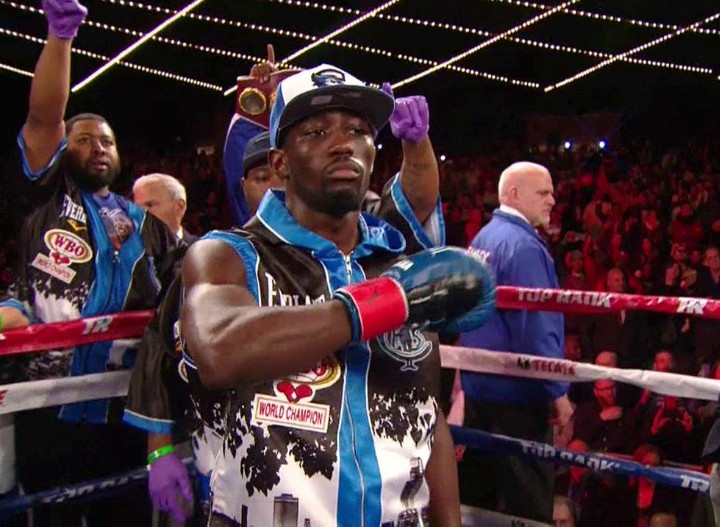 Styles clash when Terence Crawford meets Viktor Postol in a unification bout this Saturday in Las Vegas, Nevada, at the MGM Grand Garden Arena. The winner of this contest holds claim to 140-pound supremacy and a possible fight against the legendary Manny Pacquiao. With superstardom in his sights is Terence Crawford ready to carry the torch?
The betting odds for this #1 versus #2 junior welterweights would have you believe that Viktor Postol is just an ordinary fighter in the way of Crawford's path to greatness. Most sites feature Postol as a 4/5 to 1 underdog. If you ask any insider or tuned-in fight fan, they'll tell you it's a much closer in the ring. Maybe on paper closer to a 60-40 fight, with some experts rating it an even 50-50.
The fact that Crawford is such a large favorite tells you what many in the boxing business think of this very capable crown barrier. Most have Terence in their Top-10 pound-for-pound list. That being said he hasn't accomplished much at the 140 and his best opponent to date is Yuriorkis Gamboa at 135, a weight that didn't suite Gamboa as well as featherweight had.
Crawford will likely have to push the pace some in an attempt to get inside Postol's 73.5 inch reach advantage. While there, he must be economical with his punches on target or fall susceptible to a clinch. Breidis Prescott was a tall, lanky guy but gave away his height something Postol won't do. Crawford has fought a variety of styles as a pro, none as defensively minded as a Postol.
Time and time again, Crawford starts slow. Gamboa, Thomas Dulorme, Ricky Burns, even a four round slaughter of Hank Lundy saw him get hit flush early. Say what you want about his slow starts, he is also one of the best in boxing at making adjustments. Whether it's timing a counter punch or switching from orthodox to southpaw, Crawford has a knack of figuring out his opponent and not long after dispatching of them.
If Crawford wins it places him on a fast-track to a PPV with Manny Pacquiao, possibly this November or in the near future. But with all the expectations and pay-per-view talk, Crawford better not overlook Postol. At an identical 28-0 like his foe, Postol has all the tools and pedigree to pull this thing off. With over 300 amateur bouts, not to mention fresh off the heels of an impressive victory over Lucas Mattysee, all signs point to a razor-close outcome.
Postol will need to use head and foot movement combined with a stiff jab throughout. As an above-average defender Postol doesn't neglect his offensive output which is very important on the judge's scorecard. Playing it smart or safe is one thing, but simply landing potshots on the move will not win Postol this fight as a clear 'B' side.
Per usual, Crawford will come out of the gates slow enabling Postol to gain the early edge. If Crawford doesn't show a southpaw look early on you can bet he will change to it and likely stay southpaw to avoid Postol's jab and right hands. That makes a left hook to the head and body, a key punch to land for the Ukrainian. Viktor is savvy enough to time and catch Crawford in a switch while he's squared up.
On his way inside, Crawford must jab and use faints to fluster Postol and get him out of a rhythm. Look for Crawford's right hook to be a weapon in the southpaw stance. Once Crawford is dialed in, it will interesting to see if he goes for the KO punch or be satisfied using skill to land cleaner. If Crawford goes balls-to-the-walls he will continually be caught with sharp punches. A more clinical approach of breaking down Postol will be needed to gain victory.
For this scribe it all comes down to speed and whether or not Postol can adapt to it. If he can he will take Crawford's zero. Something tells me this will be a very close bout and with that in mind it's hard not to lean towards the bigger name.
My official prediction is Terence Crawford by majority decision.
Written by Chris Carlson Host of The Rope A Dope Podcast blogtalkradio.com/ropeadoperadio Download on iTunes
Follow on Twitter @RopeADopeRadio