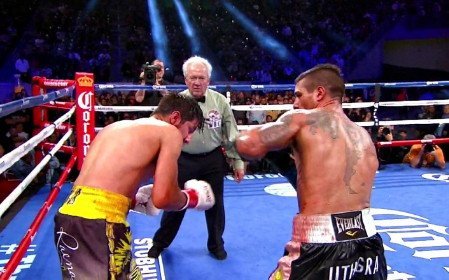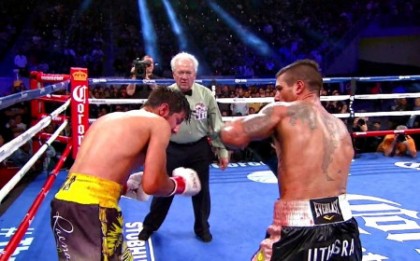 Top Rank promoter Bob Arum says his fighter WBC/WBO light welterweight champion Terence Crawford (29-0, 20 KOs) will have a "major fight" on December 10 on HBO from Omaha, Nebraska. Arum plans on announcing the fight soon. The opponent is said to be John Molina Jr. (29-6, 23 KOs), who has lost 3 out of his last 5 fights since 2014.
If the news of the 33-year-old Molina being Crawford's next opponent is true, then it's likely going to be seen as a disappointment for the boxing fans, because Molina has not been doing too well. He did beat Ruslan Provodnikov in his last fight in June of this year, but it's impossible to forget about how bad Molina looked in losing to Humberto Soto, Adrien Broner and Lucas Matthysse. Those losses all occurred in the last two years.
It might have been more interesting if Arum had gotten the fighter that easily beat Molina in 36-year-old Humberto Soto for Crawford to fight, because Soto totally dominated John Molina in their fight in September 2014.
Molina has won his last two fights against Provodnikov and a fighter named Jorge Romero. Before that, Molina had lost three straight fights.
Having Molina as Crawford's December 10 opponent will be viewed by some boxing fans as a letdown, because there are better fighters in the division than him. Even a rematch between Crawford and Viktor Postol would be a more interesting fight than watching Crawford out-box Molina for 12 rounds.
The contracts for the Crawford vs. Molina fight will reportedly be signed by the end of this weekend. The co-feature for the Crawford-Molina fight is going to involve Juan Diaz, Raymundo Beltran or Jose Felix in a lightweight bout.
Arum wants to match Crawford against Manny Pacquiao in early 2017 if the two fighters beat their next opponents. Pacquiao will be fighting WBO welterweight champion Jessie Vargas on November 5. Arum also promotes Vargas. It's unclear whether the boxing public would prefer to see Pacquiao fight Crawford or one of the arguably more interesting opponents like Danny Garcia, Errol Spence Jr., Keith Thurman, Amir Khan, Kell Brook, Adrien Broner or Shawn Porter. Some of those fighters won't be available to fight Pacquiao in early 2017. Having seen Crawford's last fight against Viktor Postol, it might be more appealing to see Pacquiao fight someone that mixes it up a little bit more rather than a counter puncher that moves a lot like Crawford.
"The thing I like about a Pacquiao-Crawford is that it would probably be held at 140 pounds, which is a more natural weight for Manny Pacquiao," said Arum to ESPN. "He's really not a 147 pounder, although he's been competing as one for years. Crawford is a sensational fighter, but Crawford on December 10, will have a major fight on HBO in Omaha, Nebraska. We'll be announcing his opponent. If he gets past that fight, and if Manny Pacquiao beats Vargas, I'd love to make a fight between Manny Pacquiao and Terence Crawford," said Arum.
As for the Crawford-Molina fight, it will take place on December 10 at the CenturyLink Center in Omaha, Nebraska.