Teofimo Lopez still believes that his title defense against Australian fighter George Kambosos Jr will pull in 2 million pay-per-view buys on Triller. The fight is expected to take place on May 29 on PPV.
It isn't easy to imagine Teofimo vs. Kambosos doing 2 million buys, and you have to wonder who planted that idea into Teo's head. The fight is viewed as a mismatch by many boxing fans, and it's not one that they'll be eager to spend $50-70 to watch on pay-per-view, especially during the pandemic.
Looking at the Teofimo-Kambosos fight more realistically might bring in fewer than 50,000 buys. Even if Teofimo were facing Vasily Lomachenko in a rematch, it probably wouldn't do more than 300,000 buys at best.
But when you're talking about Teofimo facing an unknown guy from Australia in Kambosos, who is totally untested, this could be a disaster in terms of buys.
Teofimo's promoters at Top Rank didn't see it as a marquee fight, which upset him because he feels that his popularity has increased since beating Vasily Lomachenko last October.
Top Rank promoter Bob Arum would have liked to have put together a rematch with Lomachenko, but Teofimo wasn't interested in facing him again. He preferred Kambosos, a fighter that struggled to beat Lee Selby and 37-year-old Mickey Bey by split decisions.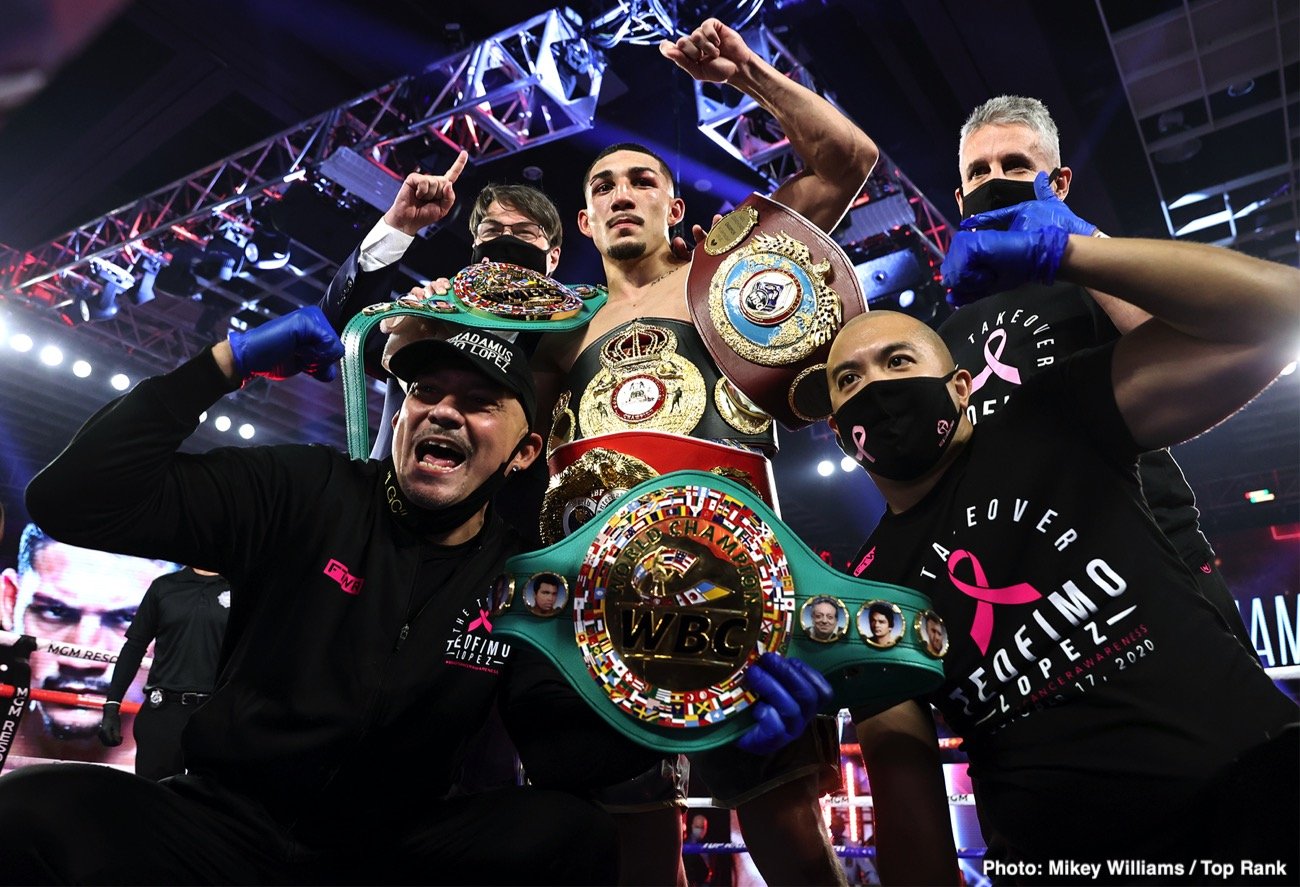 Those fights showed Kambosos' level as a fighter. He's a mid-range level guy who would likely fall apart if matched against contenders Richard Commey, Jorge Linares, Javier Fortuna, and Ryan Garcia.
Teofimo (16-0, 12 KOs) feels that the fans are going to want to purchase the fight in huge numbers, which he says will lead to Ryan Garcia, Devin Haney, and Gervonta 'Tank' Davis will want to face him so that they can make a lot of money.
Teofimo predicting 2 million buys
"Mark my words, when I fight against George Kambosos on pay-per-view, when we get those numbers up, I guarantee you when we hit, like, two million buys or up, I guarantee you when that comes, all those fighters, all those 'three queens' are going to want to fight me for the biggest payday," Teofimo said to the AK & Barak Show.
Interestingly, Teofimo leaves Vasily Lomachenko out of the equation as a future opponent despite the highly competitive nature of their fight last October.
Many fans believe Lomachenko would beat Teofimo in a rematch, especially now that he's figured out his fighting style.
Teofimo's fight with his IBF mandatory Kambosos Jr will on Triller won the purse bid to put on the show after they beat out his current promoters Top Rank and Matchroom Boxing with a huge bid of over $6 million.
The 23-year-old Teofimo feels that this bid from Triller shows his worth rather than it being a case of a company overpaying for a fight that won't attract a lot of interest from fans.
Teofimo isn't a big star yet. His opponent Kambosos is just some unknown guy that the International Boxing federation gave a high ranking to after wins over fading old guys Mickey Bey and Lee Selby.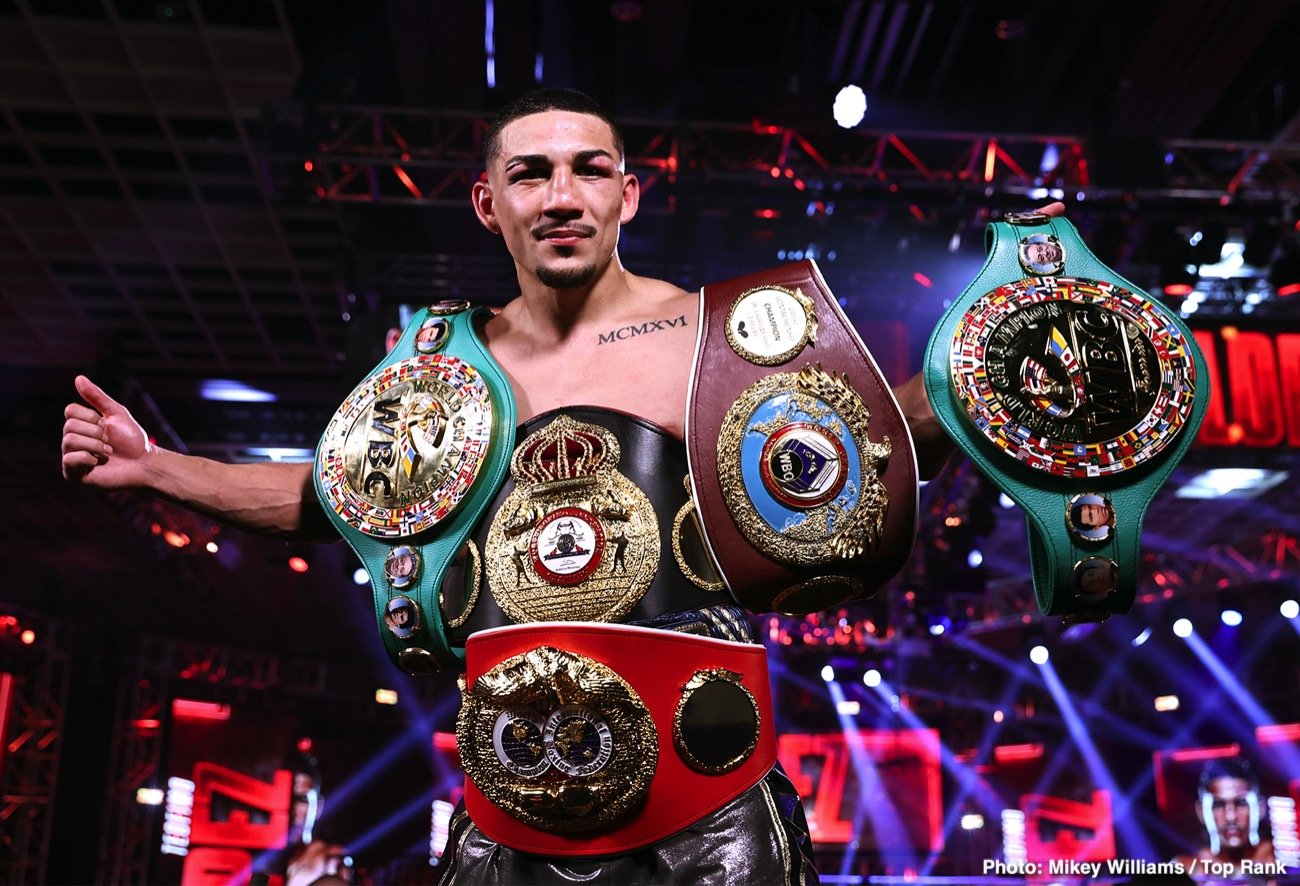 If Kambosos were for real as a contender, he would have destroyed those two fighters. The fact that he had such a hard time against them is telling.
In terms of business, the fans aren't super excited about the Teofimo vs. Kambosos fight, which means they're not going to pay whatever price they sell it for on PPV.
Lopez expects to get out of contract with Top Rank
"When I'm released, that's when I'm going to go up to any of the networks and be, like, 'I want your fighter, I would like to fight this fighter,' and we can make that happen," said Teofimo about his rosy future outlook if/when he gets out of his contract with Top Rank.
We still don't know if Teofimo will get out of the remainder of his contract with Tank Rank. If Teofimo doesn't, it'll be interesting if he can work with them.
Top Rank and any promoter could have with Teofimo moving forward is his sense of what he should be getting paid for each fight.
If Teofimo believes he should get massive money each time he fights without bringing in the numbers to justify what he'd paid, it's going to be a problem. You can argue that it was a mistake for Teofimo to insist on fighting Kambosos next rather than facing Lomachenko again or one of the top lightweights.
If Kambosos didn't want to step aside, Teofimo should have asked the IBF for an exception. It's unclear whether Teofimo actually did that. However, even if the IBF refused to let Teofimo bypass Kambosos, he could have vacated the belt and focused on continuing to build his brand by fighting the guys that the U.S boxing fans know of and want to see Teo fight. Fighting Kambosos isn't going to build Teofimo's brand. This fight is more like Avni Yildirim-type of mandatory defense.
In other words, Teofimo is arguably pulling a page out of the Canelo Alvarez playbook by choosing to make a title defense against a guy that has done nothing to earn a mandatory spot in terms of beating high-level fighters and that fight figures to be a mismatch.
It would be interesting to know what ESPN feels about the Teofimo vs. Kambosos fight. Did they see this as one that would pull in huge ratings, or did they view it in the same light as Top Rank promoter Bob Arum, who sees it as a non-marquee fight?
Moreover, would ESPN have favored the Teofimo-Kambosos match being sold on the pay-per-view the way Triller is doing?
Triller must have a belief that the Teofimo vs. Kambosos Jr fight will sell on PPV because why else would they have dumped so much money into throwing down such a high bid for the fight?
If it's true about the Teofimo-Kambosos fight's rumors needing to hit 1 million PPV buys for it to break even, it could be a real disaster. Will Triller want to continue to put on future boxing events if the Teofimo fight fails to break even? Someone obviously misjudged the demand for Teofimo's fight with Kambosos.
Moving forward, Teofimo says he would like to fight Tank Davis, and he feels that's a fight that the fans would want to see.
"I would love to fight Tank Davis; I would love to knock him out," said Teofimo. "I know what I can always bring to the table. But I think a lot of people would love the fight," said Teofimo in failing to mention the network and promotional issues that will likely stop his dream fight.
It's unlikely we'll see Gervonta 'Tank' Davis coming over to ESPN to fight Teofimo, but it's a nice vision. At least with this fight, there would be interest from the boxing public. It's doubtful that Tank vs. Teofimo would bring in 2 million buys on PPV, though. It's a fight that would do respectable numbers.
Before Teofimo starts looking at a fight with Tank, he needs to keep building his name by fighting good opposition like Devin Haney, Ryan Garcia, Lomachenko, Fortuna, and Linares. Those are the guys that will help increase Teofimo's popularity, not fighters like Kambosos.
You have to wonder what is going through Teofimo's head to make him think the fans want to see that fight.
If this isn't a cherry-pick on Teofimo's part, and it really looks like it is, he's incredibly naive in terms of what he believes will sell. Teofimo is in fantasyland, believing that his mismatch against Kambosos will bring in 2 million buys.