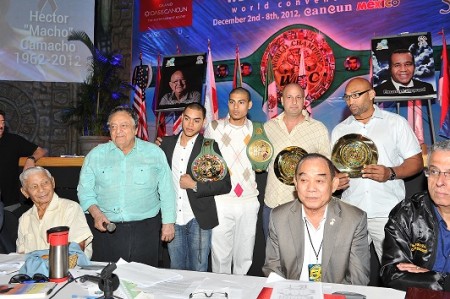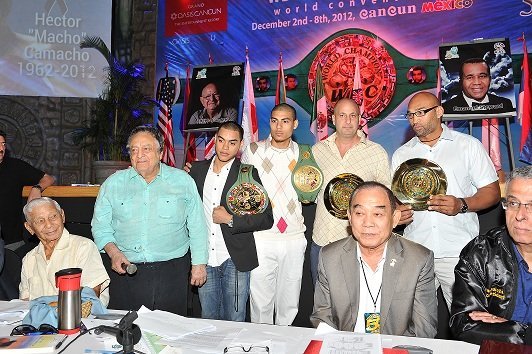 by Pavel Yakovlev, photo: Carlos Baeza – Fres Oquendo is ready for action, and his team is eyeing a showdown with power-punching Magomed Abdusalamov. Recently, Sampson Lewkowicz – Abdusalamov's promoter — offered to match his fighter with any contender for "a sum of one dollar." Oquendo's manager Tom Tsatas is interested. "We accept, but because both guys are so high in the ratings, we want to make it an eliminator for the WBC's #2 spot," said Tsatas. "The winner will be in line for a title fight."
Oquendo definitely wants the bout. "If they can make this fight, it will be a great Christmas gift for me," he said. "I've seen Mago. He's very strong. He has devastating power. He's good, but I'm on a higher level. If I beat Mago, my next shot will be against Klitschko."
In the latest WBC ratings, Oquendo is ranked 12th and Abdusalamov is 10th. Oquendo, a world-rated heavyweight for most of the past decade, has fought twice for world championships. He won three fights this year and has a record of 35-7 (23 KO's). Abdusalamov, whose record is 16-0 (16 KO's), is a former two time Russian amateur champion. The 31-year-old Dagestani is known for his pulverizing power: ten of his KO's have come in the first round. Recently, Abdusalamov stopped former top contender Jameel McCline in two rounds.
"This would be a classic boxer vs puncher fight," said Tsatas. "Sampson thinks Mago will KO Fres, and we think Fres will outbox Mago. It's a very risky fight for us. Mago can punch…he can hit like a mule. Fres will have to box 12 rounds and not get caught. But this fight is worth the risk. The winner moves all the way up to the WBC #2 spot." Tsatas added, "I gave Sampson credit. He sounds like he will do the right thing and take this fight. He's willing to put two top guys in the ring and let the better man win."
Earlier this month, Oquendo and Tsatas attended the WBC's 50th Anniversary Convention in Cancun, Mexico. "I was impressed," said Tsatas. "Fighters and managers can walk in there and plead their case, let them know why a guy should be higher in the ratings, and so forth. They'll listen to you. There were about a thousand people in Cancun, people from every weight division. The Sulaimans treated us very well. They are gentlemen, and they're doing the right thing for the fighters."
The WBC gave posthumous awards in honor of Angelo Dundee and Emanuel Steward.
Tsatas received the award on behalf of Dundee. Oquendo accepted the award for Stewart, but later gave it to Jonathon Banks. "Emanuel was like a father figure to Jonathan, so I gave him the award," said Oquendo. Of the Sulaimans, Oquendo spoke graciously. "Mr Sulaiman said he'd work with me, and told me I fought everyone, never backed away from any challenge. I'd like to thank the Sulaimans for having principles," he continued. "They're giving me a chance."
Meanwhile, Oquendo has resumed training after a two month hiatus caused by a broken hand. The 39-year-old contender suffered the injury in his August win over Robert Hawkins. "Now that it's healed, my hand is stronger than ever. My doctor looked at the x-ray and said it will never break again," he explained. "I'm keeping my strength up, and doing my running and my conditioning. When I sign for the fight, I'll start sparring. I'm ready."