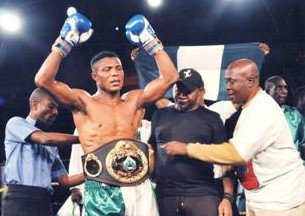 By Prince Dornu-Leiku: Fresh from winning the Interim WBO Africa Super Middleweight belt, Nigerian pugilist, Isaac Ekpo has declared his readiness to take on the very best Super Middleweights in world boxing beginning with Briton James DeGale, against whom he is demanding an immediate match-up.
Ekpo, nicknamed 'Grenade' claimed the vacant WBO title courtesy a round 2 knockout victory over Algerian Said Mada Hamou at the Eko Hotel and Suites, Lagos Nigeria on December 2.
In fact, Nigerian fight fans enthusiastic to see mostly Ghana-based Ekpo who was fighting in the homeland for the first time in over a year and half, were highly disappointed at the short duration of the fight. Opponent, Hamou appeared to have a good start but after two minutes of the first round, Ekpo delivered quality shots and blows that soon had the Algerian dazed. In the event, the second round lasted just 20 seconds when Hamou couldn't continue any longer.
"First of all I thank the almighty God for the victory and also the promoter of the event. I promise Nigerians that I will try to bring back the glorious days of Nigerian boxing when we had the likes of Dick Tiger and Hogan Kid Bassey who I grew up trying to emulate. And I can confidently promise that I'm up for it now," Ekpo told East Side Boxing when we caught up with him after the fight in Lagos.
Ekpo, now 18-1, 14 KOs, has also boldly stated that he can take on any of the best fighters within his weight category in world boxing. He dogs off his hat for Andrew Ward, the WBC Super Middleweight and WBA Super World Super Middleweight champion but is eyeing in particular DaGale (14-1, 9 KOs), the European Super Middleweight champion who added the WBC Silver Super Middleweight belt with a unanimous points' decision over Colombian Fulgencio Zuniga earlier this month.
The 26 year old DeGale nicknamed 'Chunky' is also already scheduled to defend his European title against Italy based Senegalese, Mouhamed Ali Ndiaye on January 26 next year, but Ekpo says he wants an opportunity to face the London-based boxer to announce himself to the world.
"I am ready to fight whoever they put in front of me and at the moment my target is James DaGale. I will be ready to fight him with even just two weeks notice. The only person that I have utmost respect for and I salute is Andrew Ward. The rest of the Super Middleweights are B class," said an obviously confident Ekpo.
Talk is cheap but Isaac Ekpo, who also a Military officer, has been training under the guidance of revered Ghanaian boxing coach, Godwin Dzanie Kotey Alloway in Accra under the supervision of the Ghana-based Landmark Promotions and Management. Ekpo also less than two months ago won the West African Boxing Union title.
"I'm impressed because after Isaac's performance to end round one, it was clear that this fight will not go the distance. As it stands now, Isaac is more rugged a fighter at this point because he has received good tutelage from Coach Alloway. We have no doubt that he is a world champion in the making," Landmark Promotions CEO Anthony Kermah told www.boxing247.com.
More grateful is the boxer who began his professional career over seven years ago and is determined to go on and realize the childhood dream of becoming a boxing world champion.
"Last but not the least, I'm much grateful for the way my career has been managed by Landmark Promotions headed by Papa Kermah my boss and I promise to make them proud. Bring on DeGale now," Isaac Ekpo has demanded.