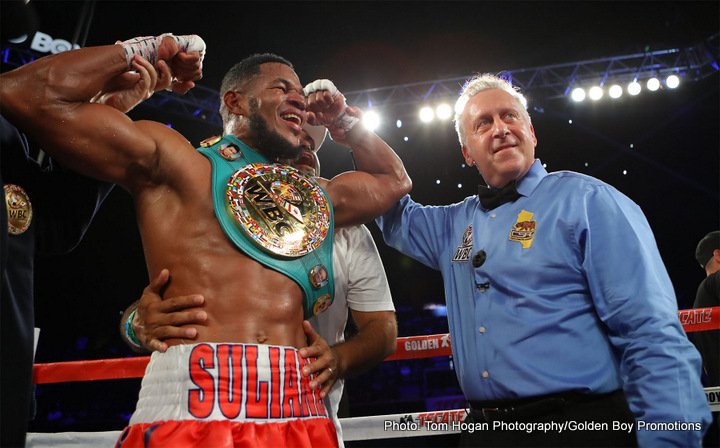 Newly crowned WBC Intercontinental Light Heavyweight Champion Sullivan Barrera (20-1, 14 KOs) gave a career-making performance, getting off the deck in the first round to take a 10-round unanimous decision victory over Joe Smith, Jr. (23-2, 19 KOs). The judges scored the fight 96-93 and 97-92 twice.
"I feel very happy about this win. Joe Smith, Jr. is a great champion, and I respect him very much," Barrera said. "This title wouldn't have been possible with my amazing team, and my father here tonight was also amazing. When Smith, Jr. knocked me down in the second round, I got back up cause that's who I am. In my fight with Shabranskyy the same thing happened. I shoot back up to get the victory."
"Sullivan Barrera fought a good fight and I congratulate him," said Joe Smith, Jr.
In the night's quickest, jaw-dropping knockout victory, highly touted Ryan "Kingry" Garcia (10-0, 9 KOs) needed only 1:14 of a scheduled four-round fight to knock out experienced Mario Macias (27-22-1, 14 KOs).
"It felt like a blur. Like a dream that just happened quickly. Although I wouldn't rate this as my best performance since I think my last fight against Tyrone Luckey was the best. I want to be on the Canelo-GGG card, and continue to step up the level of opponents I face. Maybe when I turn 20 years old I will start to call out world champions."
Mercito "No Mercy" Gesta (31-1-2, 16 KOs) demonstrated he is back in full force with an eighth-round technical knockout win over ring veteran Martin Honorio (33-11-1, 16 KOs). The one-sided fight showed off Gesta's superior accuracy, strength, and footwork. The referee waved the fight off as Gesta was unleashing a flurry of power shots on Honorio.
"It feels great to be back, I am almost at 100% to where I want to be after my surgery," said Mercito Gesta. "With all the rehabilitation and training under Freddie Roach, I am on track to fight for a title very soon. Right now, I just want to keep improving, and keep focused."
In the upset of the night, Diuhl Olguin (11-7-2, 9 KOs) outpointed Guadalajara, Mexico's Horacio "Violento" Garcia (32-3-1, 22 KOs). The action-packed eight-round featherweight fight went the distance, with Garcia going down twice. The judges awarded the fight to Olguin with scores of 73-77, 73-77, and 74-76.
"I feel very happy about my first win outside of Mexico. I just can't believe what just happened," said Olguin. "I wasn't the favorite, and I had to move up a couple of weight classes to take this fight. I want to start to take on tougher contenders in the sport in my weight class."
Opening up the Ring TV livestreamed portion of the evening, Manny "Chato" Robles, Jr. (13-0, 5 KOs) broke Christian Esquivel (29-12, 22 KOs) down to land the technical knockout victory in the fifth round of a scheduled eight-round featherweight fight. The fighters were in a heavy exchange when Esquivel's corner waved the towel to stop the fight.
"It was a strange ending, but he was getting a lot of punishment from me. The referees were actually going to call it after the fifth round finished," said Manny Robles, Jr. "I think my preparation allowed me to win each round, and I am glad I got to do that in front of all my friends and family who were cheering me on here at the Forum."
Kick-starting the evening Samar Philippines; Recky Dulay (10-2, 7 KOs) stopped Curundu, Panama's Jaime "Jaimito" Arboleda (10-1, 8 KOs) in the third round in a super lightweight bout that was scheduled for eight-rounds. With a right hand cross to the head that left Arboledo unsteady, Dulay handed Arboleda his first loss.
"This was my first fight in California, so it means a lot as I continue to develop my career," said Recky Dulay. "I've been training here in the U.S for about 2-3 months, so I am ready to fight more here now."