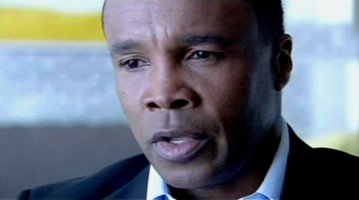 Boxing legends Sugar Ray Leonard and Thomas "The Hitman" Hearns are currently in Las Vegas – the scene of many of their sensational, unforgettable fights – to attend tonight's Nevada Boxing Hall of Fame.
Hearns, a former five-weight king, will be inducted, Leonard, also a five-weight ruler, will be taking care of the induction duties. Once venomous rivals, the two all-time greats who met in 1981, at welterweight, and in 1989, at super-middleweight, have nothing but mutual respect these days. They earned it in the ring, in so doing thrilling the world with 26 rounds of superb boxing.
"He was a freak of nature," Leonard said of his former foe when speaking with The Las Vegas Review-Journal. "With his height, with his reach, with his power, with his heart, Tommy had the whole package. Tommy is an amazing fighter and champion, and we're friends now. Thinking about him takes me back to 1981 when we fought in Vegas for the undisputed title."
That welterweight showdown is fondly remembered all these years later as one of THE best 147 pound title fights in history. Crammed with so many switches in momentum, incomparable skill and ability displayed from both sides and then, to cap it off as a genuine classic, a stunning comeback from winner Leonard, this fight had it all. Having fallen behind on points, Sugar Ray turned it on in the 13th – motivated by the great Angelo Dundee's famous "You're blowin' it, son, you're blowin' it" speech in the corner – and he got the stoppage victory in the 14th.
The loss haunted Hearns for year, until the two finally met again in 1989.
"It's a special feeling to have [Leonard] present me," Hearns told The Las Vegas Review-Journal. "I get to go into the Hall of Fame of Las Vegas, and one of the greatest ever gets to present me? It doesn't get any better than that."
Hearns' great career could have been even better had he been awarded the victory most people felt he had earned after the 12 completed rounds of the long awaited return encounter. Instead, Tommy had to make do with a draw; that and Leonard telling him and the world how he now considered he and Hearns to be "1 and 1."
Hearns never won the big, big one – losing also to Marvin Hagler, this too in Vegas – but he has a special place in the hearts of all fight fans. It's a toss-up who is more popular, The Hitman or Sugar Ray.
Both greats can be expected to go down a storm in Vegas during tonight's glitzy celebrations.