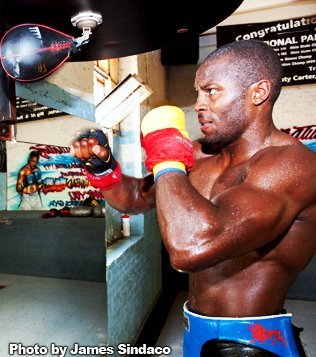 Exclusive Interview by Geoffrey Ciani – I recently had the opportunity to speak with former two-time cruiserweight champion Steve USS Cunningham (24-4, 12 KOs), who will be making his heavyweight debut this Saturday when he takes on Jason Gavern (21-10-4, 10 KOs) at the Prudential Center in Newark, New Jersey. Cunningham spoke about a variety of topics including: his decision to move to heavyweight, adjusting to his new weight, his upcoming match against Gavern, a potential rematch against Tomasz Adamek, his views on the Klitschko brothers, his heavyweight goals, and more! Here is what Steve had to say.
Audio:

GEOFFREY CIANI: Hello everyone. This is Geoffrey Ciani from East Side Boxing and I am joined here today by former two-time cruiserweight champion, about to make his heavyweight debut this weekend, Steve USS Cunningham. How's everything going, Steve?
STEVE CUNNINGHAM: Everything is good. Training camp is over, and we're leaving tomorrow, so it's fight time.
CIANI: Great! Now Steve, as I mentioned a moment ago, you're getting ready to make your heavyweight debut here. You said you just closed out camp. How was training and preparations for your first fight at heavyweight?
CUNNINGHAM: It was pretty intense because I was sparring with some big guys. I was sparring with Chazz Witherspoon and a couple of other heavyweights you guys probably don't know from the gym. But these guys are big, man! 240 and about 6'6", and Chazz Witherspoon is about 6'3" and 230. So you know I've been getting in some good work with some good heavyweights. It's been grueling on the body taking those shots, but also it's helping me learn and helping me develop more. The next thing was just me getting this extra weight on. I've gained about eight pounds I guess since my last fight, since we've been working at being a heavyweight, so eight to ten pounds. But since I was a small cruiserweight, you know I would leave the gym at like 195-196, or 194 and sometimes lower. Putting on this weight has been a little task, you know, just learning how to do it and keep it on.
CIANI: So by that, what should we expect you to weigh on fight night then? Around 205 or so?
CUNNINGHAM: Well yeah. I would say between 205 and 208. I'm trying to shoot for 208 for this first fight. That would be ideal for me. I've walked into the gym at 207 a few times, and sometimes I'm down to 206 or 205, and then I'm back up. So I'm fluctuating in between like 206-207, or up and down right around that area. So I would like to say about 208 will be the max for September 8.
CIANI: Now I'm curious, how do you feel at the weight? You mentioned you were in there with some really big guys. How do you feel in terms of your speed and your power and things like that with the added weight?
CUNNINGHAM: With the added weight, it's really almost ten pounds, I feel it. You know of course you feel it, but it's not dragging me down or a problem. I just feel a little more heavy on my punches. With a little more weight I feel it in my movement. It feels really different. Not uncomfortable, I feel a little fuller. You know what I mean? My frame, I'm 6'3" and I have broad shoulders, so I mean I can hold up. I want to max out at probably 215 if I can, you know Lord willing. So we'll see from there. I mean I feel a little different, but it's not a bad new feeling.
CIANI: You're 36 years old. For the fans out there, can we expect this move to heavyweight to be a permanent move for you? Is this where you expect to continue for the rest of your career?
CUNNINGHAM: Yeah, that's where I'm at now. I mean I can't go down to light heavyweight. That's impossible. (laughs) There's nothing after heavyweight. That's why I moved up to heavyweight, because it seems like there's nothing else for me in the cruiserweight division. I don't want to travel to Europe anymore. That's where you get the attention and you make money, in Europe as a cruiserweight. I can't. I just don't want to do it anymore. It's too taxing on my body. I caught colds literally every time I went there. No excuses or anything. The circumstances weren't ideal for it, but that goes to show that we do what needs to be done. That's a champion right there, even with all of that being said. I felt that we were being elbowed out anyway, especially with the loss to Hernandez fight. Before the Hernandez fight, we were planning on going to heavyweight after the first Hernandez fight, anyway. So with that going the way it went, getting cheated and the doctor stopping the fight the way he did. And we got the rematch. I decided hey let's go! I wanted to vindicate myself, or try to. Who wouldn't want to be a three-time world champ? So we went on with that fight, but the whole plan from the beginning of last October before we even fought Hernandez was we need to move up to heavyweight, because we can't get any unification bouts. Huck wasn't going to fight us. Wlodarczyk, me and Wlodarczyk weren't going to fight, and I tried to get a fight with Antonio Tarver. He had more reasons why we shouldn't fight than we should. And I wasn't going to fight Guillermo Jones because he's promoted by Don King. So I had to move up.
CIANI: You mentioned a moment ago that it was taxing for you, you being in a cruiserweight division that was more popular in Europe. This will be your first fight in the United States I believe in over three years since you fought Braithwaite. How does it feel to be back fighting in the United States?
CUNNINGHAM: To be truthful it's kind of weird, because about this time normally for the past two and a half years we've been traveling to Europe for about twelve to fourteen days before the fight. So this is time where we'd just be settling in or getting settled, you know catching up on sleep, getting over jetlag, and walking around in a foreign country just looking at stores and just keeping ourselves busy trying to stay awake so we can get on their time. You know it's pretty weird. It's pretty different. It's comfortable. It's too comfortable, actually! I'm like man! I just don't like the feeling. I'm not going to say it's "easy", that's not the right word, but like I said it's just too comfortable. We're going to drive our car up to the fight. It's only about an hour and some change away from home. So it's comfortable, man. I can't say I don't like it.
CIANI: Has anything fundamentally changed in the approach for you and Nazim now that you're moving up to face some bigger guys?
CUNNINGHAM: I mean the way we look at the heavyweight division period, Naz always says that it only takes one punch to change the fight around. He's right! I mean that's in all boxing, but especially in heavyweight boxing. As we know, I've went down in cruiserweight fights, but thank the Lord I've been able to get back up and perform well and win and/or put on a great show, and still be competitive to the point where even a judge or two think I might have won. So I don't expect anything less in the heavyweight division. You know. But of course we're training and we're trying to prepare ourselves for that, especially in camp. If you get caught with a good shot, you get caught with a good shot. So we've been working on defense and offense, and movement. You know, not running, but movement, and being smart, and just trying to be right, because this time we'll be right. I don't feel the world has seen the best Steve Cunningham yet, so I'm willing and prepared to show them.
CIANI: Now that you're starting your campaign as a heavyweight, what are your goals to compete in the heavyweight division and what kind of a timetable do you have set for yourself?
CUNNINGHAM: My goals, I'll tell you. My goals right now are to beat Gavern, to beat him Saturday and to beat him convincingly, and preferably spectacularly if we can. If not, you know the "W" is a "W". We move on, but we're going to try and win and win good. That's my immediate plans. I mean really I can't look beyond that. This is uncharted territory for me, but overall my plan and my idea is to be heavyweight champion. I mean here it is I'm a two-time cruiserweight world champion, so why not attempt to be heavyweight champion? You know people are bringing up my age 36. That's not an issue for me. I fought twice a year for the past ten years, so I don't have that wear and tear on me. I'm revving to go. I'm still learning. I feel like I'm 26, so age isn't an issue. So my time, I'm not really rushing anything. We still got a few years. I don't want to be boxing after I'm 40, but if I'm still able to produce a good paycheck, and protect myself, and perform good for the fans, we'll see.
CIANI: Let's talk about your opponent a little bit. What do you know about Jason Gavern?
CUNNINGHAM: Well you know my trainer Nazim Richardson. He's a boxing aficionado. He's a student. He's just a wizard. He watches tapes on guys. He watches fights, man. He just watches fights all the time. So he's got tape on Gavern. I think he knows Gavern personally. I think they probably worked together some time or something. But we know he's a rugged tough guy. He's not there to lose. He'll upset you. He'll upset some guys. He fought to a draw with Johnathon Banks, and Banks is a pretty good heavyweight in my book. I think it's a test. I think it's a very good test! I think it's a very good welcome to the heavyweight division once we beat him. I mean it's not too much. As I said I know he's a rugged guy. He's got some skill. I've seen some tape on him, and he's pretty decent. He's not a slouch, or a slump, or anything. He's a pretty decent competitor.
CIANI: Now I know you don't want to get too far ahead of yourself here, but I have to ask you. Tomasz Adamek is fighting the same day you are, and I know that's a rematch that not only did you want, it's a rematch that a lot of boxing fans have wanted to see. It never happened in the cruiserweight division. Is that something that you think could perhaps be a possibility, a rematch as heavyweights?
CUNNINGHAM: Yeah, that could be a possibility. We're both signed by Main Events. I'm with Kathy Duva. It's come up a few times, and like I said, I'm interested. I know Adamek will probably be interested. If television is, then we can have a rematch one day. But like you said, I don't want to get ahead of myself. I want to get here and work, get a couple of fights, see what it is, and we'll make it happen possibly. But my main thing was, going to heavyweight and signing with Main Events wasn't the fact that I was chasing Tomasz for a rematch. You know we fought once. It was a great fight. I wanted the rematch at cruiserweight. The networks didn't want to buy it, so we moved on. He went his way; I went my way. Tomasz Adamek doesn't solidify my career. You know, the rematch doesn't. I can live if my career is over and I didn't rematch Adamek, but I would like the rematch. No doubt! Don't get me wrong. But I'm not going to base my career around trying to get the rematch. You know?
CIANI: Understood. Now when you look at the Klitschko brothers right now, Wladimir has an upcoming fight against Wach; Vitali has an upcoming fight against Charr. What do you think of the Klitschko brothers in general right now?
CUNNINGHAM: I think they're two of the most dominant fighters in boxing right now. I think they're very good. I think they're very strong and very intelligent fighters. I think that people have them wrong. I've sparred with Wladimir for the David Haye fight, and when I first stepped in the ring with Wladimir—you know I heard David Haye saying that they're robotic, Wladimir's robotic, he's this, he's not that—when I stepped in the ring with Wladimir and I saw what he had to offer, I was like "wow"! Either David Haye was just blowing smoke, or he's going to get his butt kicked, because Wladimir is very athletic. I know they work hard. He's got Emanuel Steward in his corner. They're the best fighters in the world, two of the best fighters in the world. My hat goes off to them. Much respect to them. Much! I think if they were average height 6'4"/6'3" they'd still be champions. I don't know if reigning champs, but they'd still be champions.
CIANI: Back to your upcoming fight, what do you think are the keys for you to be successful in your heavyweight debut?
CUNNINGHAM: The key is to stick to the game plan and stay calm. (laughs) You know with the Adamek fight, being on the Versus Network, which is television, being a world champion so close to home, you know fighting for the Ring Title also—everything was on the line. It was awesome! I got a little caught up in I wanted to stop him. I wanted to knock him out, and I went in and I stayed in a little too long. I didn't utilize all of my boxing ability. But I gave the fans an opportunity to see another side of me, which is my heart and determination. Once I'm down once it's like, "Hey! You got to get that point back. Get that round back". Then I'm down two times, "Hey, it's a fight!" Three times, "All you-know-what breaks out". So people got a chance to see there's no quit in me. Let's go! Let's go! Win! Win! Win! Win! It's the only thing on the agenda. So that's basically it.
CIANI: Do you have an official prediction for your fight this Saturday, September 8?
CUNNINGHAM: No, nothing official, just be USS Cunningham and we'll be victorious. We worked so hard, and I know everybody works hard and they say this, but we worked so hard. The pitfalls and the business moves we've made in our career, and just the things that went on in my career has led me to this point, man. I believe it's all by the hand of God. So I'm supposed to be here. I'm supposed to be entering the heavyweight ranks. It's just how I do it is going to be the thing. I can't specifically say how I'm going to do it, but I do want to say that I can guarantee a win. We're going to work hard, and push, and fight.
CIANI: Steve, for my final question for you: Is there anything else you would like to say to all of the boxing fans out there and all of the readers on East Side Boxing?
CUNNINGHAM: Just to everybody out there like the readers on East Side Boxing, I've been boxing for some years. I've had numerous articles and interviews up. I read the comments, good and bad. I thank the fans for their interest. I thank those fans who really follow me and understand what it was for me to travel, and to win titles, and defeat European guys in Europe, and then lose the title and go back and get it again. You know I just thank you guys. I respect all fans, but I really expect those fans who did their homework on Steve Cunningham, just for the simple fact American fans really only know what they see on HBO and Showtime. So thank you guys, I appreciate it.
CIANI: Steve, as always, it was an absolute pleasure getting the opportunity to speak with you here. I wish you the best of luck this Saturday, and I wish you the best of luck in your heavyweight campaign going forward.
CUNNINGHAM: Thank you very much. I appreciate it.
***
To contact Geoffrey Ciani:
ciani@boxing247.com
To read more boxing articles by Ciani you can also visit Ciani's Corner:
www.cianiboxing.com