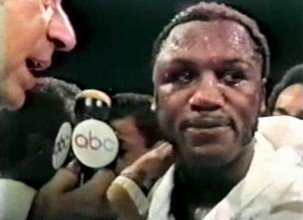 Muhammad Ali has a street named after him, so too does the flamboyant promoter who earned millions from the epic battles Ali and his fiercest rival, "Smokin'" Joe Frazier thrilled the entire world with. And now, in what seems only fitting, only fair, former heavyweight king Frazier could soon have a street named after him.
As per a piece on Yahoo! Sport, Joe's daughter, Weatta Frazier Collins has started a petition to re-name Glenwood Avenue in downtown Philadelphia as Joe Frazier Boulevard. Already the petition has almost 6,000 signatures – 5,800 in all.
Let's face it, Frazier deserves the honour. A truly great and special fighter, Joe gave us, amongst other epic events: "The Fight of The Century," "Super-Fight II," and "The Thrilla in Manila."
Frazier – who sadly passed away in 2011 – was at his absolute best in scoring the biggest, most impressive win of his entire career. It was of course March of 1971 when Frazier met Muhammad Ali in a Fight of The Century that lived up to ALL the hype and its lofty billing, and Joe, then aged 27 and at his blistering, unstoppable peak at 26-0 as a pro had truly conquered the world.
If Joe had been managed the way today's heavyweights are, he would have been fed just about any challenger he chose to defend against, and after going through what he'd gone through against Ali and coming out on top, the Philadelphia immortal would have gotten away with it. But the sport was way tougher back in Frazier's day. Way tougher.
Okay, Joe did have a couple of "easy" defences following the 15-round win over "The Greatest" (was Joe now deserving of this title!) but then, 22 months after the win over Ali (22 months being a time-frame in which today's heavies might fight twice; and not after having gone through what Joe and Ali did in their epic) Joe was put in with the fearsome George Foreman. Would better management have seen Joe steered clear of Foreman, a fighter he never had to face in the first place?
But Frazier, never, ever a fighter, or a man, to avoid a challenge, quite literally met the destructive Foreman head-on. These days, a fighter of Frazier's magnitude would have kept Foreman waiting for up to three years, he would have asked for a gazzilion dollars, home town advantage and a rematch clause. But Joe, and George, two of the last truly great undisputed heavyweight kings, were cut from a different cloth. "I just fight 'em," Frazier said. "Yank [his manager and trainer Durham] picks 'em."
And Frazier fought 'em all, and hard. We will never see his like again. Frazier, when he did call it quits, walked away with a 32-4-1(27) record. That means, he fought just ten times after his historic, never to be topped win over Ali, winning just half of these bouts. Just ponder this: where would "Smoke" be placed amongst the finest-ever heavyweight champions if he had smoked no more after that unforgettable night at The Garden?
Joe Frazier, a great, great fighter who clearly deserves a street named in his honour.