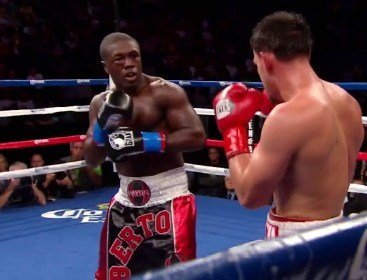 By Bill Phanco: WBC interim welterweight champion Robert "The Ghost" Guerrero (31-1-1, 18 KO's) is being considered for Fighter of the Year honors for his 12 round decision wins over previously unbeaten #1 WBC Selcuk Aydin, and his decisive 12 round decision victory over former IBF/WBC welterweight champion Andre Berto.
I think Adrien Broner is more deserving of the Fighter of the Year award than Guerrero because Berto has some fine wins over solid fighters Eloy Perez, Vincente Escobedo and Antonio DeMarco this year. I see those opponents as being better than the two guys that Guerrero has beaten.
It's hard to imagine Guerrero getting that award based on wins over Aydin and Berto because both fighters were limited. Aydin was someone that had never really proven that he deserved to be ranked #1 by the World Boxing Council. His power was very real, but he'd never really faced anyone good before until the Guerrero fight. Aydin had struggled in fights against Said Ouali and Jo Jo Dan before he got to the Guerrero fight.
Despite looking incredibly poor in both the Ouali and Dan fights, Aydin was still ranked highly by the WBC. But it's no surprise that Aydin lost to Guerrero because Aydin didn't look solid. He looked like a raw fighter with crude boxing skills that was going to get beaten sooner or later once he fought someone that knew how to fight.
Berto hadn't fought in 14 months when he faced Guerrero, and Berto's problems were made much worse by his adopting the shoulder roll for the entire fight. Berto didn't look comfortable with that defensive technique and he given up using it when Guerrero showed how easy it was to defeat Berto's version. Using the shoulder roll is like a fighter deciding to switch from an orthodox fighting stance to southpaw stance for a crucial fight. Berto should have tried it out for a little while and then switched back to his old style of fighting, but he didn't. Berto stuck with the shoulder roll and ended up losing the fight.
Guerrero, 29, hasn't lost a fight in seven years, although he was handily beaten by Orlando Salido in 2006 that was later overturned when Salido tested positive for a performance enhancing drug. Guerrero was still dominated in that fight.