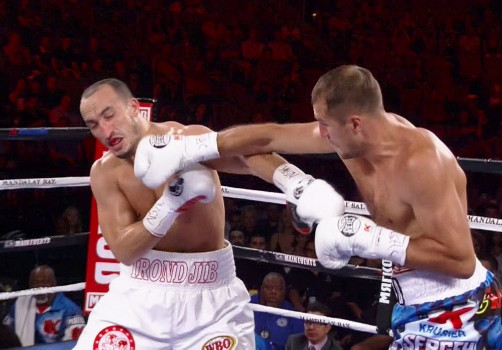 The best compliments concerning Sergey "The Krusher" Kovalev come from a very knowledgeable source. A fighter could not ask for a more creditable person. It's none other than Bernard "The Alien" Hopkins. The boxing hall of fame just wishes he would retire so they can induct him into a place of honor. He's fought them all, done it all, and knows it all. When he speaks we listen, even if he sometimes rambles and gets off track. When it comes to The Krusher, Bernard doesn't roam or traipse off target a bit. Without hesitation he described The Krusher in simple, but glowing terms.
Hopkins tells us that The Krusher is a destroyer. Bernard tells us he punches with tremendous power. HBO's Jim Lampley asked if you feel his power? Bernard said yes, you feel one or two and then you don't feel the rest! Bernard further explained that the Krusher is smart, he sets things up, but everything he throws is hard. Bernard went on to explain that Sergey moves very well. Hopkins gave listeners the impression that that was something that surprised him.
Sergey "The Krusher" Kovalev (28-0-1 25KO) demonstrated most of those talents when he hunted down Nadjib Mohammedi (37-4-0 23KO) at the Mandalay Bay Hotel & Casino, Mandalay Bay Events Center, Las Vegas, NV. The Krusher used the first round to prod and jab at Mohammedi, watching carefully his foes responses to different punches, all the while looking for openings. Even that process is painful for The Krusher's opponents.
In the second round, Kovalev had already figured out the frenchman, and started to unleash a little bit more of his arsenal. Before the end of the round, Sergey put together enough weaponry to make Mohammedi feel a little frenchified. He beat the count, but it was obvious all he had left was his fighter's instinct. His trained response was to punch back, but there was no serious threat to Sergey.
In the third round, Sergey bounced several hard shots off Nadjib's noggin, and he started the "timber" process, but while he was only about 1/4 of the way down, Sergey caught him with a particularly hard right hand. It was followed by a straight left, both of which landed on the same spot. Immediately Nadjib was in a considerable amount of pain. He pawed at the area with his left glove. It seemed as though he might have sustained damage to the orbital bone of the left eye. Or, possibly it was his nose or both. Referee Kenny Bayless waived an end to the fight. It was 2:38 of the third. Sergey proved the experts right when they established him as a heavy favorite. Sergey keeps his WBA, IBF and WBO belts, and expressed a readiness to fight anyone.
His next opponent might be Jean Pascal (30-3-1 17KO), who stole a UD from the hands of Yunieski Gonzalez,(16-1-0 12KO). These fought a co-feature at Mandalay Bay Hotel & Casino.
Pascal did not look good. In fact, he got nailed with several hard right hands in the very first round of the fight. Pascal didn't look sharp and he was not using his legs to maintain his distance or elusiveness. Instead he tried to duck down, right in front of the big Cuban. It was like presenting a gift.
Gonzalez graciously accepted the gift and blasted Jean upside the head over and over again. The location of Jean's head meant some of Gonzalez' explosive right hans detonated on the back of Jean's head. There was a lesson to be learned, but Jean seemed to be missing the "heads up" alert. All Jean was receiving was the alarm bells resonating between his ears.
He wasn't totally oblivious to what was happening and the mistake he was making, because at times he was slipped the Gonzalez right hand by moving his head to his left, which also enabled him to counter. Gonzalez proved to be very impressive. He pressed the action and threw hard jabs, followed by three and four punch combinations. Pascal's opponents never escape without getting tagged by a hard punch thrown from an unexpected angle. The same was true for Gonzalez. He proved to have a good chin to go along with his other talents.
Pascal's undeserved UD win supposedly will move him into position for a rematch with Kovalev, when in truth that reward should be Gonzalez'. However, as impressive as the Cuban looked, it's a safe bet that either man will be a big underdog. For Kovalev it doesn't matter. He made it clear to Max Kellerman that he doesn't make those decisions, and has no problem fighting whoever is put in front of him, including Andre Ward or Triple G.