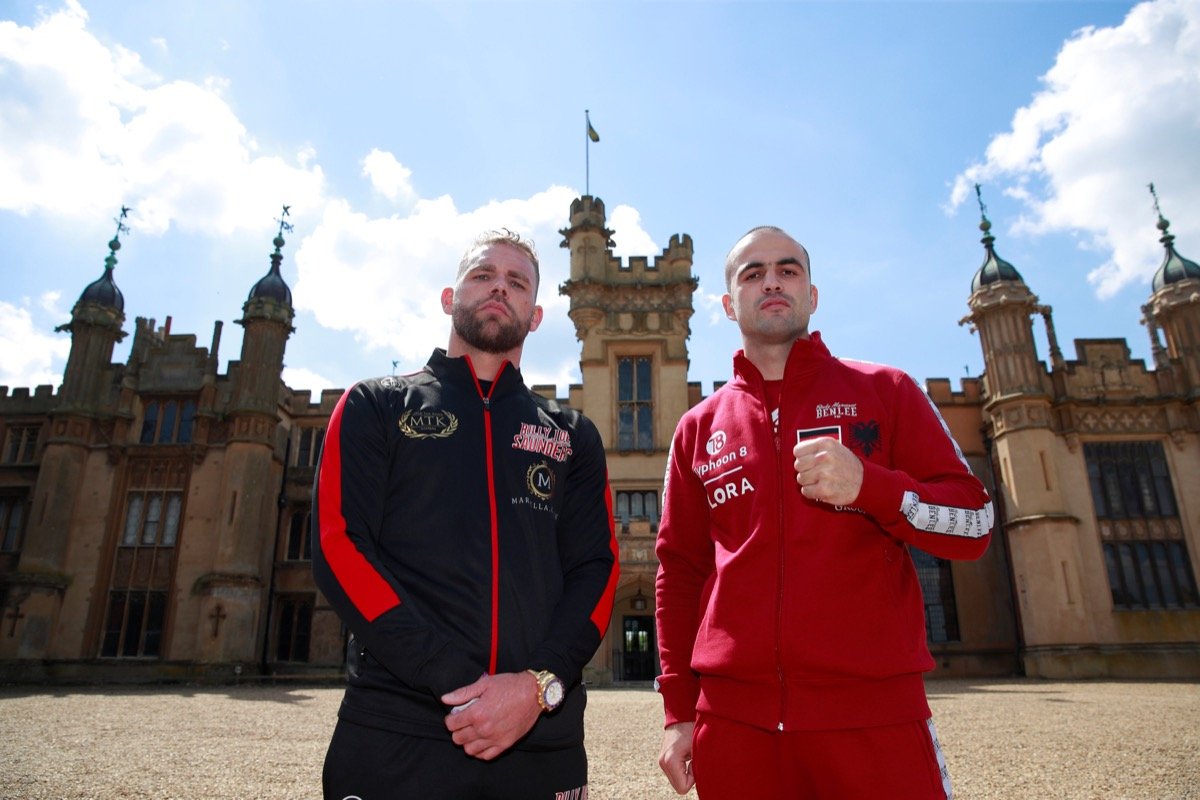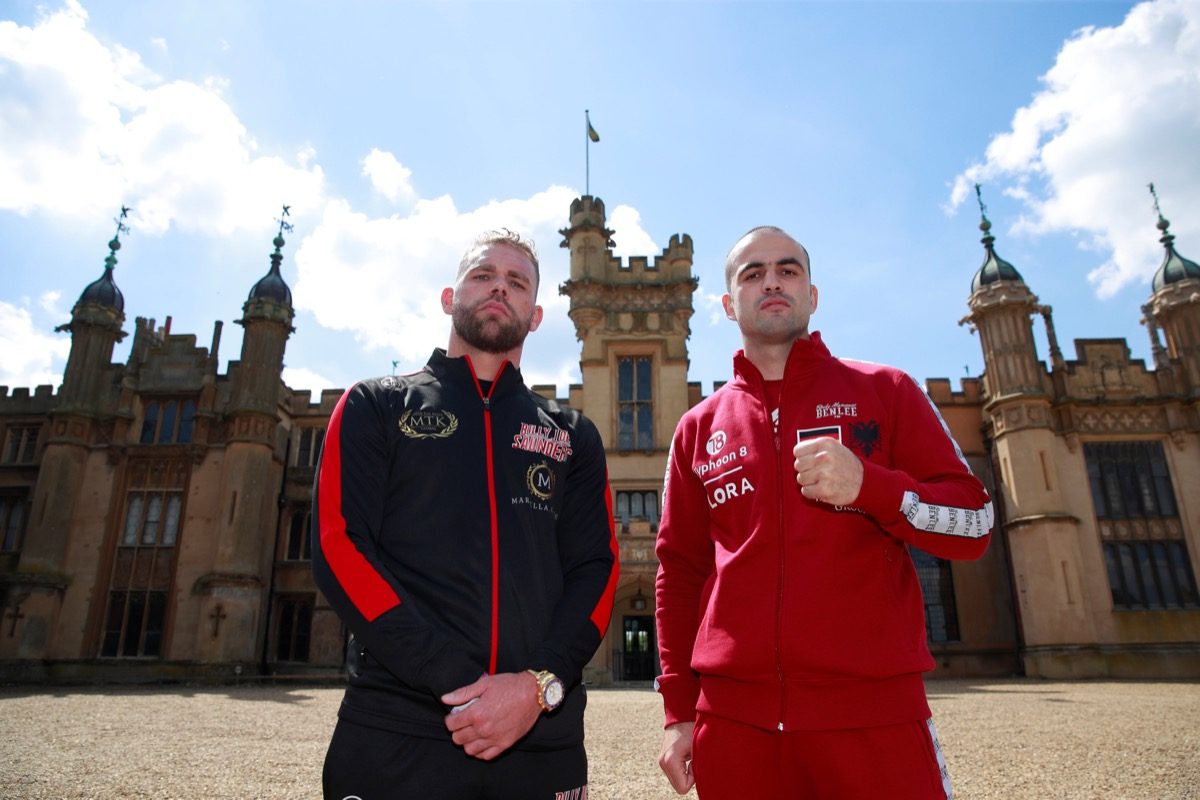 PROMOTER Frank Warren today held the final press conference ahead of Saturday's vacant WBO world super-middleweight title clash between Billy Joe Saunders and Shefat Isufi at The Lamex Stadium, home of Stevenage FC.
Saunders, who comes from nearby Hatfield will be bidding to become a two-weight world champion having previously held the WBO middleweight crown.
Photo: Action Images via Reuters/Andrew Couldridge
Also on the bill is fast emerging London heavyweight star and Olympic silver medalist Joe Joyce who faces giant Russian former world title challenger Alexander Ustinov.
In a double title fight Lichfield's British super-bantamweight champion Brad Foster meets Bristol's Commonwealth belt holder Ashley Lane.
Here are a selection of quotes from the presser.
FRANK WARREN
Bill should be in a position to have big fights and he will get them. It is a shame that fighters avoid him. We twice signed to fight Golovkin and I know Canelo's connections don't want to know. I had a chat with Joe Gallagher a couple weeks ago about Callum Smith and he said 'in a couple of fights time', but Callum will be light-heavyweight by then. Chris Eubank Jr has shown no interest in avenging his loss to Bill.
Ustinov is a big, big man and I know him very well. This is a tough fight for Joe and a step up for him. Joe doesn't want marking time fights and this is no gimme. Joe is out to make a statement and cannot afford to slip up.
BILLY JOE SAUNDERS
This has been a long time coming. I had a terrible 2018 and feel my title was robbed from me. I jumped at this fight when it was offered and I will become a two-weight world champion.
I'm not looking past Isufi, but I am looking for the big names. I am 29, I know I have got it inside me and nobody has seen my best.
With the backing of BT Sport we can make the big fights. It is all fine saying I look good hitting the pads, but I have to be on my A game and send a message to the other super-middleweights.
If I do bring it, I should box his head off. Whatever he brings I will fetch ten-fold more.
I have been training with Ben and it has been good, enjoyable and great bouncing around with Tyson Fury. Everything has gone well and I'm enjoying boxing again.
SHEFAT ISUFI
I am doing this for me, but to become Albania's first world boxing champion is big for them and also Germany as I box under their flag.
Billy Joe will be trying everything to win and so will I.
If Billy Joe did win I will congratulate him, but it will be the other way around.
Billy Joe is quick, fast and a hard puncher. I can also punch and one punch could make the difference.
My father died when I was young and he is always in my mind. When I win I will go to his grave and thank him.
JOE JOYCE
I am fighting fit and good to go. Training has gone well with Adam Booth. I am looking for nine wins, nine knockouts.
Ustinov is very experienced, big, strong, tough and this is a step up. I have to beat him to get to the next level. I know what he has in his arsenal and what I have to do to beat him. He can punch, but I take a shot and give one back.
ALEXANDER USTINOV
This is a very hard fight and I am prepared to win. Joe is a very good boxer and I know him well. We will see who is the strongest boxer this weekend. Joe wants to knock me out, but everyone thinks they win by knockout.
BRAD FOSTER
I have been learning on the job and picked up the British title in my last fight against Josh Wale when I was the away fighter so I am not doing too badly. Ash has got a lot more experience and this is no walkover. It is a tough fight. I am a happy Brad and when I'm happy I perform better.
ASHLEY LANE
I watched him against Josh and it was a good performance. In my last seven fights I have turned my career around after up and downs. My experience and what I have learned from the last two years will give me the strength to win. I spar with Lee Haskins, Lee Selby and Andrew Selby. That is a high level of sparring.
Saunders ready for Isufi on May 18
BILLY JOE SAUNDERS will bid to win the hearts of the Hertfordshire public when he fights for the first time in the county as a professional, seeking to become a two-weight world champion by claiming the vacant WBO world super middleweight title against the Albanian Shefat Isufi.
What Saunders hopes will be his crowning glory will take place in the middle of the pitch at the Lamex Stadium, home of Stevenage FC, and performing on home soil carries considerable appeal for the unbeaten – 27-0 – former WBO world middleweight champion.
"Most definitely and I think it has been a long time coming," said the 29-year-old. "You see I have mostly boxed in London and been at home, but I've never boxed here and it is interesting because I believe I am going to get a very big following.
"I am very excited to be honest with you, excited and nervous, because it is no good fighting at a venue like this and performing like a pillock! I've got to put on a good performance, so I am looking to repeat the David Lemieux performance and get the win to make myself the No.1."
To do that, the southpaw stylist will have to overcome the 27-3-2 Isufi, who is unbeaten at super middleweight after previously campaigning at cruiser and light heavy. Saunders insists he is not a threat to be taken lightly.
"Listen, a lot of people are looking at him and underestimating him a little bit. I am looking at him and I can, from studying him, see that what he does he does really well. He is not appealing on the eye, but he is better than he actually looks.
"He is obviously No.1 in the world for something and he has got to be taken care of professionally. I have been working hard and I am going to get the job done.
"He is unbeaten at the weight and he has cemented his No.1 spot for a reason. I've got to take him seriously but, at the same time, it is hard not to look past him because I lost my world title without getting beat and I want to be world champion as quickly as I can."
Saunders, indeed, could have opted to remain at middleweight and was nominated as mandatory challenger for his old title after Demetrius Andrade assumed his former status following their aborted collision last year.
The Hatfield resident declined the mandatory invitation in order to challenge for two-weight honours and believes the champions and contenders at super middle are far more willing to engage than at 160lbs.
"For one the financial gain was silly, silly change. Then there was nothing going my way and I would have been going to his back yard again, where I didn't get fairly treated the first time. I know that and I know deep down what went on, but for good fighters it is not about sitting around watching it is about how you come back.
"I have to come back stronger.
"It is open with some good names and some good fights to be made. People might say I am not a big super middleweight, but they will find I will be big enough for it. My style has never been big and bullying, that is not me, my style is being clever and smart.
"I have got unfinished business at middleweight, but I am putting myself in a position at super middle to give myself different options.
"The thing is with the super middleweights is that everyone is willing to fight everyone. There is nobody sitting back hanging out for the last pound and that is what I like about it. I've been at the top of the middleweights and the stars at the top want all of the pie and everything their own way.
"It is all on their terms, but I am just in it to win it and prove I am the best. I will put myself in a position at super middleweight where they have got to fight me.
"It is just about timing."
Billy Joe Saunders v Shefat Isufi headlines the bill at the Lamex Stadium, home of Stevenage FC, with unbeaten heavyweight Joe Joyce in the chief supporting contest against Alexander Ustinov.
Tickets can be purchased via borotickets.co.uk and are priced as below:
£250 – Hospitality
£150 – Pitch
£100 – Pitch
£75 – Pitch
£50 – Stand
£40 – Stand