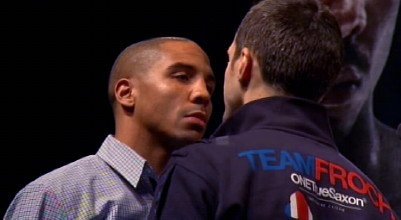 Joe Latti, Brick City Boxing – Andre Ward has received scrutiny in his career for not defending his titles as often as many would like. Last week when "The Ring" stripped the super middleweight of his Ring Champion belt and rankings for not defending his title against a top 5 contender the past two years. Rumors and speculation are flying around Twitter this morning as there are talks of a press release that was sent out that says the WBA has ordered Andre Ward (27-0, 1 KO) and Carl Froch (33-2, 24 KO) to square off again. The two parties were told they have 30 days to reach an agreement, and fight within 120 days or they will send the contest purse out for bidding.
Froch was also stripped of a title this month as the IBF took away his super middleweight title due to missing their deadline to make a mandatory title defense against James DeGale. Froch has been battling an elbow injury, but even if healthy, many speculate that he would vacate this title regardless, as he was looking to face off with Julio Cesar Chavez Jr in Las Vegas this summer – a bout that has also been scratched due to the injury.
Ward and Froch faced off at Boardwalk Hall in Atlantic City back in December of 2011, a 12 round bout that Ward won by unanimous decision. Time will tell if a rematch is in the future. No official statement has been made public by the WBA.