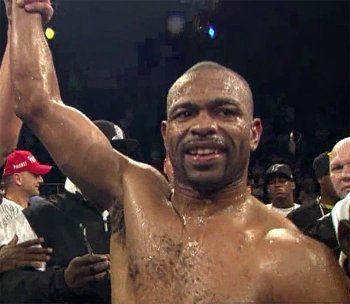 It would appear that long faded 46 year old future Hall of Fame inductee Roy Jones Jr, will NOT be fighting in the UK as planned, after he failed to board a plane to England ahead of next Saturday's scheduled fight against local 42 year old, Tony Moran, that was to take place in Liverpool.
Jones is chasing an elusive cruiserweight title, the only division from middleweight thru heavyweight that he hasn't won a world honour, and according to Stephen Vaughan, who was promoting the Malta Boxing Commission sanctioned Liverpool event, Jones has been promised the shot he wants.
"I'm extremely disappointed and saddened by the whole thing," Vaughan said. "We had invested a lot of money and time into this event, as we wanted to make it a great occasion for the fans and the game alike. But sadly, it wasn't to be, and legal advice is to be sought surrounding the circumstances in which it has happened."
The news of Jones being promised a world shot hasn't been independently confirmed, and seems highly unlikely, though this is the second of his 'fights' to be called off recently, after last weekend's scheduled clash with aging former world title challenger Danny Santiago bit the dust over hurricane fears where it was due to take place – on the tiny Dutch Island of Phillipsburg Sint Maarten, in the Caribbean.
Jones has been glad-handing in Russia recently, spending a lot of time with promoter and mogul Vlad Hrunov, and is supposed to be coming to England anyhow on September 26th to corner Hrunov's man Fedor Chudinov, for his September 26th WBA (reg) 168 lb defence against Frank Buglioni in London.
There has been no change to that plan at the time of writing, although Jones has yet to have been reached for comment.
The September 12th Vaughan Boxing card will go ahead without Jones, although it has now moved venues from Aintree Racecourse to the Olympia, with the 15-6, Moran, still set to box.
Twitter @Undilutedpoison