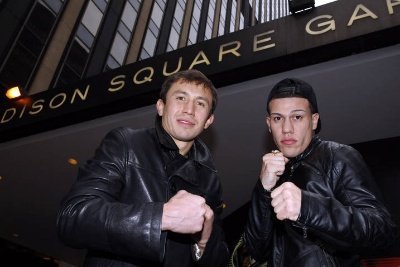 By Jeff Sorby: Gabriel Rosado (21-5, 13 KO's) likes to hear that no one is giving him a chance against WBA World middleweight champion Gennady Golovkin (24-0, 21 KO's) on January 19th in Madison Square Garden, in New York. The 26-year-old Rosado draws motivation from boxing fans who think he'll be knocked out by the hard hitting Golovkin.
Rosado wants to prove them wrong and he things he can stop Golovkin in the 9th round while dominating him the entire fight.
Rosado said to RingTV "No one thinks I can beat Golovkin. I embrace the fact that people talk and don't think I'm supposed to win. I'm going to knock him out in the 9th round, because I think he underestimates me. I don't know why, but I think he is going to pay for that. He's supposed to be the next treat thing."
Whatever helps Rosado motivate himself for the fight the better it is for him. However, I doubt Golovkin is underestimating him or looking past him. He's taking the fight seriously as he does all of his fights. He's not going to slack of just because Rosado has been beaten in the only fight where he stepped up against a decent quality fighter in Alfredo Angulo. Maybe it was just a fluke thing that Angulo knocked Rosado out in the 2nd round in the process of knocking him down three times in the fight.
Rosado is going to have to show a chin for this fight because he's going to be getting hit harder than he did in his loss to Angulo, and the shots are going to be harder to gauge because Golovkin changes the power on his shots so that he can surprise his opposition.
At the end of the day I think it's going to be a case of Golovkin having too much power and too much skills for Rosado.