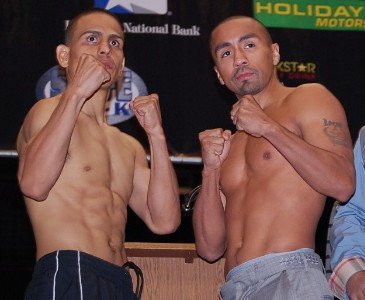 By Joseph Herron, photo by Esteban Stipnieks: Earlier today from the historic Joe and Harry Freeman Coliseum in San Antonio, Texas, 2000 Olympic Silver medalist and former title challenger Rocky Juarez (28-10-1, 20 KOs) from Houston, Texas met face to face with heavy-handed, 27 year old Super Featherweight contender Antonio Escalante (28-4, 19 KOs) of El Paso, Texas, at the Leija-Battah Promotions official weigh-in presentation.
While both men were greeted with cameras and flashes, the two knock-out artists were eager to step on the commission scale and authenticate their highly anticipated Super Featherweight showdown, which is slated to be broadcast on Telefutura "Solo Boxeo Tecate" with a 12 PM EST/11 PM PST start time.
Rocky Juarez was the first fighter to hit the scale and weighed in at exactly 130 pounds. The eleven year fight veteran looked to be in superb shape and expressed his enthusiasm to get in the ring tomorrow night.
"This is going to be a great fight," insists Ricardo "Rocky" Juarez. "Tony is a big puncher and always comes to fight. When you're fighting a guy like Escalante, you really have to be at your best and you will see me at my best tomorrow night."
The always entertaining Antonio Escalante subsequently took the stage and stepped on the commission scale, registering at an official weight of 129.75 pounds. The Mexican born fighter looked stern and focused for Saturday night's main event.
The two fighters posed for the attending media and were very respectful to each other. Juarez and Escalante showed great sportsmanship and proved to be excellent ambassadors of the sport.
Although both men were mutually affable at the special media presentation, fight fans know that they're guaranteed to see a fierce competition with plenty of fireworks on Saturday, October 27th.
Tickets are still available and are priced at $125, $100, $75, $45 and $20 at all Ticketmaster outlets, online at www.ticketmaster.com and via Ticketmaster charge-by-phone lines at (800) 745-3000.