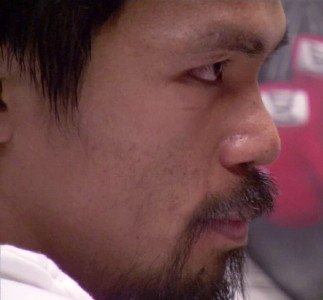 As usual, trainer Freddie Roach expects Manny Pacquiao (55-5-2, 38 KO's) to score a knockout when he gets in the ring with WBO welterweight champion Tim Bradley (31-0, 12 KO's) for their rematch on April 12th. Roach thinks Pacquiao is new and improved after he rebuilt his fighting style following his loss to Juan Manuel Marquez in 2012.
We saw some of the improvements in Pacquiao's game in his win over Brandon Rios last November in Macao, China. And now we're going to see some new changes in Pacquiao's game against Bradley in their rematch at the MGM Grand in Las Vegas, Nevada. Roach says that Pacquiao is going to go after the 5'6" Bradley and not let up until he either quits or is knocked out in this fight.
"Manny will not take his foot off the gas pedal this time, and he will accept nothing short of an unconditional surrender," Roach said of Pacquiao to Tempo. "As Leo Durocher [former LA Dodgers manager] used to say, 'Nice guys finish last.' And when Manny enters the ring on April 12th, he will not be the Mr. Nice Guy he was the first time he fought Tim Bradley."
If Pacquiao can be the mean fighter that he was many years ago, he'll be able to destroy Bradley and regain his WBO 147lb title. The question is can Pacquiao do that? You'd have to believe Roach's story about Pacquiao's so-called niceness as being the root cause of him losing to Bradley and Juan Manuel Marquez, and for him failing to score any knockouts since 2009. Is Pacquiao's niceness the reason why he's having problems or is it just plain old age starting to show it's ill affects?
Pacquiao is going to need to be able to use fast footwork on April 12th if he's to be successful in following Bradley around the ring for 12 rounds to get him to wave the white flag of surrender like Roach wants him to. Pacquiao can't just shuffle after him and then stop and give a look of frustration like he did the previous time the two fought in 2012.
Pacquiao seemed to be annoyed by Bradley that he didn't want to fight him in a one-on-one fight like many of his previous opposition had. Pacquiao's annoyance showed that he really hadn't studied Bradley's previous fights well, because if he had, he would have seen that Bradley tends to use a lot of movement to avoid punishment.