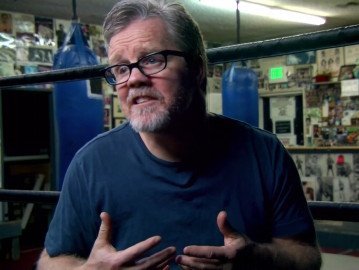 By Rob Smith: Trainer Freddie Roach would like the idea of Manny Pacquiao possibly facing WBC interim welterweight champion Robert "The Ghost" Guerrero sometime in the future. Obviously, that's not a fight that can happen in 2013, as Top Rank promoter Bob Arum badly wants to match his struggling star Pacquiao back up with Juan Manuel Marquez in September if Pacquiao can pass the medical exams for the fight. But a fight between Pacquiao and Guerrero would be an interesting one if Guerrero doesn't get beaten too badly by Floyd Mayweather Jr. in their possible fight on May 4th.
Roach told the boxingchannel.tv "He [Guerrero] did quite well with Manny in sparring, it was quite competitive. If this sparring session was like a fight, it would be a great fight because it was give and take for both guys Would we fight him? We're not afraid of him [Guerrero] that's for sure. Guerrero is a great fight."
Obviously isn't in great shape right now having been knocked out badly last December by Marquez, and it might not be a good idea to put Pacquiao in with a high volume puncher with a great chin like Guerrero because Pacquiao's stamina and chin are both questionable at this point.
Pacquiao ran out of gas in his loss to Tim Bradley last year, and he was dropped twice by Marquez last month. At this point we don't know if Pacquiao can even handle a hard shot anymore, and Guerrero may not be a big puncher but he can land a mean uppercut when he's got his left arm hooked around his opponent's head like he did in his fight with Andre Berto.
Arum might take Pacquiao into the slow lane if he struggles and/or gets beaten by Marquez next September. I suspect Arum will look to match Pacquiao against mainly his Top Rank stable fighters in order to preserve his career. It would be kind of like what Arum did with his match-making for Miguel Cotto after he was blasted out by Antonio Margarito and Pacquiao. Arum put Cotto on a soft diet and he did well.