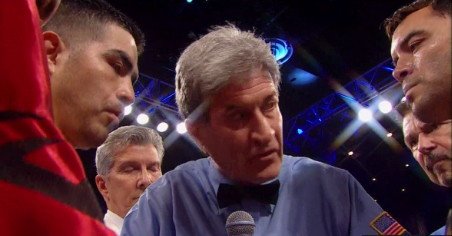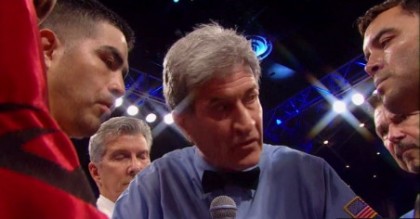 Brandon Rios (32-2-1, 23 Kos) should be on his knees tonight thanking referee Vick Drakulich for saving his career in needlessly disqualifying visiting fighter Diego Chaves (23-2, 19 KOs) in the 9th round at the Cosmopolitan of Las Vegas. Drakulich had been overactive in taking points off from the 3rd round when he took a point off from Chaves for clinching. I still can't understand why Drakulich disqualified Chaves instead of Rios, who really was the one that was fouling repeatedly by head-butting during every clinch, hitting low and throwing rabbit punches.
From my perspective, it just looked like Chaves was robbed tonight. He came in as the B-side and he was beating the house fighter and getting fouled like mad. Instead of the referee addressing the fouling that Rios was doing, he disqualified the victim of the fouling in giving the hook to Chaves. I can't remember ever seeing a visiting fighter get shafted as badly as Chaves did tonight.
Rios is very lucky that Drakulich disqualified Chaves, because he was losing on two of the judges' scorecards 75-74 and 75-74, while the third had Rios ahead 75-74. You take away the two silly point deductions that Drakulich took from Chaves, and you have Rios well behind in the fight at the time of the stoppage.
Chaves had been warned once for holding before Drakulich pulled the trigger in taking of the point. In the 9th, Chaves put Rios in a head-lock, which led Drakulitch to disqualify Chaves. Rios complained that Chaves was putting his thumb in his eyes during the head lock, but there's no way of knowing whether that was in fact true or not.
Drakulich took a point away from Rios for tossing Chaves to the canvas in the 5th. Later in the fight, Drakulich struck again, taking a point away from Chaves for pushing the face of Rios after he'd been head-butted by him in close.
The head-butting from Rios was a chronic thing that occurred all night long during the clinches. Rios would lower head head put into the face of Chaves. He did virtually every time there was a clinch.
The official time of the stoppage was 1:26 of the 9th round.
What we learned here tonight is that Rios showed little improvement from his last two fights against Mike Alvarado and Manny Pacquiao, both of which Rios lost. We learned that Rios now sticks his head into the face of his opponents when they attempt to clinch. He didn't use to do this before, so this is something he picked up during draining camp in going "old school." We learned that Rios can't handle movement and that he's terrible from the outside.
It's going to be tough for Top Rank to whitewash this performance from Rios and paint it as an actual win, because it just looks like Chaves was robbed.
Rios' trainer Robert Garcia also trains Marcos Maidana, a fighter known for fighting dirty. Rios didn't used to fight like this, and it's unclear when he suddenly transformed into what we saw tonight. Based on how Rios fought, he's the one that should disqualified, not Chaves.
—
In a slightly less controversial fight, WBA light welterweight champion Jessie Vargas (25-0, 9 KOs) defeated Anton Novikov (29-1, 10 KOs) by a 12 round unanimous decision by a set of scores that were far too wide given the closeness of the fight. The judges scored it 118-111, 118-111 and 117-111.
They basically saw a much different fight than the one I witnessed, because I had Vargas winning by one point. It could have gone either way, but I thought Vargas nicked it by a close decision. Vargas is promoted by Top Rank, the same promoter as Brandon Rios.
Vargas and Novikov went toe-to-toe for the full 12 rounds in an action packed fight. I liked the skills that Vargas showed. The guy is a very talented fighter, but he lacks power and his defensive skills were lacking, especially towards the end of the fight when he gassed out. Novikov won at least 2 of the first 6 rounds, and he clearly won the last 3 rounds.
Undercard results:
Jessie Magdaleno TKO 7 Carlos Rodriguez
Jose Ramirez UD 8 Alfred Romero
Erick De Leon TKO 5 Pedro Toledo
Saul Rodriguez TKO 2 Orlando Vazquez