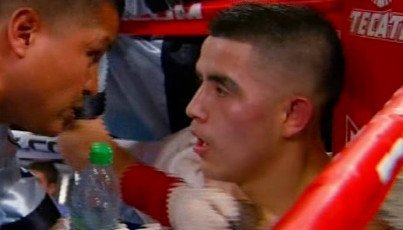 By John G. Thompson: This coming Saturday night Brandon "Bam Bam" Rios (30-0-1, 22 KO's) will face Mike "Mile High" Alvarado (33-0, 23 KO's) in the ring at the Home Depot Center in Carson, California televised on HBO Boxing After Dark. While the outcome of this fight is as hard to predict as Rios' conditioning, one thing is certain – when these two aggressive power punchers meet there will be blood.
Rios of nearby Oxnard, California (born in Lubbock, Texas) is just twenty-six years old, but has already battled weight issues in his last two fights, losing his WBA World Lightweight title on the scales in July of last year. Rios was an experienced and decorated amateur with about 275 bouts and was the 2004 United States Amateur Featherweight Champion and a 2004 Olympic alternate for the USA.
His thirty-two year old opponent from Colorado has less amateur experience, not having started boxing until the age of twenty. Prior to that, he was a two-time high school wrestling champion. Once he
began boxing, however, he racked up an amateur record of 36-5, becoming a two-time Colorado Golden Gloves Champ and competing in the National Golden Gloves tournament, US Championships and Police
Athletic League Tournament (losing to Andre Dirrell). And whereas Rios has struggled with weight issues, Alvarado has missed some ring time with legal issues including a stint in jail due to probation violations, driving infractions, and a domestic violence charge.
Alvarado started his career with five straight first round knockouts and still commands an impressive 69.7% KO rating. Rios is no slouch in the power department either, knocking out his first six opponents (three in the first round). Rios in fact has a slightly higher but almost identical KO percentage of 70.9%. In terms of professional experience Rios possesses a slight advantage having been a world champion at lightweight and fighting the likes of Anthony Peterson (then undefeated), former champion Miguel Acosta, Urbano Antillon, John Murray, and Richard Abril. Alvarado has only recently begun stepping up his level of competition against the likes of Mauricio Herrera and Breidis Prescott. Coincidentally, both fighters are coming off sixth month layoffs, having both last fought on April 14th.
Stylistically, this is the type of fight that should end in a spectacular knockout; however, this is not a certainty being that neither fighter has ever been KO'd. Both fighters are primarily come
forward sluggers, though Alvarado has shown glimpses of boxing technique that Rios seems to lack. In Rios's bout with Acosta, Rios was completely out classed for the first half of the fight, until his body punches took their toll and Acosta started to slow, and Rios eventually stopped him. To Rios's credit, he never got discouraged or lost his focus, and his relentless style saved him from a wide points loss. Alvarado had a similar experience in his bout with Prescott who not only out-boxed Alvarado for a majority of the fight, but also started to bust him up a bit. Alvarado came on strong in the tenth and final round, knowing he needed a knockout to win, and took out his opponent. And whereas Rios is moving up in weight due to his conditioning struggles, Alvarado is a naturally large light welterweight who has fought above the welterweight limit in the past.
Alvarado's last bout against Herrera was a definite fight-of-the-year candidate as the two traded punches and combinations from the first bell to the last, and this fight should be no different. Both men have been cut before, and while I won't go so far as to predict a winner, I will make one prediction – there will be blood in the ring if this goes past the first round. And if it does, this will be one hell of a fight.