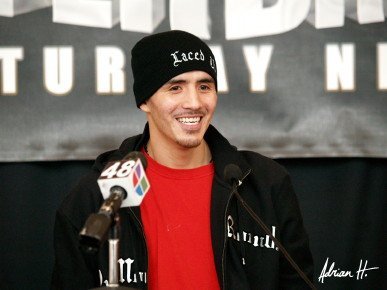 (Photo credit: Adrian Hernandez) By Joseph Herron: In the midst of making their final preparations for their highly anticipated October 13th showdown at the Home Depot Center in Carson, California, Brandon "Bam Bam" Rios (30-0-1, 22 KOs) and "Mile High" Mike Alvarado (33-0, 23 KOs) have made it abundantly clear that winning the fight isn't their lone objective.
"I want to make history on October 13th," proclaimed Brandon Rios. "I want to make a statement in my fight with Mike Alvarado and show everyone a legendary battle. I've always wanted to be a part of a fight like Gatti/Ward. Hopefully my fight with Alvarado on October 13th is that fight."
"I love to fight. I love hitting people in the face and I love to get hit. A heavyweight could punch me and I'd still love it."
"The way I fight and the way he fights, it's going to be a war. I know it's going to be a tough fight but it's going to be an exciting fight for the fans. We both have the same styles and I don't change my style for anyone."
While the former WBA Lightweight Champion is convinced that Alvarado is a face first brawler, the Denver, Colorado native claims that he's capable of so much more in the ring.
"Most people think that I'm just a slugger, but I'm a much more complete fighter," claims Mike Alvarado. "I can box on the outside as well as I can bang on the inside. With the fights that I've been in, I've learned a lot about myself in the ring. My boxing ability is definitely underrated."
"I've been in a lot of very tough fights to get to this point in my career. Brandon will find out on October 13th that I love to win and will do whatever it takes to get the victory. I am a very strong mental fighter and I dig deep to get the win. I've always been very good under any kind of pressure mentally and physically."
While many members of the boxing media have criticized Brandon for not weighing in under the Lightweight limit of 135 pounds before his previous two outings, the Oxnard, California resident assures his fans that it wasn't from of a lack of dedication or discipline.
"I worked very hard trying to make weight for my last two fights, but it was getting too difficult. I was a 140 pound fighter still trying to make 135 pounds. I've put that behind me now fighting in the Junior Welterweight division."
The exciting young fighter is very anxious to test his power at the 140 pound weight class.
"Some people are wondering if I'll have the same power as a Junior Welterweight. I've always had the power of a 140 pound fighter. It's just that I was always able to make 135 pounds before. But I've always had a big punch and my power is going to carry me in whatever division I fight in."
Brandon's elite level trainer Robert Garcia affirms his fighter's position concerning what we should expect to see on fight night.
"Brandon is a natural 140 pound fighter," states the Ring Magazine's "2011 Trainer of the Year". "He's so big and so strong in the ring, and he'll be very comfortable fighting at 140. Expect to see the real Brandon Rios next Saturday night."
After putting on impressive and inspired performances in his last two outings against Breidis Prescott and Mauricio Herrera, Alvarado is very clear that he plans to put on an equally moving show against Brandon Rios.
"I plan to put on a good performance. I have to if I want to win this fight," admits the 32 year old fighter. "I will do the best that I can to win. Because Rios is moving up in weight, I'm not looking past him at all. I'm sure that he's training to be at his best, so I'm training to fight the best version of Brandon Rios. My focus is on my training and taking care of everything in the gym."
"It's been a long road to get here. I'm very happy about where I am and I'm very excited for this fight. On Saturday, October 13th, I'm going to put on the best performance I've ever had."
Despite his opponent's apparent confidence, Brandon Rios truly believes that he will be the first fighter to stop Mike Alvarado.
"I'm not really worrying about what he brings to the table. I'm very confident and I really want to prove a point. I want to make a big statement next Saturday night," professes the 26 year old pressure fighter. "I've always gone for the knock out and this fight won't be any different. I'm going for the knock out, big time!"