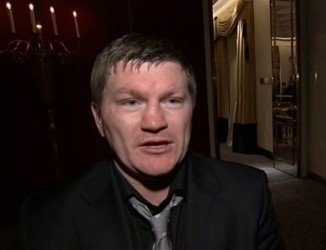 By Michael Collins: Ricky Hatton (45-2, 32 KO's) is expected to be making his comeback on November 24th at the MEN Arena, according to the Manchester Evening News. There's talk of Hatton having met with the British Boxing Board of Control to get licensed to fight. Hatton additionally has lot a lot of weight and this has further fueled speculation that the 33-year-old Hatton will soon be back in the ring. Hatton will be making an announcement this Friday about his plans for the November 24th fight.
His fighters Anthony Crolla, Martin Murray, Rendall Munroe and Scott Quigg will be on the November 24th card.
If Hatton does make a comeback on November 24th he'll likely be matched against a less than dangerous opponent. It's been three years since he last fought, and he was knocked out in only two rounds in his last fight against Manny Pacquiao. Hatton needs to take things slowly if he wants to find success with his comeback. His chin might not be the same, and we could see Hatton knockout out again if he faces someone too good for him.
Hatton's chances of success in his comeback are limited. When he held the light welterweight title the division was incredibly weak with few talented fighters. Kostya Tszyu was an old fighter by the time Hatton beat him, and once you got past Tszyu, there wasn't much competition for Hatton. A young Tszyu would obviously have destroyed Hatton. Now things are completely in the division. You've got Brandon Rios, Amir Khan, Danny Garcia, Lucas Matthysse, Olusegun Ajose, Mike Alvarado, Lamont Peterson and Juan Manuel Marquez. I don't think Hatton could beat any of those guys, even in his prime. And if Hatton moves up to welterweight it would be even worse for him because there are too many good fighters at that weight for him.
If Hatton is merely looking to fight scrubs until landing a big money cash out fight against the likes of Floyd Mayweather Jr. or Manny Pacquiao, then I think he'll be successful at that. But as far as competing with the best fighters at 140 and 147, I don't give him a ghost a of chance. Hatton had his day, and he's older now and both the light welterweight and welterweight divisions have better fighters now.