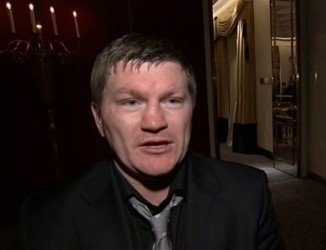 Britain's former 2 weight world champ Ricky Hatton, who himself boxed both Floyd Mayweather and Manny Pacquiao in Las Vegas, has spoken out to the 'expressandstar.com' to suggest that if "jilted bride" Amir Khan cannot secure the mega fights he craves with either of the two P4P giants, then he should just do what most right thinking fans want him to do – fight IBF 147 lb champion Kell Brook.
Khan has ostensibly talked himself out of a Floyd fight for good, even if "Money" goes for the 50-0, and so has now turned his attentions to trying to secure a big-money fight against the now 37 year old Filipino star instead.
In response to pleas from British fans in particular, Khan keeps saying he will fight Brook at some point "in the future," when the champion fights what he deems big enough names.
Khan, who needs a solid opponent to attempt to claw back the declining respect from most objective fans, could easily get some of it back by fighting Brook – a genuine, strong welterweight.
Yes, Brook's best win is against former world champion Shawn Porter, yet Porter is arguably of better quality and calibre than anybody Khan has fought over recent times
.
"If Carl Froch and George Groves can get 80,000 people to Wembley, don't tell me Brook versus Khan can't do the same, every day of the week," Hatton said.
"If it is a barnstormer, then there will be a rematch. It could be Benn and Eubank all over again.
"Those two didn't need anyone else, they made each other. If Khan can't get Mayweather or Pacquiao, that's the route I would go.
"There's where the money would be for him and that's where he could really make his name again, in my opinion."
Twitter @Undilutedpoison