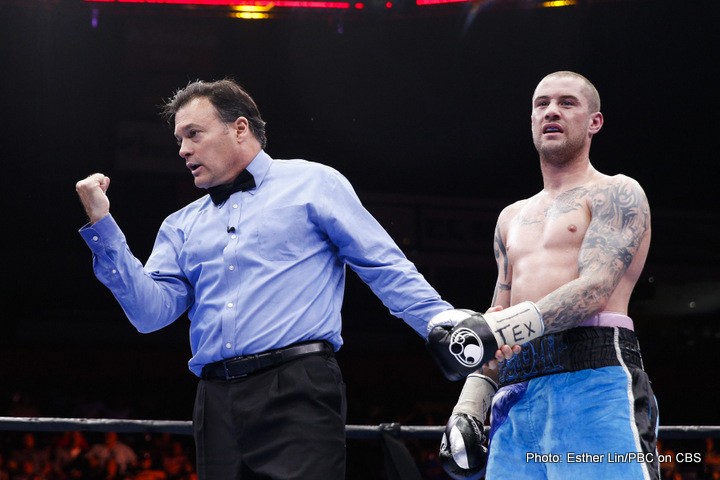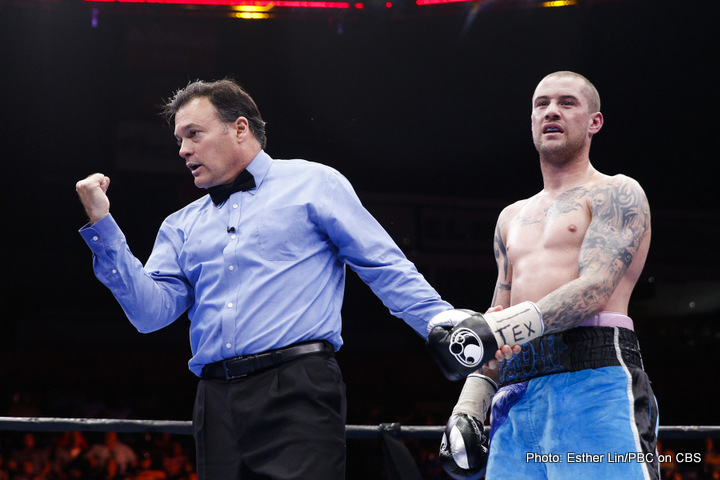 Ricky Burns says he'll handle the power of big-hitting mandatory challenger Kiryl Relikh – but questioned whether Relikh has the temperament for the big stage as Burns defends his WBA Wold Super Lightweight title at the SSE Hydro in Glasgow on Friday night, live on Sky Sports.
Burns became Scotland's first three-weight World champion in May when he stopped Michele Di Rocco in front of a fever-pitch crowd in the same arena.
Unbeaten Relikh boasts 19 KO's from his 21 wins and Burns is ready to nullify that punching power, questioning whether the Belarussian will be able to handle the pressure of the biggest fight of his career in front of a passionate Glasgow crowd.
"It's going to be interesting to see how he copes and adapts to the atmosphere," said Burns. "I don't know what sort of person he is. But obviously this is a big step up for him, first time he's headlined an Arena show live on Sky Sports, and he's walking into the lion's den in Glasgow. Hopefully the fans will make it hostile for him and I don't think it will sink in the level he's at until there's just me, him and the ref in the ring.
"Tony and I have watched a few rounds of Relikh as we knew he was a possibility. He's got a lot of KOs on his record so he can obviously punch a bit, but it's the level of opposition that he's been knocking out. He can dig a bit but we're not treating this any differently to any other fight I've had. I've had a good long camp for this one so there's no fears for me.
"We're expecting a tough fight. Conor Benn trained alongside him before and did a bit of sparring with him and he said that he can punch, but we're confident of getting the job done.
"There were some big fights offered to me. They fell through for this one but now we've got the mandatory to get out of the way. That's not to disrespect to Relikh – he's got our full attention – but there's some massive fights out there. I boxed Di Rocco for the vacant belt so I've had to do this mandatory straight away which is fair enough, he's earnt his shot the right way, so we get this win and it leads to massive fights.
"You have to take notice of the record he brings. They might not be top names that he's been facing, but he's been knocking them out regardless. This is my 48th fight now and I've been in with big punchers before, I always wind Tony up and say that it's a good job I don't mind being hit in the face, but my chin has always coped OK."
Burns' clash with Relikh is part of a huge night of action in Glasgow with two mouth-watering British title clashes as Scotty Cardle defends his Lightweight belt against Kevin Hooper and Brixton rivals Dillian Whyte and Ian Lewison battle for the vacant Heavyweight strap, and there's action for Joe Ham, Lewis Paulin, Stewart Burt, Scott McCormack and Ross Murray.
Tickets are on general sale now with tickets in the £40-£100 bracket available from the SSE Hydro website http://www.thessehydro.com/ and on 0844 395 4000 and 0800 952 0110 (accessible). VIP tickets at £200 are exclusively available at www.matchroomboxing.com
The money from all tickets sold from midnight tonight (Wednesday October 5) to midnight on Thursday will go to the family of Mike Towell, who sadly lost his life boxing in Glasgow last week.
Ricky Burns will defend his WBA World Super-Lightweight title against Kiryl Relikh at the SSE Hydro in Glasgow on Friday October 7, live on Sky Sports.
Burns landed the belt to become at three-weight World champion at the venue in May with a dominant eighth round stoppage win over Michele Di Rocco, adding the Super-Lightweight crown to his World titles at Super-Featherweight and Lightweight.
The Coatbridge star meets the dangerous unbeaten Belarussian who boasts a daunting record of 19 KOs from 21 fights, and Burns expects a serious test as he looks to line up a super-fight once he's dealt with the 26 year old.
"My face at the end of the fight said everything – it meant so much to me that win and prove I still have so much to give," said Burns. "It was great to be back in Glasgow and I said before I had to win to get those nights back again, not just for me but for the future of Scottish boxing.
"We have some talented kids coming through in Scotland and it's important they get the chance to show what they can do live on Sky Sports.
"I put more pressure on myself in that fight than any other. I took plenty of stick before that as I was apparently finished and on the slide, everyone had written me off and it felt good to prove them wrong.
"I can't thank my trainer Tony Sims enough for what he's done, we've really worked hard together and when I was offered the Di Rocco fight – I grabbed it with both hands as I knew I could win.
"Relikh is a very tough fight as a first defence. He's got a high KO ratio so he will be very dangerous throughout. Trust me he has my undivided attention and I will have to be at my best to get through this.
"There are some massive fights out there in the future against some huge names in the 140lbs division – but we're taking it one step at a time, and that starts on October 7 at the Hydro."
Relikh served notice of his World title credentials in his last three fights, landing the vacant Inter-Continental title in May with a second round stoppage over Lazaro Santos de Jesus in Bulgaria, defending it in October with a fifth round stoppage against Christian Ariel Lopez in Monaco and forcing Joaquim Carneiro to retire after four rounds in their clash for the belt in Bolton in May. The Ricky Hatton trained and promoted man has won his last 12 fights inside the distance, and Hatton believes Relikh will usurp Burns at the first hurdle.
"Kiryl is one of those cool, unflinching boxers – nothing fazes him," said Hatton. "This is a big opportunity for him and he's not bothered about being the underdog.
"Kiryl's been training and boxing away from home for years so he'll have no problem going to Scotland for the fight. I think having the crowd against him will bring the best out of him.
"Ricky Burns is a top class fighter. You don't win three world titles by being anything less than world class, but there always has to be a changing of the guard and I think this could be Kiryl's time.
"He's been working with me in the gym for a while now and every day he's been getting better and better so I believe people with be a little bit surprised with what they see when gets it on with Burns."
A stacked undercard will support Burns' clash with Relikh, with Scotty Cardle defending his British Lightweight title against Kevin Hooper, Commonwealth Games gold medal favourite Charlie Flynn tackling Manchester's Kofi Yates, outings for Flynn's Commonwealth Games teammate Joe Ham and Brixton's Heavyweight star Dillian Whyte, plus more to be added.
An announcement on ticket details will be made next week.
###
Ricky Burns says there's plenty more big fights in his as he defends his WBA World Super-Lightweight title against dangerous mandatory challenger Kiryl Relikh at the SSE Hydro in Glasgow tomorrow night, live on Sky Sports.
Burns destroyed Michele Di Rocco in the same arena in May to land the title and become Scotland's first three-weight World champion.
The 'Rickster' knows that blockbuster clashes lay in wait if he can see off big-punching Relikh, who boasts 19 KOs from his 21 wins. The 32 year old has been linked with a clash with brash American Adrien Broner but the Coatbridge ace will entertain thoughts of glamour nights in Las Vegas once the job is done against his Ricky Hatton-trained foe.
"I don't think that being a three-weight World champion will sink in until I hang them up, and I am a long way from that," said Burns, who weighed 9st 13lbs 2oz, with Relikh making 10st at the third attempt today.
"If I was training and I didn't feel like I was up for it or I wanted it anymore, I just wouldn't do it, but I think I've proved that I've still got plenty to give. A lot of people put a lot of work in for the fight, getting up at the crack of dawn to run up the steps at Leigh-on-Sea, blood, sweat and tears, so I was happy for the whole team.
"The atmosphere was incredible in May and I will never forget it. I couldn't believe how easy it was. The plan was to box for the first part and then stick it on him after the halfway stage as he seems to tire, but I couldn't miss him with the jab and the right hand.
"Things are really clicking with Tony Sims and that showed on the night. I caught him with a body shot in the second round and saw him wince from it, and a few times he was wobbled by right hands. Tony said to stick to the plan though and take him deep but I couldn't miss him and he was taking a lot of clean shots. He was pretty flat-footed and just looking for big swings.
"I'm just one of the lads in the gym, we all work really hard and Tony puts in the same work with me as he does the other boys. Sometimes they call me the old man in the gym, but I just remind them of the three World titles when they do!
"Against Di Rocco I had a point to prove to myself and to those who doubted me. I was at the point that people were saying I was finished and I should pack it in, he's got nowhere to go, everyone is entitled to their opinion but sometimes they should keep it to themselves.
"I don't like looking back over what's happened in the last couple of years, but it was hard coming through it and it was a tough ride, but that win was the start of a fresh chapter. I've never been the type to say I am going to do this or that, I just go one fight at a time and that's what I'll always do."
"Broner called me out at Super-Featherweight, Lightweight and now at Super-Lightweight. There was talk about it for this fight amongst others, but get the job done against Relikh and we can make that fight.
"I'm more than prepared to go to America for that fight. People say it's a risky fight and more so going over there for it, but I wouldn't take it if I didn't think I could win. I know it's a hard fight but I am more than confident I can beat him anywhere, and if it happens I'll be really up for it.
"I think I've always been on the tip of his tongue because it's been meant to happen a few times. I fought for the title that he lost on the scales, he's been in a bit of bother but seems to be back in the gym and has sorted all that out, so I get this win and that fight should go ahead.
"Eddie and Tony only want the biggest fights for me and that's great. I'll fight anyone and if they happen to be big names in America or big names we bring to Glasgow, then that's great. You can only take it one fight at a time and it's great to be back in here and fighting a dangerous mandatory.
"Fighting in Vegas is something that I've always wanted to do but I'm not one for looking past the job in front of me."