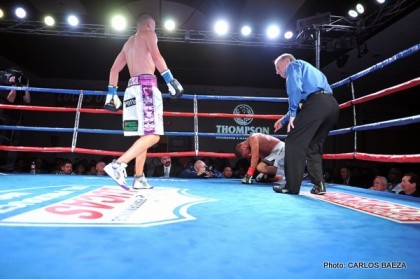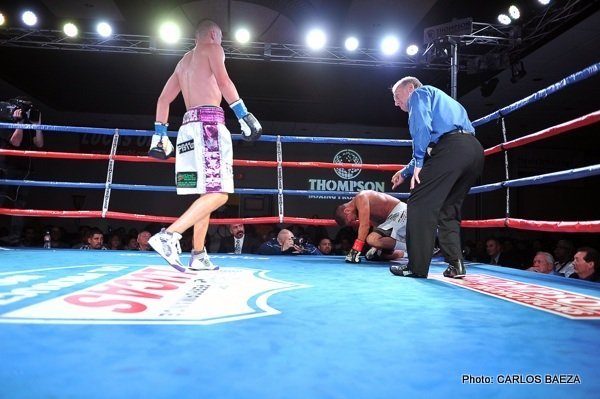 ORANGE, Calif. (Nov. 24, 2013) – Thompson Boxing Promotions concluded its year with seven sensational fights that thrilled and entertained the capacity crowd at the Doubletree Hotel in Ontario, Calif.
Friday's main event showcased welterweight prospect Artemio Reyes of Colton, Calif. against Francisco Reza of Torreon, Mex. Reyes continued his knockout spree, this time flattening Reza in the second with vicious hooks to the body. Reyes dropped him the first time with a pinpoint left hook to the body. Reza would rise, but seconds later Reyes crushed him with a right hook to the ribs that put him down for good. This marks the six straight victory for Reyes, five of which have come by stoppage. Only one of those knockout wins went further than the second round.
"I've learned not to go out and look for the knockout because that's when you get sloppy," said Reyes, who is promoted by Thompson Boxing Promotions. "Lately, I've done a great job of attacking early and letting the knockout come naturally."
Reyes' record swells to 21-2, 17 KOs, and Reza stumbles to 12-9, 9 KOs.
In the co-main event, talented welterweight prospect Giovanni Santillan of San Diego took care of business early against Michael Balasi of Hawaii. After an exploratory first round, Santillan charged Balasi in the second. He pressured Balasi into the ropes and unloaded a flurry of punches that dropped Balasi. Santillan's second round knockout win is his fifth victory of the year and seals his reputation as one of the hottest young welterweights in the sport.
"I continue to work and train hard and all of the preparation is paying off," said the 21-year-old Santillan. "When I signed with Thompson Boxing, they told me I would be busy. I'm starting to build momentum now so I'm excited to see what next year will bring."
Top lightweight prospect Jose Roman of Garden Grove, Calif. showed why he is considered one of the division's brightest talents by picking apart the hard-hitting Hector Miguel Zuniga of Tijuana, Mex. Roman won a six-round unanimous decision with scores 60-53, 60-53 and 58-55. Roman was able to fight on the inside and out with equal ease, and, in the fourth, he connected with a right hook that put Zuniga on his wallet. Roman displayed superior hand speed, excellent instincts and savvy defense. His most effective combination, a double left hook to the head and body, landed flush more often than not. Roman threw such tight and sharp left hooks that Zuniga rarely saw them coming.
"That's one of my go to punches," said Roman, who fought for the first time as a Thompson Boxing Promotions fighter. "The left hook to the body is such a great equalizer because it tends to stop a forward punching boxer dead in his tracks."
Roman improved his record to 15-1-1, 11 KOs and Zuniga drops to 13-4, 8 KOs.
Heavyweight Javier Torres of Long Beach, Calif. power punched his way to a four-round unanimous decision win over Kevin Howard of Montgomery, Ala. Scores were 39-37 all around. Howard had his moments, but Torres was the more fluid boxer displaying sound mechanics and better accuracy. In the third round, Torres delivered a barrage of punches, which stirred the crowd into a knockout frenzy, but Howard was able to fight off the charge. Torres kept active in the final round to remain unbeaten at 6-0-1, 3 KOs, while Howard sits at 3-12-1, 1 KO.
"I just tried to be the aggressor tonight," Torres said. "I knew if I stuck to my game plan I would be able to get the win."
Welterweight prospect Oscar Godoy of Watsonville, Calif. registered a split decision win over fellow prospect Ricky Duenas of Los Angeles. Godoy was the more aggressive fighter, choosing to move forward with straight rights and left hooks to the head. Duenas, on the other hand, preferred a defensive approach and scored through effective counterpunching. Ultimately, Godoy was more active, landed cleaner punches and managed the tempo for the majority of the rounds. Scores were 80-72, 77-75 and 75-77. Godoy won for the third time this year and improves to 12-2, 6 KOs and Duenas falls to 12-3, 6 KOs.
The second fight of the night featured young heavyweights Justin Goslee of Burbank, Calif. and Justin Davenport of nearby Lake Arrowhead. Davenport made quick work of the bigger and heavier Goslee, knocking him out cold with a straight right in the opening round. Davenport moves to, 1-0-1, 1 KO, while Goslee suffers his first defeat and drops to, 2-1, 2 KOs.
Colombian Oscar Torres recorded his first professional win by outpointing Cory Muldrew of Chandler, Ariz. in what turned out to be a terrific opening bout slugfest. Torres and Muldrew both maintained high punch outputs throughout the four-round fight, but it was Torres that landed with higher accuracy and better power. Scores were 39-37, 40-36 and 39-37. Muldrew is now 1-5.
Thompson Boxing Promotions returns to the Doubletree Hotel on Friday, Feb. 28, 2014, but prior to that, catch welterweight Josesito Lopez (30-6, 18 KOs) in his return to the ring on Friday, Dec. 13, 2013, at the Fantasy Spring Resort Casino in Indio, Calif. An opponent for Lopez will be announced shortly.
"New Blood" was presented by Thompson Boxing Promotions and sponsored by Lucas Oil, in association with Time Warner Cable Deportes.