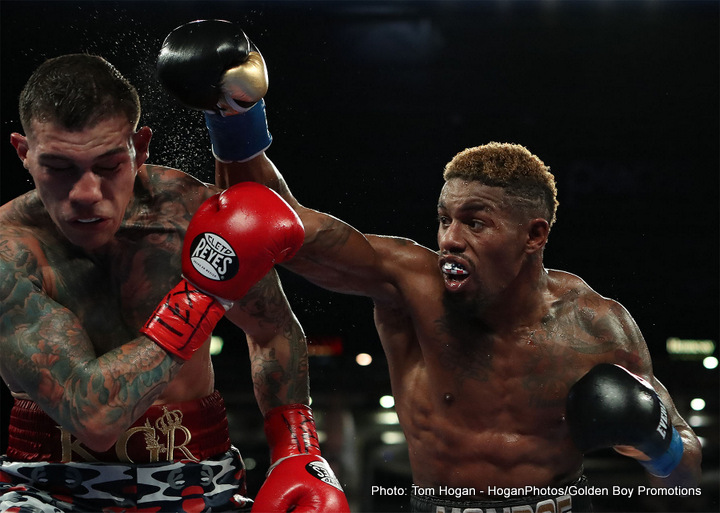 Gabriel Rosado (23-10, 13 KOs) battled Willie "El Mongoose" Monroe, Jr. (21-2, 6 KOs), of Rochester, NY in a 12-round match for the vacant WBO Intercontinental Middleweight. Starting out, the fighters tested each other as they kept their distance by using jabs and counterpunches. As the rounds progressed, the fighter's aggression grew, with Rosado pushing Monroe after the bell for the ninth round. In the eleventh round, Rosado landed a body shot to Monroe while also suffering an accidental headbutt. In the end, the judges determined "El Mongoose" the champion of this fight by unanimous decision with scores of 112-116, 110-118, 111-117.
"I have no problem with Rosado, I have no personal problems with anyone, it's business," said Willie Monroe, Jr. "I just want to thank God for this twenty first victory. I want to thank HBO for the opportunity, hopefully I performed and they want to bring me back. I also want to thank Banner Promotions, my team and my grandfather who passed away in 2013. He raised me and this has been a dream in the making for 29 years and it's still going."
"I thought I was going to be strong tonight, but I felt tight," said Gabriel Rosado. "It was a tough fight, I think I should have used my jab more. I mean, he was a decent fighter."
Fan favorite and former Olympian Joseph "Jojo" Diaz, Jr. (22-0, 13 KOs)of South El Monte, Calif. put his NABF Featherweight Title on the line as he faced Blythe, Calif.'s Andrew "El Chango" Cancio (17-4-2, 13 KOs)in an entertaining scheduled 10-round scrap. In the first rounds, both fighters tested one another, as each exchanged blocks and blows in hopes of winning the fight. By round five, Diaz, Jr. continued to do work defending himself and landing devastating punches to Cancio. By 2:27 of the ninth round, Cancio's corner stopped the fight, giving Diaz, Jr. a technical knockout victory to retain his title.
"This is a great victory, it will open up so many doors for me moving forward," said Joseph Diaz, Jr. "I felt very comfortable today, I was the better puncher, I was faster and was able to cut the ring more efficiently. I knew that Cancio was going to be a strong guy, I knew he was going to be tough and try to push me around, so I had to be the better fighter tonight. I was able to display my defense and my power."