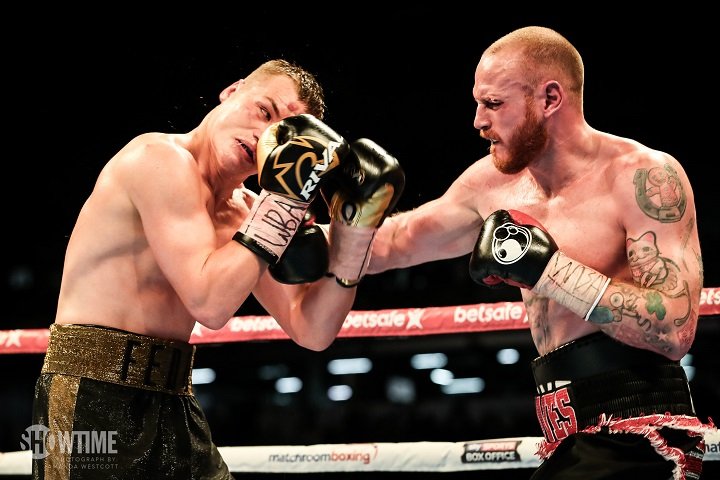 Tonight in Sheffield, in a great, incredibly fast-paced action fight, George Groves became a world champion at the fourth time of asking, stopping a very tough and game Fedor Chudinov in the 6th round. Groves really did hit Chudinov with absolutely everything in the 6th, giving the referee no choice but to dive in and call a halt.
The official time was 1:14 of the sixth and Groves improved to 26-3(19). Russia's Chudinov, in being stopped for the first time as a pro, is now 14-2(10).
The action was breathtaking from the start, with relentless pressure fighter Chudinov forcing the faster, more versatile Groves to work very hard. At times pushed to the ropes, Groves really had to let his hands go so as to contain Chudinov. The pace was red hot and a classic fight was taking shape.
Groves hurt the rock-chinned Chudinov in the 4th, a great round of action. A Groves right hand to the head stunned the slightly younger man, and then the Londoner targeted the body with real spite. Groves picked up a cut to his left eye from an accidental head clash, Chudinov picking up some damage to the middle of his forehead.
They traded again in the 5th, both scoring with hard right hands to the head, and then in the 6th, Groves blazed away. Cracking Chudinov with something like 30 or so unanswered shots, Groves simply refused to be denied. Chudinov has a rock for a head but even he could not be expected to keep taking, and taking, and taking, what was coming at him.
Chudinov never went down but he was dazed and was not punching back. There was nothing wrong with the stoppage.
Groves, who had lost three previous world title challenges, was truly elated with tonight's big win, yet he still took time to dedicate the victory to Eduard Gutknecht, who as we know was badly injured in his November 2016 loss to Groves. Groves admitted how his injured, still recovering former foe is "always on my mind," and he said that "this is for him."
Groves experienced a bittersweet moment, but his class, once again, was admirable. Even his once bitter rival Carl Froch, doing commentary, gave Groves a standing ovation tonight.