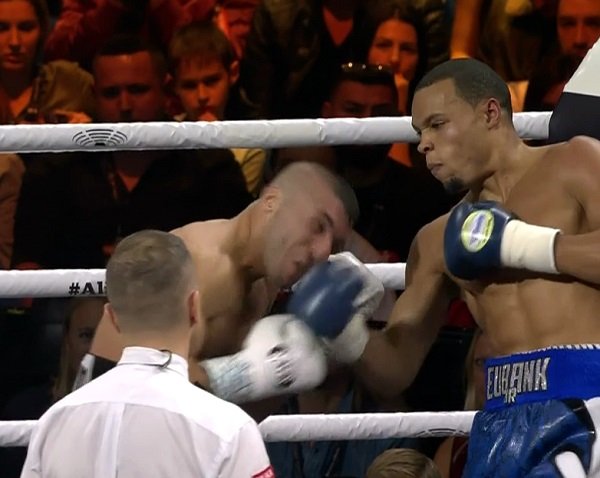 As many expected, Chris Eubank Jr. (26-1, 20 KOs) had an easy time destroying an over-matched Avni Yildirim (16-1, 10 KOs) in stopping him in the 3rd round on Saturday night in the quarterfinals of the World Boxing Super Series at the Hanns-Martin-Schleyer Halle, Stuttgart, Germany.
Eubank Jr. unloaded on Yildirim in round 3 to put him down. Referee Leszek Jankowiak then stopped the fight. the official time of the stoppage was at 1:58 of round 3.
Yildirim, 26, was dropped in the 1st round by an uppercut from Eubank Jr. It was a questionable call. Yildirim's knee touched down and it was ruled a knockdown. Yildirim took the shot without even trying to block it. Yildirim made it easy for Eubank Jr. by leaning forward.
Yildirim came back and fought well enough to win the 2nd round. He landed some nice shots. Eubank Jr. seemed uncomfortable with the pace and the size of Yildirim in that round.
In round 3, Eubank Jr. came storming out of the blocks, nailing Yildirim with hooks uppercuts at will. Yildirim tried to cover up, but Eubank Jr. kept nailing him with shot after shot until he finally hit the deck. The referee stopped the fight as soon as Yildirim hit the canvas. He didn't even give him a chance to try and get up. I thought that was a premature stoppage. The referee should have given the Turkish fighter a chance to get up.
Yildirim. 26, was a controversial choice to be added to the WBSS tournament, because he had done nothing in his career other than beating 2nd tier opposition. Tonight, it was painfully obvious from the 1st round that Yildirim didn't belong in the tournament, and clearly belong in the ring with Eubank Jr. Yildirim was a punching bag for Eubank Jr., and even worse opponent than Eubank Jr's last fight against Arthur Abraham.