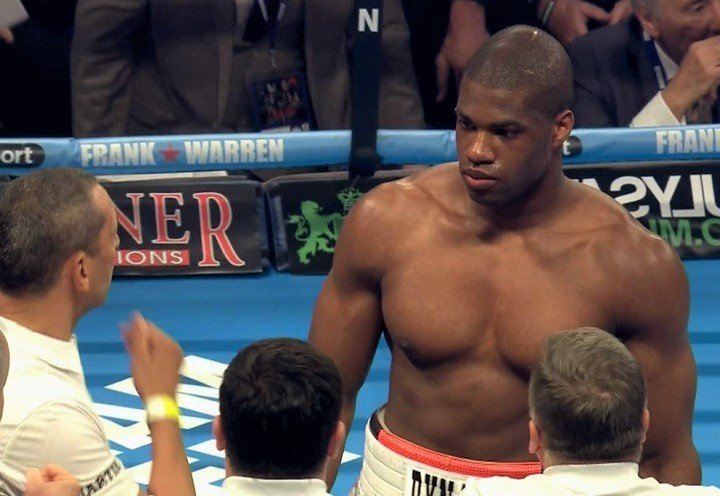 Tonight in London at the start of a huge night of boxing, unbeaten 20 year old heavyweight prospect Daniel Dubois scored a chilling 1st round KO over AJ Carter, a man who was expected by some to give Dubois his biggest test thus far.
Instead, with mere seconds gone in the opening round, Dubois decked his man with a right hand. A flash later, Carter was down again, and then, courtesy of a brutal right hand to the head, Carter was knocked cold and left flat on his face. It was all over after just 48-seconds. Down for an alarming amount of time, Carter thankfully recovered and was given applause as he eventually got back to his feet.
Now 5-0(5), Dubois beat a man who was 8-3(6) coming in and was expected to at least take Dubois a few rounds. Now, Dubois' match-makers have a tough time: match the novice pro too hard and it could derail his career, but match him too softly and Dubois will learn next to nothing.
The 6'5" talent has shown real punching power throughout his now five month pro career, and tonight he had the added bonus of picking up the vacant Southern Area title. Who could Dubois fight next? There is talk of an English title fight and of a British title fight challenge, but due to the way he has gone through his opposition, it might take a decent amount of money to get fighters willing to get in there with Dubois.
Promoter Frank Warren says his heavyweight hope is the hardest puncher he has seen in years; Dubois reminding him of the rampaging Mike Tyson. Warren has the highest of hopes for Dubois, expecting him to become world champion one day. And though the temptation to get overexcited is significant, Dubois really does look to be the real deal.
What we want now is to see Dubois tested, but as Warren says, a fighter with a granite chin must be found in order for the Londoner to be me with such a test.