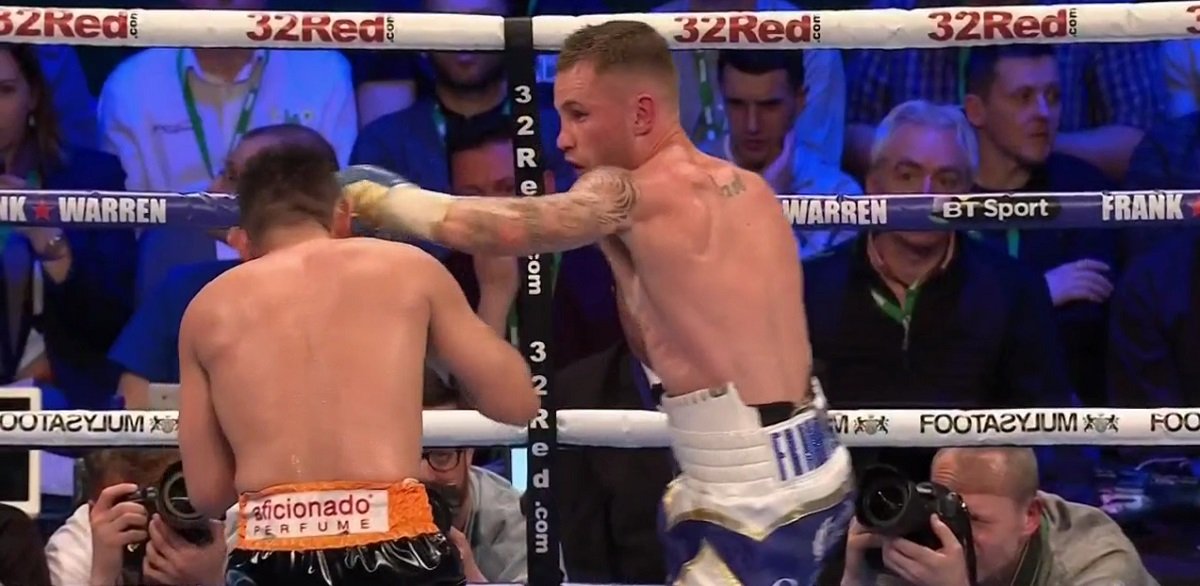 Carl Frampton (25-1, 14 KOs) boxed his way to a 12 round unanimous decision win over 35-year-old Nonito Donaire (38-5, 24 KIOs) in a tougher than expected fight to claim the interim WBO World featherweight title on Saturday night at The SSE Arena in Belfast, Northern Ireland. The fight was closer than the scores. The judges gave Frampton the win by the following scores: 117-111, 117-111 and 117-111.
The first three rounds were toss-up rounds. If you gave two of those rounds to Donaire, it would have been enough for him to win the fight, because he dominated the action from rounds 7 to 12. Frampton was too busy playing it safe and he didn't seem to want to fight hard.
It's as if he knew he had a lead, so he was going to milk it rather than try to fight hard in the championship rounds, In rounds 10, 11 and 12, Frampton was backpedaling constantly trying to keep out of the way of Donaire. Frampton learned a lesson in round 7 that he couldn't back Donaire up against the ropes and slug with. Donaire hurt Frampton with a series of left hook and uppercuts to the head. After that round, Frampton wanted no part of mixing it up with Donaire. The fight became mostly dull to watch from round 8 to 12, because of Frampton playing it safe.
Donaire fought well enough to win 5 rounds. Frampton eased off too early in the fight and gave away most of the final six rounds of the contest, although that wasn't reflected by the scoring from the three judges, who had Frampton winning 9 rounds to 3. Donaire hurt Frampton at least three times in the fight with heavy shots. Rounds 7 and 11 were by far the best rounds of the fight for Donaire with him landing uppercuts and hooks that snapped Frampton's head back violently. Frampton took the shots well, however. He was able to take energy from the crowed to box his way to a decision victory.
Donaire suffered a swollen left eye in round 2, and a cut over his right eye in the 7th. The cut came from a clash of head. As soon as the clash of heads occurred, Donaire retreated to the corner and turned around in pain. The referee Marcus McDonnell chose to allow the action to resume for some reason. Frampton decided to try and take advantage of the situation by throwing shots while Donaire's back was turned. This turned out to be a mistake on Frampton's part, as Donaire got angry and hurt him with some uppercuts.
"Donaire is a dangerous mother [expletive]," Frampton said after the fight. "From start to finish, I stuck to my game plan. I boxed beautiful. There's only one thing on my mind and that's Windsor Park. He was a hard puncher all throughout. In the 11th round, I was definitely hurt," Frampton said.
Frampton was getting the better of Donaire in the first part of the 11th round. In the last part, Donaire went after Frampton and hurt him with a number of hard punches that had him reeling. For a brief moment, Donaire fought like he used to in loading up on every shot with everything he head, and Frampton could not handle it. Fortunately for Frampton, Donaire didn't have the gas tank to continue fighting like that in the 12th round, otherwise he would have had a good chance of scoring a knockout.
"I want the fight at Windsor Park, that's it. When I was on the outside, I used my jab. We're going to be in Windsor Park in August. There's not a fighter at featherweight that's going to beat me at Windsor Park," Frampton said.