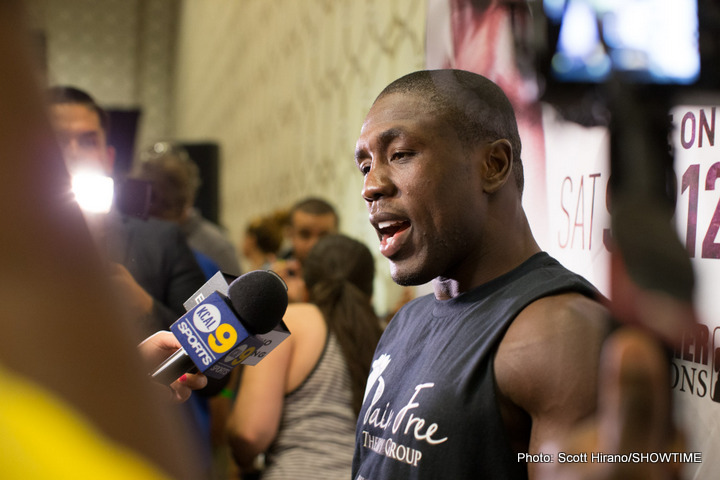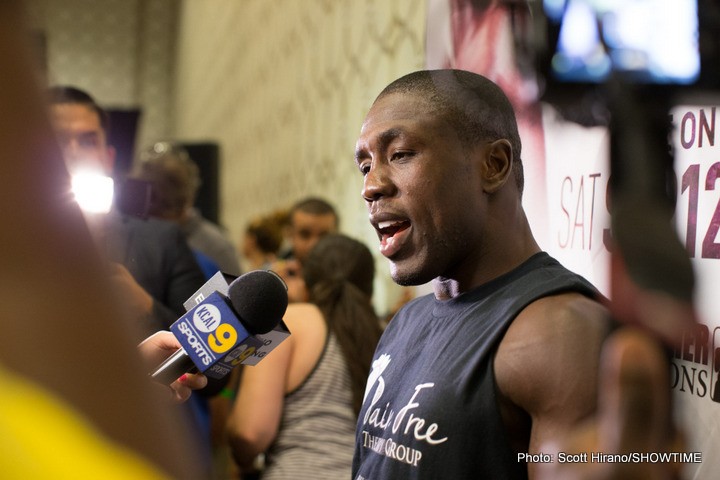 Superstar and reigning WBA "regular" welterweight champ Manny Pacquiao has reportedly done a deal with the powerful Al Haymon and it seems Pac Man will fight one of Haymon's name fighters next. According to a news piece from The Philippine Star, the soon-to-be-40-year-old living legend will fight a "tune-up" type fight in Las Vegas on January 19, as he "warms up" for that oft-talked about big-money return with Floyd Mayweather Junior.
And according to a "source" who spoke with The Star, the two names being most spoken about for Manny's January opponent are Adrien Broner and Andre Berto. Broner came out on social media a while back, saying his asking price for a Pacquiao showdown in a whopping $100 million. No way does "The Problem" get that much dough (nor does he deserve it), and if the outspoken former four-weight belt-holder refuses to change his tune (is he really that crazy!) it could be Berto who gets the Pacquiao shot instead.
Berto is past his best, yet the 35 year old with the still-impressive 32-5(24) record did win his last fight, back in August when the former WBC welterweight champ pounded out a close decision over Devon Alexander. Berto said after scoring his first win since 2016 that he felt great and that he has a lot left to offer. Against fellow veteran Pacquiao, who knows, Berto might just have a shot at making the action interesting.
Pacquiao looked great in his own last fight, when he stopped yet another veteran in Lucas Matthysse in July, but did this win/performance flatter the southpaw dynamo a little? Whoever Pacquiao fights next, be it Berto or be it Broner, it would be good to see the superstar back in the US. Pacquiao, 60-7-2(39) has not fought on American spoil since November of 2016 when he won a wide decision over Jessie Vargas.
A Broner fight would perhaps be a little too risky for Pacquiao's "tune-up" fight, and it could be the older, slower Berto who lands the fight instead. Berto was of course deemed good enough to face Mayweather in what was seen at the time as Floyd's final fight, and maybe Berto will be the next man to face Pacquiao before Manny's big rematch with "Money." There are worse fights out there, that's for sure.