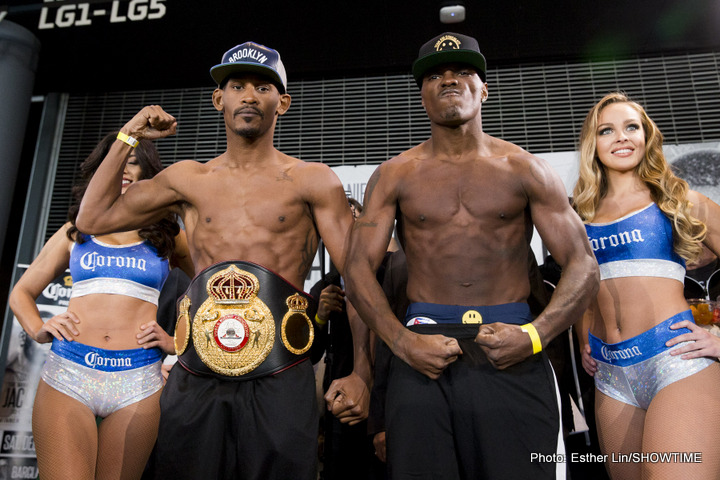 This Saturday night, live on Showtime, Peter Quillin and Daniel Jacobs do battle for Brooklyn bragging rights. Quillin is the more experienced fighter inside the ring and a slight favorite. Daniel's biggest challenge came outside the ring in his fight against cancer. Whatever friendship created between the two combatants will cease to exist once the bell rings.  
Over the last few years Peter Quillin's carved out a niche for himself in Brooklyn. Unbeaten in 33 bouts, the 32-year old was born in Grand Rapids, Michigan and his family origins come via Cuba. As a young man Quillin followed his dreams on a path to destiny that was nearly sidetracked numerous times.
He gritted out a living in the city as he climb the ranks in the sport of boxing. He built his name fighting guys like Hassan N'Dam and Gabriel Rosado, to become one of the top middleweights. Last spring in a fight versus Andy Lee, Quillin was knocked down for the first time in his career. The bout ended in a draw, which seem somewhat fair considering it was close. "Kid Chocolate" tuned-up in September and should be in peak condition forbSaturday night.
Daniel Jacobs was fast-tracked by HBO as they saw his potential to become a full-fledge star. Jacobs looked every bit the part with the ability to be a nice guy in interviews and at the same time knocking guys out. The "Miracle Man" also had the amateur pedigree to match the buzz behind him. 
In the summer of 2010, Jacobs coming out party was supposed to happen against a little known fighter named Dmitry Pirog. Jacobs was his aggressive self early in the fight. In the fifth round Daniel got caught on the way in with a perfectly timed punch by Pirog. 
Things would get way worse beyond suffering his first loss or the death of his beloved grandmother. Daniel went to the doctor when he became ill complaining about a lack of energy. He was diagnosis with cancer and it looked as if his once promising career was over. It took some time until Jacobs beat-back the disease and soon enough was back in the saddle as a boxer once again. 
His team moved him slowly and safely to a title shot against Jared Fletcher. The belt itself was a mere trinket at the 160 pound division but try telling that to a man that fought off death in his 20's.
Jacobs's aggression without defensive discipline caught up to him in again this past August when Sergio Mora knocked him to the canvas. Unfortunately for the fans, possible lucky for Jacobs, the fight would be stopped on a freak injury sustained by Mora. 
2015 has been the year of the middleweight and this fight here will surpass Golovkin vs. Lemiuex and maybe even Canelo vs. Cotto. The styles should matchup very well and once we get past the feeling out stage in the early goings, look for plenty of two-action.
Jacobs's camp has sworn to the media they have learned their lesson in attack mode. Daniel has said on a few occasions he will use his amateur background to out skill Peter Quillin. Quillin looked healthy on the scales and from all reports his new relationship with Angel Heredia has worked to a tee. 
This scribe sees Quillin getting out to an early lead with his jab and a few clean punches from time to time. By the 4th or 5th round, Jacobs will come out of his shell by closing the distance and trapping Quillin on the ropes. Kid Chocolate will weather the storm and slowly but surely begin time Jacobs with counters. 
It should be noted that both men have power in either hand so don't be shocked to see each fighter touch the canvas. If a knock down doesn't occur it will be someone hurt on their feet or possible TKO stoppage. 
Quillin will find a way to ride the mid-fight wave of energy from Jacobs. The last third of this bout will be mostly Quillin with a few flush lands or desperate flurries by Jacobs. 
The jab once again is a key and will be interesting to see who established it first. Quillin's left hooks and right hands will be the sharper and tighter of the two. More than likely Jacobs will get caught in an exchange and the result could mean lights out because of Daniel's suspect chin. 
No matter which fighter gets his hand raised this Saturday night, we should get a spirited scrap. As we know anything can happen when two men posses real punching power. This fight may start slow but won't take long to turn into a fire fight. I could see a scenario were Jacobs does use his skillfulness on the outside behind a jab. I just don't see him sticking to the script for the whole 12 rounds, especially in front of his hometown of Brooklyn, New York. 
My Official Prediction is Peter Quillin by late stoppage.  
Written by Chris Carlson Owner and Host of Rope-A-Dope-Radio blogtalkradio.com/ropeadoperadio Follow on Twitter @RopeADopeRadio