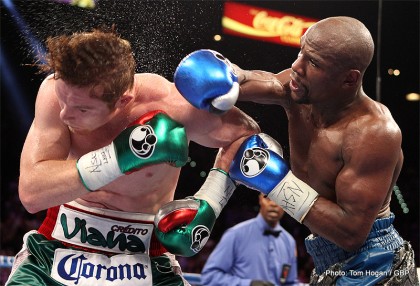 Floyd Mayweather Jr. beats WBA/WBC junior middleweight champion Saul "Canelo" Alvarez by a 12 round majority decision to capture his two titles on Saturday night at the MGM Grand in Las Vegas, Nevada. The judges scored 116-112, 117-111 and 114-114.
Class Dismissed: Mayweather Jr. Dominated Saul Alvarez
As it turned out, Saul 'Canelo'Alvarez was not The One tonight in Las Vegas Nevada. The mystery of the blueprint of how to beat Floyd Mayweather Jr. stays intact.
There was effort from Canelo from bell to bell, but its not the effort that is required to beat Mayweather Jr., its something else. What? Apparently this question has not yet been answered.
Mayweather Jr. is the winner tonight, and he once again, did it effortlessly. Like it or not, believe it or not, but there is a boxing virtuoso fighting in our time, and at this point in time his craft must be respected.
Canelo is not lost, and is still where he was yesterday as far as his career is concerned. Losing to Mayweather Jr. seems to be a fact of life, and not an indication of lack of skill or heart in boxing.
Floyd is an anomaly; an anomaly here to stay.
Pre-Fight: I have been to fight before, but this crowd is electric. More electric than in any other one I have ever been to. People standing on their seats. People booing heavily to a live feed of Floyd Mayweather Jr. Now there is thunderous cheer for WBA/WBC junior middleweight champion Saul "Canelo" Alvarez. There is amazing energy in the arena, and the Mexican fans make it clear that they are here to support their hero.
Fighters are about to make their way to the ring, and I am mentally preparing for the unparalleled noise that is about to swallow the Garden Arena whole.
The fight is being announced, and the fans are going wild. There is chatter amongst Canelo fans, they are waiting and hoping for Canelo's victory tonight, but seem very nervous knowing that this will not be an easy night for Alvarez.
Alvarez is making his way to the arena, and its very quiet, with fans waiting to see the actual figure appear. The crowd is not singing in tandem. Canelo appears and the cheers are remarkable. It's hard to imagine that there isn't an army of 50,000 people screaming. Canelo crosses the ropes,, and the crowd gets even wilder, believe it or not.
Mayweather is not making his way to the ring. There is a clear prevalence of booing, but its not difficult to see that it comes with a sense of nervousness. Fans chanting "Mexico." The Money Team is in the arena, and its not as loud as when it was when Alvarez entered the arena, not even close. Mayweather looks at home inside the ring: calm, composed, and ready for this routine event in his life.
Round 1: The school is in. Canelo throws a combination, but hits nothing but air. Floyd lands a jab. Floyd with a right. Lands. Speed difference is very evident here.
Round 2: Floyd lands 2 jabs. Another one. Another one. Canelo fighting air. Floyd with a jab. Canelo lands a left. Alvarez throws but misses. Mayweather does not look like he is anywhere near his true age.
Round 3: Canelo tries for a right but failed. Floyd with a jab. Floyd throws a 1-2. Part of it lands. Canelo lands a jab. Canelo with another jab.
Round 4: Fans chanting Mexico. Floyd with a counter right. Lands. Another one. Another one. Bayless separates them. Canelo with a jab. Canelo misses 2 bosy shots. Floyd with consistent jabs. Mayweather with a left hook. Canelo is in school. Amazing.
Round 5: Canelo with a combo, most misses. Floyd with a sharp jab. Canelo with 2 jabs. They trade. Floyd with a left hook. Clean. FMJ with a body shot. Speed difference is great in this fight.
Round 6: Floyd with R uppercut. Jab. Canelo almost carried Floyd through the ropes. Floyd with a left hook. Bayless warns Canelo for low blow. Canelo with combinations, all miss. Floyd with a right hook counter. Thus far, a mismatch. Canelo looks exhausted.
Round 7: Canelo throws. Looks slow. Floyd with a 1-2. Clean. Caleno with a R uppercut. Canelo throwing and missing. Floyd with R uppercut. Solid. Canelo is in trouble.
Round 8: Canelo with a combo. Blocked. Floyd with a jab. Floyd with a 1-2 Again. Canelo lands a right. Mayweather with a right off the ropes. Maywearher with a left uppercut. Canelo keep throwing, but misses most.
Round 9: Canelo comes out aggressive. Floyd with a quick combo. Part landed. Canelo reached with a right. Floyd with a right. A bit slower round, but it looks as though Canelo is feeling the urgency.
Round 10: Canelo with a long combination, all misses. Canelo with a jab. Canelo against the ropes. Floyd landing. Canelo with a right. Canelo throwing at will, all missing. Floyd with 2 jabs. Better round for Alvarez.
Round 11: Canelo misses with a wide hook. Mayweather with a hook. Another left one. Canelo throwing a lot but missing. Floyd against the ropes, Canelo tries to land a combination, but Floyd blocks it.
Final Round: Crowd chanting USA. Both fighters throwing light punches. Canelo with a right while tied up. Crowd booing lack of action. Canelo with a right. School is out. Class is over.