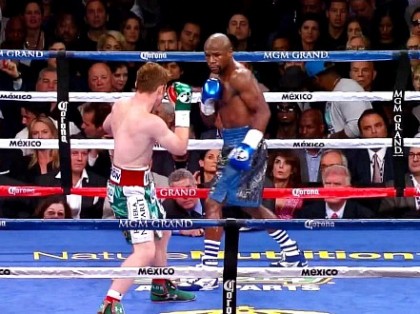 Floyd Mayweather Jr. (45-0, 26 KO's) really took WBA/WBC junior middleweight champion Saul "Canelo" Alvarez (42-0-1, 30 KO's) to school tonight in beating him by a one-sided 12 round majority decision on Saturday night at the MGM Grand in Las Vegas, Nevada. The judges scored the fight 114-114 even, 116-112, 117-111.
I really feel sorry for the judge that scored the fight even, because a score like that made this person look out of touch with what happened in the ring tonight. It wasn't even score. It was a was one-sided whipping by Mayweather where at best you could only give Canelo 3 rounds, and that's by really ignoring the face that Mayweather still controlled the rounds where Canelo did some good things.
Canelo tried hard to land his punches in every round, but Mayweather did a good job of slipping them by moving his head to avoid the punches. Canelo looked helpless to land with any consistency until the last 4 rounds of the fight where he got really desperate and started attacking all out. The problem is Canelo didn't have the foot speed or the stamina to move quickly enough to put his punches together.
Mayweather kept hitting Canelo with jabs and right hands before Canelo could even react to try and block them. After Mayweather would land, Canelo would try to counter him with something, but he still ended up missing more often than not.
***
In an ugly display of nonstop clinching, WBA/WBC light welterweight champion Danny Garcia (27-0, 16 KO's) was able to hold Lucas Matthysse (34-3, 32 KO's) enough in every round to win an ugly 12 round unanimous decision. The judges scored the fight 115-111, 114-112 and 114-112.
Matthysse fought with a swollen right eye from the 6th round on, but he was still able to fight at a high level despite the swelling.
Garcia got credit for a knockdown in the 11th that wasn't a knockdown where Matthysse was pulled into the ropes and hit while he was defenseless. The referee got things right in the 12th when he took a point off for Garcia hitting Matthysse low. The point deduction was well late though because Garcia had been hitting Matthysse low all fight long.
The referee never took points off for Garcia's constant clinching. It's hard to imagine why the referee let Garcia get away with the holding because it stopped the flow of the fight because as soon as Matthysse would get near him, Garcia would grab him.
Matthysse appeared to sweep 5 of the last 6 rounds of the fight with his aggression. The one round where he didn't dominate was the 11th where the referee made a mistake of giving Garcia a bogus knockdown.
—
Other boxing action on the card:
Carlos Molina SD 12 Ishe Smith
Pablo Cesar Cano SD 10 Ashley Theophane
Lanell Bellows KO 1 Jordan Moore
Chris Pearson TKO 1 Joshua Williams
Ronald Gravil UD 8 Shujaa El Amin
Luis Arias UD 6 James Winchester