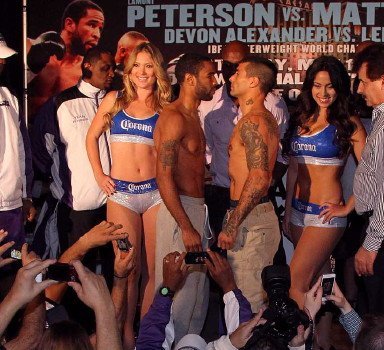 (Photo credit: Casino/Showtime) By John G. Thompson: While March's clash between Timothy Bradley and Ruslan Provodnikov stands as the clear favorite for Fight of the Year (with honorable mention to Alvarado vs. Rios), this Saturday's bout between IBF light welterweight champion Lamont "Havoc" Peterson (31-1-1, 16 KO's) and "interim" WBC light welterweight champ Lucas Martin Matthysse (33-2, 31 KO's) seems bound to produce the kind of fireworks which might put it in contention.
The match will be fought at a catch-weight of 141 lbs. meaning that Peterson cannot lose his title regardless of the outcome, though Matthysse loses the interim title should he fail to win. The bout will be televised live on Showtime from the Boardwalk Hall in Atlantic City.
Lamont Peterson and his brother Anthony were allegedly abandoned as children and grew up homeless in Washington, DC before being found by trainer Barry Hunter. Under Hunter's tutelage, Lamont went on to have a decorated amateur career competing in national and international competitions. As a professional, Peterson's only loss came at hands of "undefeated" welterweight champion Timothy Bradley in 2009, when Peterson was outclassed in a bid for Bradley's WBO light welterweight belt. He fought to a draw in a rugged war with Victor Ortiz in 2010, KO'd Victor Manuel Cayo in the twelfth round in 2011, earned a narrow and controversial split decision over Amir Khan for the IBF belt (in Peterson's home town), and most recently TKO'd former champion Kendall Holt in eight rounds last February.
Matthysse of Argentina is also an experienced amateur having competed in Argentine national and international competitions. Both of Mattysse's two professional losses were controversial split decisions – to Zab Judah in 2010 and Devon Alexander in 2011. In both cases Matthysse knocked his opponent down during the fight. Some of the other names on his resume are Vivian Harris, DeMarcus Corley, Humberto Soto, and most recently Mike Dallas Jr., whom Matthysse stopped in the first round. In fact, other than the two losses, Matthysse has stopped all of his opponents but one, with another fight ending in a NC after a headbutt.
What this fight will most likely come down to is whether Matthysse can land his power shots. Matthysse has a stunning 31 KO's out of his 33 wins, with 10 fights ended in the first round. His two losses came against skilled technical boxers with speed (traits shared by Peterson). Peterson scored 5 first round knockouts of his own, though his KO% is only about 48%, however, he has shown the ability to produce late round stoppages. Most of Matthysse's stoppages came in the early rounds when he is most dangerous.
Peterson holds a slight size and reach advantage as Matthysse is 5'6 ½" (169cm) with a 69" (175cm) reach, while Peterson is 5'9" (175cm) with a 72" (183cm) reach. While Peterson has shown himself to be a tough scrapper (as in his bouts with Khan and Ortiz), he has also shown some weakness in the chin, having been knocked down by Khan, Ortiz, Bradley – though he has never been KO'd. With respect to Bradley and Khan, Matthysse hits much harder.
In conclusion, the fight will be decided by Peterson's style. If he fights in a phone booth against Matthysse as he tried to do against Khan, he'll be leaving himself open for a potentially fight-ending counter shot. Peterson could move and box more than brawl, but this is not something he excels at the way he excels at scrapping. Matthysse will be most dangerous in the first five or six rounds, but IF Peterson can get through that dangerous period, he should be able to squeeze out a close but comfortable unanimous decision. However, I'd expect some fireworks in those early rounds from Matthysse, with possibly a knockdown or two, and Peterson having to struggle and overcome some real adversity. Of course, an early KO by Matthysse is certainly not out of the question.