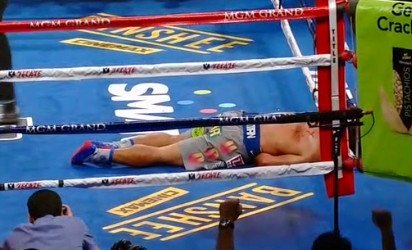 Manny Pacquiao (54-5-2, 38 KO's) hasn't had an easy fight since his one-sided 12 round unanimous decision win over a completely shot Shane Mosley two years ago in May, 2011. Since that fight, Pacquiao has gone downhill himself and looked bad in his two fights against Juan Manuel Marquez and his fight with Tim Bradley.
Pacquiao lost two of those fights, but you can make strong argument that he deserved to lose three of them because his win over Marquez in November 2011 was a controversial one. Pacquiao now will be fighting Brandon Rios (31-1-1, 23 KO's) on November 24th in Macau, China.
Rios isn't the type of fighter you want to be taking on when you've looked as bad as Manny has in his last the fights. He's someone that has a good chance of continuing Pacquiao's losing streak by giving him another tough fight and then possibly knocking him out. I'm guessing Pacquiao's promoter Bob Arum is counting on Pacquiao being able to come back from his loss to Marquez and looking like the old Pacquiao from years ago.
I'm not so sure if that's possible at this point. It's one way streak with aging in the sport of boxing, and the way that Pacquiao looked in the Bradley and Marquez fights, he just doesn't like the same fighter. It's strange because Pacquiao didn't take much punishment in his win over Mosley, but in his next fight against Marquez, Pacquiao looked like a shell of his former self.
It's possible that he'd been slipping for a while and his deterioration had been covered up with the soft fights Arum had put him in with an over the hill Antonio Margarito, Joshua Clottey, who didn't throw many punches, and with Mosley. Whatever the case, Pacquiao hasn't looked good since his win Miguel Cotto in 2009. That's long time ago, and Marquez kind of exposed how badly Pacquiao has slid.
Rios could very well really dominate Pacquiao and knock him out even quicker than Marquez did. Rios won't shy away from contact with Pacquiao and he's going to be really nailing him. Pacquiao can't get out of the way of shots like he used to, not that he was ever a good fighter defensively. But he's getting hit a lot more and not reacting well to the shots he's getting hit with.
Against Bradley, Pacquiao looked like he couldn't fight hard for more than a fraction of each round without needing rest breaks. That's not good if he fights like that against Rios because he won't let Pacquiao get any rest.